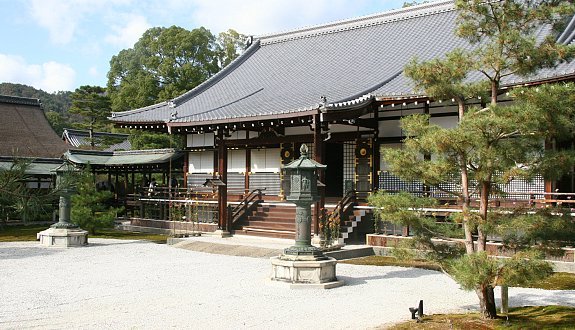 Daikakuji (大覚寺) is a large temple in the northern part of Kyoto's Sagano district. It was originally built in the early 800s as the detached palace of Emperor Saga, who thoroughly enjoyed spending time in this calm area on the outskirts of Kyoto. Thirty years after the emperor's death, the palace was converted into a temple and has since been one of the highest ranked temples of Shingon Buddhism.
Daikakuji has had a role in several significant historical events. A succession of retired emperors reigned from here, and in the 12th century the temple hosted peace talks that reunited the Northern and Southern Imperial Courts after 50 years of civil war. Daikakuji is also featured in the Tale of Genji, the first novel in Japanese literature. Today, the temple is one of the best places to still feel the ancient court atmosphere described in the novel and is often used for filming historical dramas.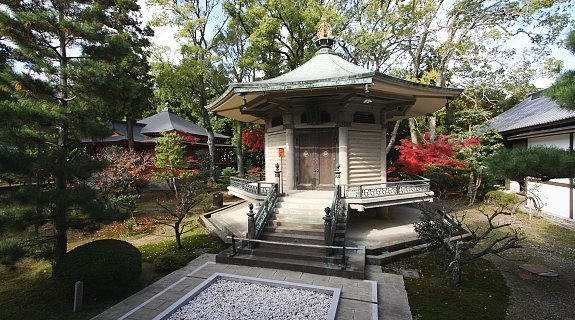 Daikakuji is made up of several buildings connected by elevated wooden walkways. The covered corridors, like the "nightingale floors" of Nijojo's Ninomaru Palace, squeak quietly as you walk over them. Many of the buildings are decorated with painted fusuma doors by the famous Kano school. An English audio guide (500 yen, 45 minutes) provides excellent explanations of the temple with often humorous pronunciations of Japanese names by the guide's electronic voice.
One of Daikakuji's most important treasures is a copy of the Heart Sutra which was handwritten by Emperor Saga at the instruction of Kobo Daishi. The sutra supposedly ended a mysterious plague that was sweeping the country during the Heian Period. It is kept in the octagonal Heart Sutra Hall and exhibited to the public once every 60 years. Nearby is the Reihokan, a small museum that displays special exhibitions of the temple's treasures in spring and autumn.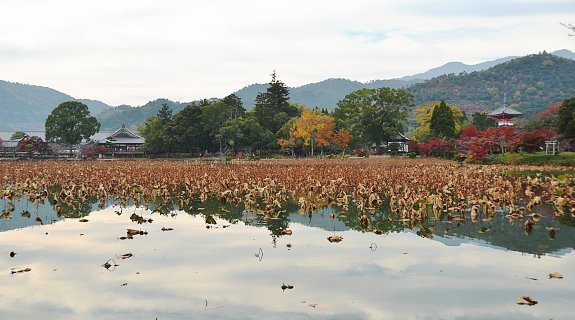 Next door to the temple is Osawa Pond, a 1200 year old man made body of water that is the oldest and last surviving (albeit incomplete) example of a Shinden style garden. The pond was originally built for Emperor Saga's detached palace, and was used to throw elaborate parties and for recreational activities such as boating, fishing and moon viewing.
Several Buddhist statues, a small shrine and the Shingyo Pagoda, a two tiered, tahoto style pagoda erected to commemorate the 1150th anniversary of Emperor Saga writing the Heart Sutra, populate the garden grounds and are connected by a network of walking paths. Visitors can walk around the garden, visit the buildings and enjoy the natural scenery around the pond. The garden is especially popular during the cherry blossom (late March to early April) and autumn color (late November) seasons.