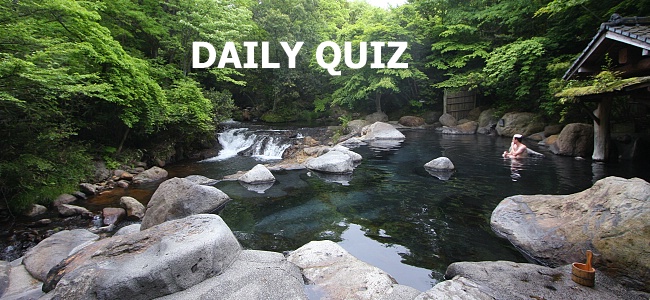 Compete in the We Love Japan Tour Daily Quiz and win valuable prizes donated by our generous tour sponsors! Answer the quiz question published at the bottom of our reporters' daily tour reports, and at the end of the tour, those with the highest scores will win one of the prizes below. Make sure to check in with the tour everyday as new questions will be posted daily and are each only available for a limited time.

Final Standings (after 30 days)


Everyday during the tour (October 4 to November 2), one question will be published at the bottom of our reporters' daily reports (see North Route and South Route).
Each question will be published for only 72 hours (from midnight of each day), except for the first five questions which remain published for the entire first week of the tour (through October 11). All times refer to Japan Time (UTC/GMT +9 hours). Examples of publication periods:

Day 1 Question: from October 4 through October 11
Day 2 Question: from October 5 through October 11
Day 6 Question: from October 9 through October 11
Day 7 Question: from October 10 through October 12
Day 8 Question: from October 11 through October 13
Day 30 Question: from November 2 through November 4

A japan-guide.com user account is required to participate in the daily quiz. It is not permitted to participate with multiple accounts. Participants using multiple accounts will be disqualified.
Participant will be awarded with one point for each correct answer. No points will be rewarded for wrong answers. The participants with the highest number of points will be awarded with the prizes. In case of a tie, the winners will be determined randomly.
Prize winners will be announced a few days after the end of the tour. They will be notified by email sent to their registered email address.
4 Nights at a Rental House in Kyoto
Enjoy four nights in Kyoto by living like a local in a rental house by Japan Experience. This unique house rental service is provided in Kyoto and Tokyo with complete peace of mind thanks to the assistance of a "Travel Angel".
The house accommodates two persons
Redeemable between January 5 and July 14, 2014
Blackout dates from March 15 to May 15, 2014
Travel and personal expenses not included
Weekend in Itoigawa GeoPark for two people
A weekend in Itoigawa including overnight stay at the Hotel Kunitomi Annex, onsen with rotemburo, dinner and breakfast, a bottle of local sake, a half day guided tour of Itoigawa GeoPark in English and half a day bicycle rental.
For any weekend between April 1, 2014 and March 31, 2015
Other expenses (e.g. transportation to Itoigawa) not included
Two-week Japanese Language Course
Two weeks of Japanese language instruction at Genki Japanese and Culture School. With locations in Tokyo and Fukuoka, Genki Japanese is an accredited and award-winning Japanese school, teaching Japanese language and culture in a relaxed and friendly environment.
Covers tuition and textbook costs for a 2-week standard course
Redeemable within one year of winning
Blackout dates from July 1 to August 31
Travel and personal expenses not included