Cape Soya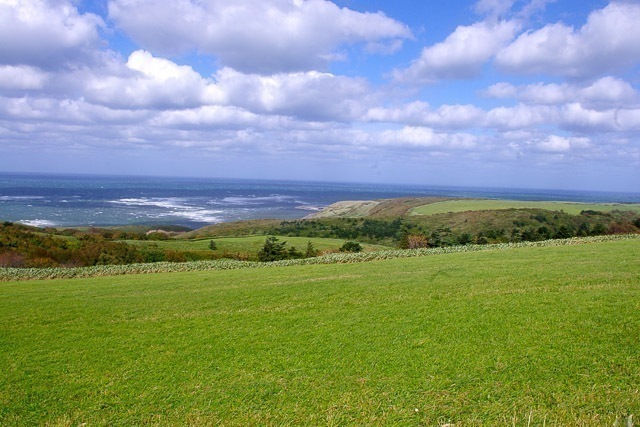 View from the hills above Cape Soya, along the \"White Road\"
Today is the first walking day of the 2013 We Love Japan Tour. This morning, I set off from the Sun Hotel Wakkanai where I am staying, to Cape Soya. From there I walked 7km along the coast down to Soya Park (Soya Koen). Yesterday when I checked into the hotel, I found a little origami bird in my room - nice welcome gift!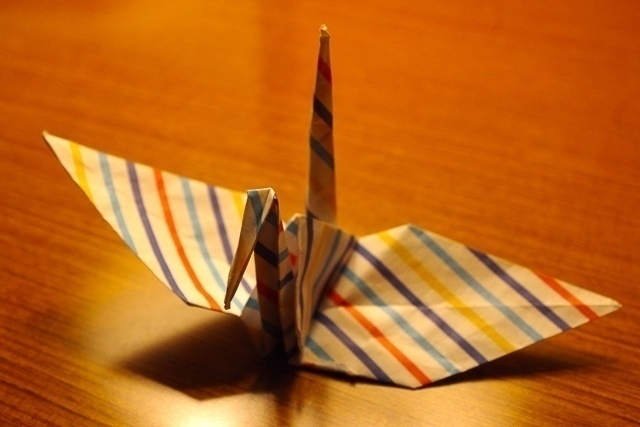 We set off from Cape soya at 9h30 and walked along the coast to the village of Soyamura and Soya Park. We were greeted by around 15 people, including the Wakkanai mascot. Our little group set off from the Cape Soya monument and walked along the road, passing a couple of fishing villages.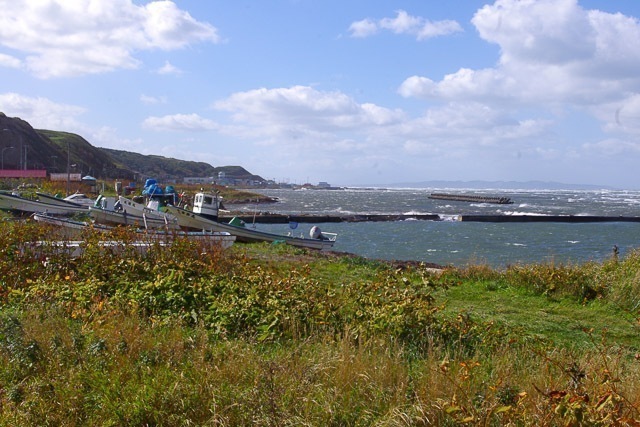 Fishing boats along the way
Even though we were lucky with the weather and enjoyed a very nice sunny day (instead of a typhoon we feared at the beginning), it was extremely windy.
Since we are at the very north of Japan, just opposite Russia, there is always a cold sea wind blowing and the sea is very rough. After walking against the wind a couple of minutes I understood how important is it for the people living there to build proper protections against the sea!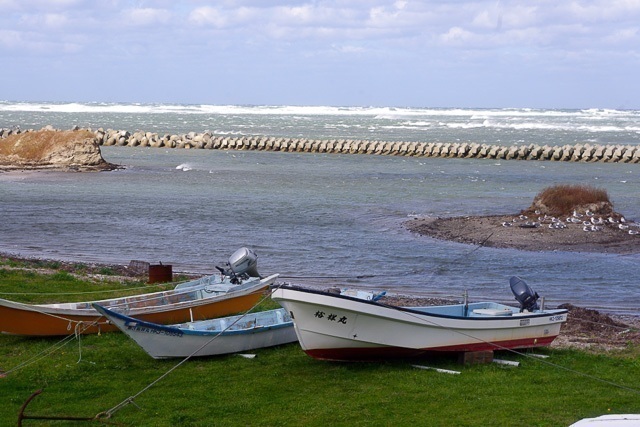 Wave breakers protecting fishing boats, near Cape Soya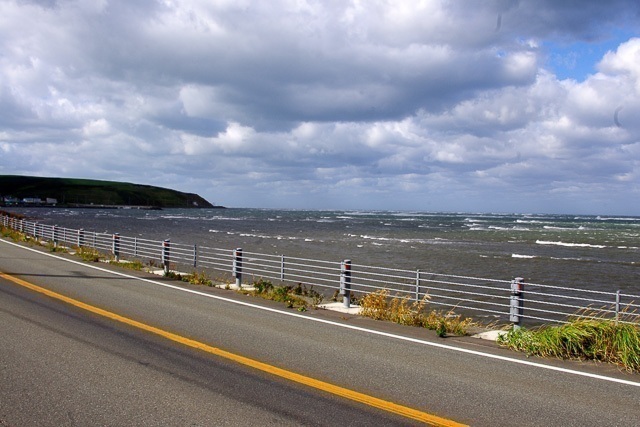 Road from Cape Soya to Soyamura
After about two hours we got to Soya Park and from there we set off to walk along the "Shiro Michi" (literally "White road"), a beautiful path stretching along top of the hills that is easily accessible by car or foot from Soya Park. Its name comes from the fact that recycled seashells were used to cover it, giving it its stunningly pure white colour.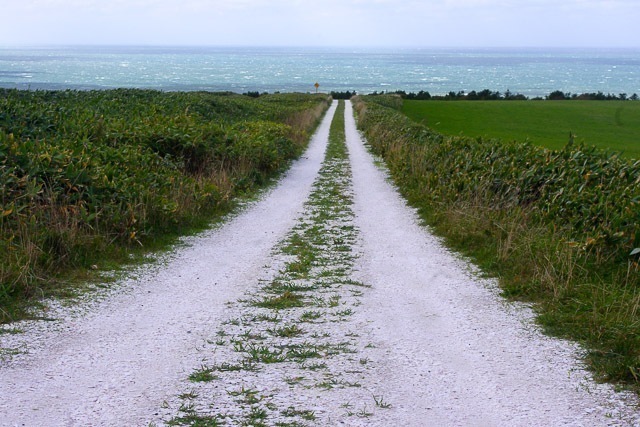 Stunning contrasts - the white road and endless green fields against the blue sea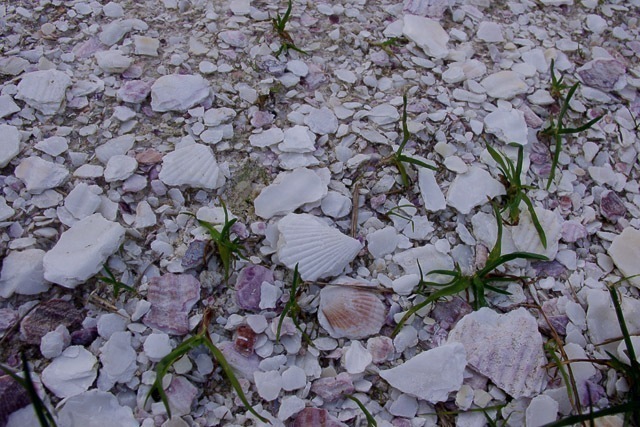 Recycled seashells are used to pave the road, makng it stunningly white
The views from the "White road" were absolutely spectacular: rolling hills, beautiful bright green grassy expanses with the occasional grazing deer or the Cape Soya black cows whose delicious - and sadly very expensive meat - is praised all around this part of the country.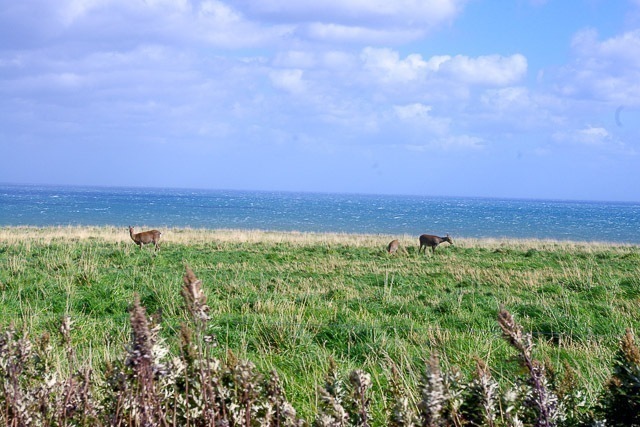 Wild deer happily grazing in the fields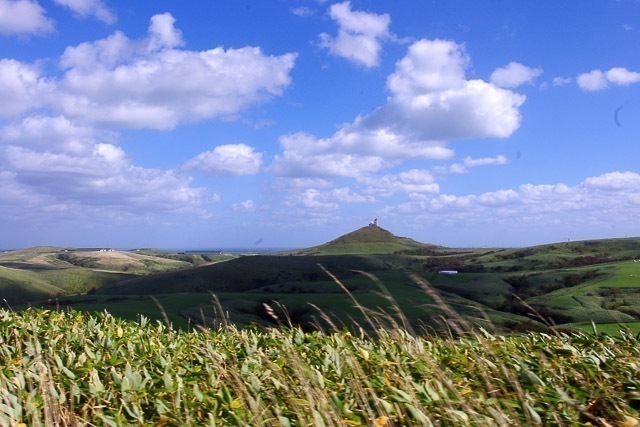 The rolling hills above Cape Soya
After the white road walk we stopped for lunch at a very nice restaurant on the top of the hill just behind Cape soya where we had delicious ramen noodles as well as a local specialty of seashells.
In the afternoon we visited the Ohnuma bird sanctuary near Wakkanai where we were able to spot many different species of ducks, birds and swans. Set on the shore of Lake Ohnuma, it boasts great views of the lake as well as Rishiri Island far away in the distance.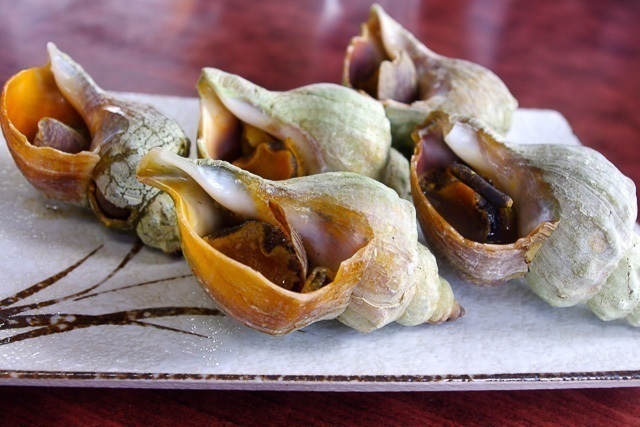 Local seafood speciality