Biei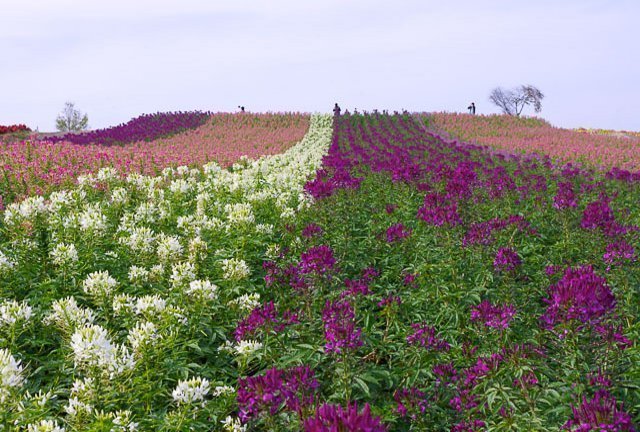 Flower field at Shikisai park, near Biei
After so much driving yesterday, it was nice to stay in such peaceful and beautiful place like Kizuna Pension, in Kamifurano. When I woke up, mist was still covering the mountains of Daisetsuzan national park and the sun was coming up from behind them.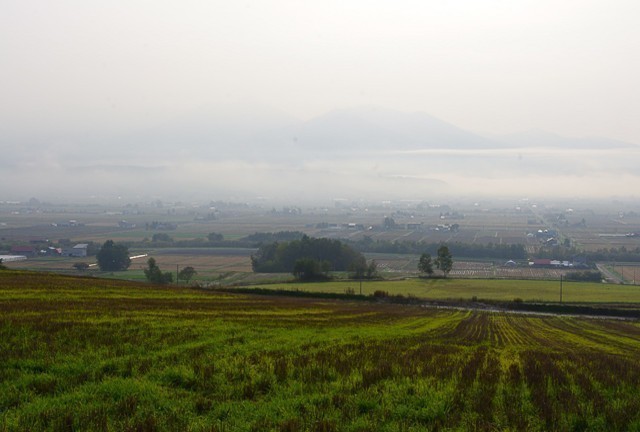 Misty morning at pension Kizuna
After a home cooked organic breakfast I set off to Bibaushi station, from where I took a little wobbly train to Biei, the starting point of my walk. This time, instead of Siberian winds on the north coast, I would be doing the longest walk of the Tour, on a sunny day, through the gigantic expanses - on a Japanese scale that is - of fields and rolling hills of the Biei countryside, stopping at observation points, a photo museum and a flower park along the way.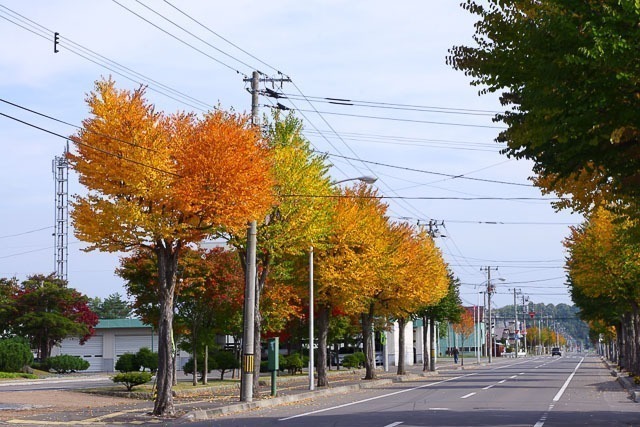 The streets of Biei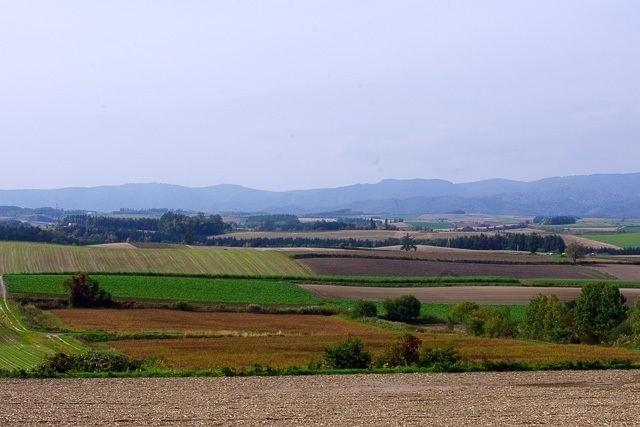 Vast expanses of farmland in the Biei countryside
I set off from Biei station and walked through town and across the river. even the town was full of autumn colours. The surrounding fields are considered one of the most beautfil areas of Japan. Generally, most visitors come during the summer months to see the huge flower fields, but autumn seemed to me like a perfect season to visit as everything was made of different tones of yellow and red - be it the freshly plowed fields, dry hay, or autumn trees.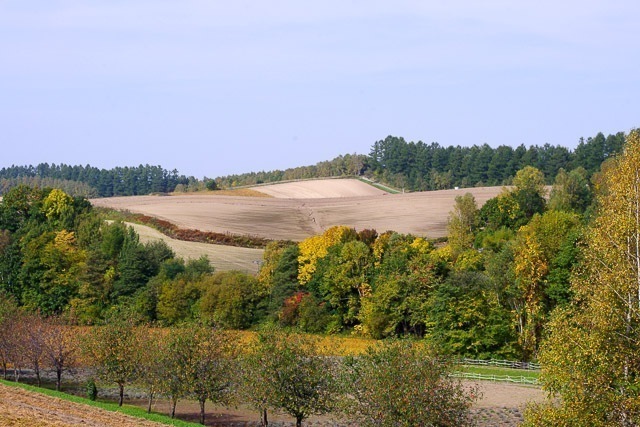 Autumn colours in Biei
The two observation points I stopped at (Sanai no Oka and Chiyoda no Oka) are perfect for a little break along this 15km walk, and to really soak up the atmosphere of this peaceful part of the country. I saw a lot of people cycling along the road I took, which seems like a very good way to visit the area as the hills are never too steep.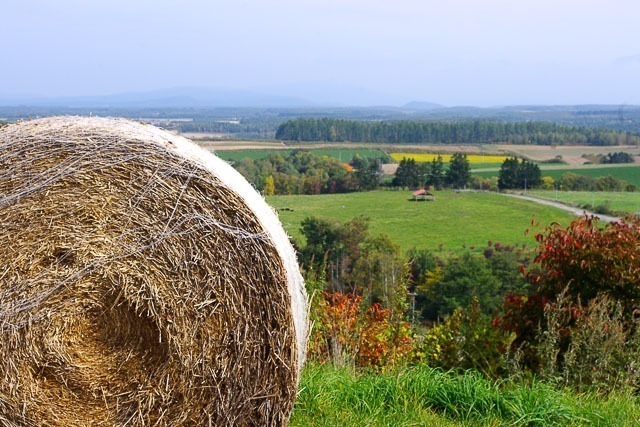 View from the second view point along the road
Approximately half way through my walk I visited Takushinkan museum of photography. It boasts an impressive collection of pictures of Hokkaido landscapes and it well worth a visit. Next to the museum building are some lavender fields, a perfect spot for a quick lunch bento before setting of again. Seemingly, Biei is where the Japanese come to experience the European (or even better - French) country side, without any jet lag. Unfortunately the lavender wasn't blooming otherwise it could certainly have had a "Provence" feeling.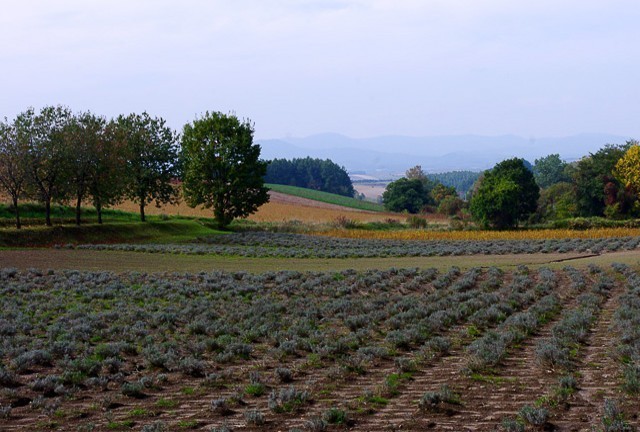 With a bit of imagination you could be in France!
After another hour of walking I got to Shikisai flower park, where I was able to catch a glimpse of summer in Hokkaido, where all the fields I saw before would be blooming like the ones of the park. There is also a little alpaca farm besides the park for those who want to feel like in South America as well as in a Japanese version of Europe!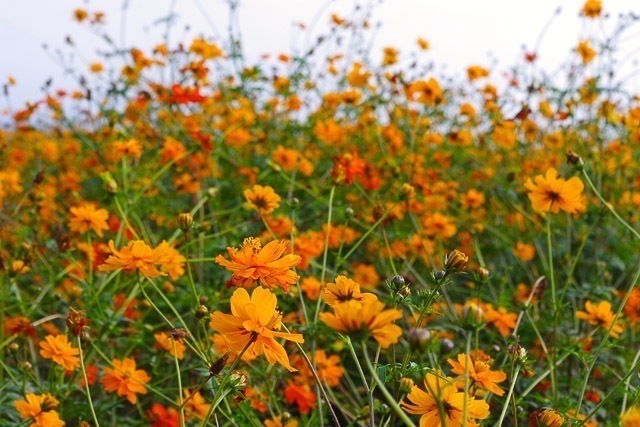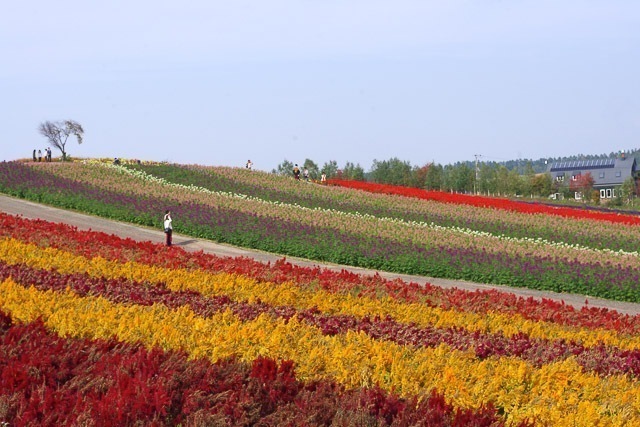 The flower park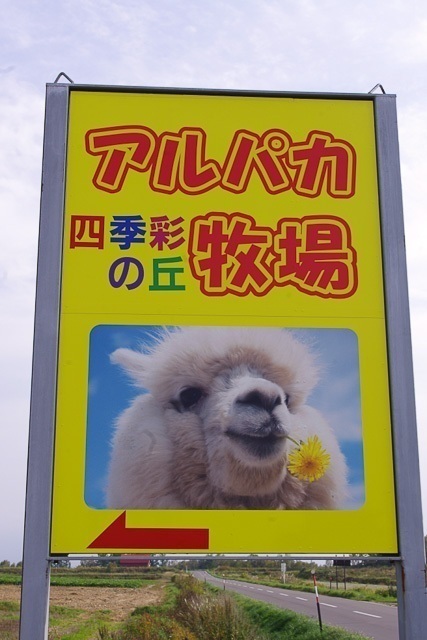 Tired of flowers? Feed an alpaca!