Sapporo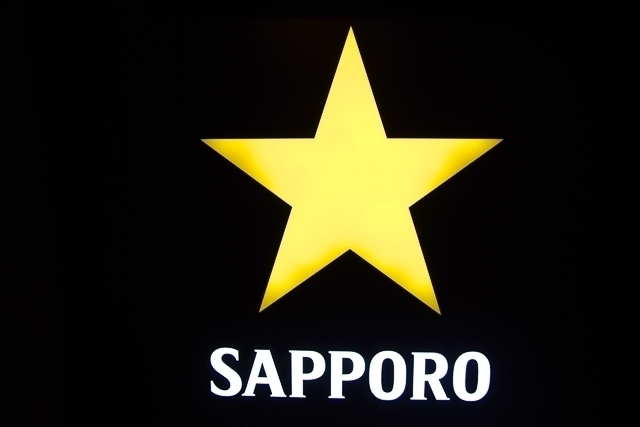 Best beer in Japan - or maybe I only think that because I got to taste some during half way through my walk!
After a great yakitori dinner in Sapporo and a very restful night in Tokeidai Hotel, I took a taxi this morning to Moerenuma park, on the outskirts of Sapporo, where I was to walk from, to the entertainment district of Susukino, in downtown Sapporo. This walk was about 12km long.

I arrived at the park and headed to the glass pyramid, where a little welcome committee was waiting for me, including my "body guards" for the day, one of which was kind enough to walk the distance with me and feed me at the end, and the other who took over for the afternoon, taking me to Sapporo shrine and to visit Olympic relics.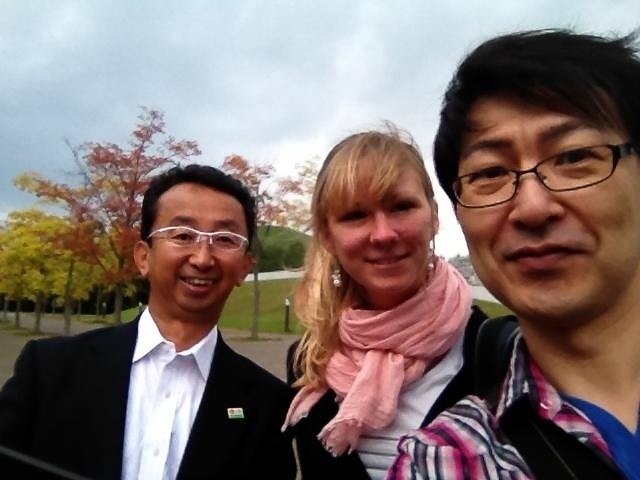 My Sapporo welcome committee/body guards!
The park was impressive not only by its size, but also because it had been built a couple of years back on what was once a garbage treatment plant. What a great recycling effort!
From there we walked along more and more densely populated road until we reached the center. It was amazing to see how many fields were still being cultivated between houses, and also how many houses had really good veggie patches - an inspiration.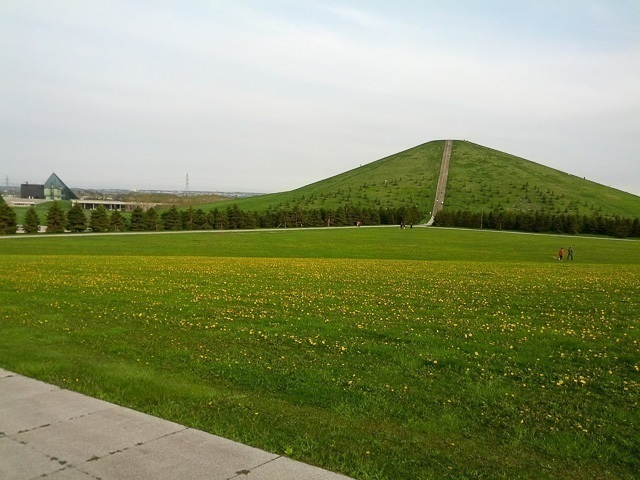 Moerenuma park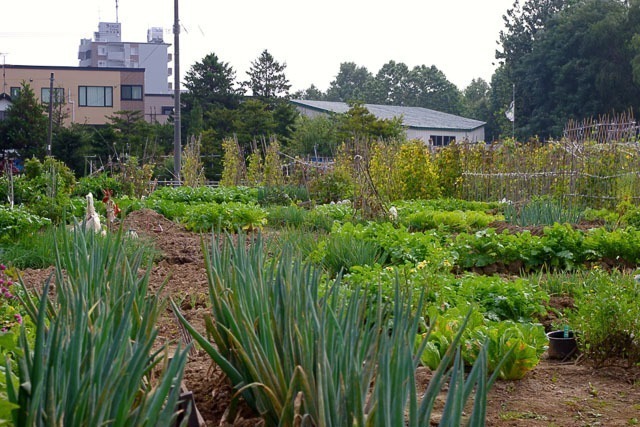 One of the awsome veggie patches in Sapporo's suburbs
After almost 3/4 of the way, we stopped at the Sapporo for a guided tour followed by a very deserved beer. We then continued walking, through central Sapporo, until we reached our goal in Susukino, the entertainment quarter of the city, always bustling and full of lights. What really amazed me about this city is the number of parks and green areas. Even the center has a few, including a great park avenue.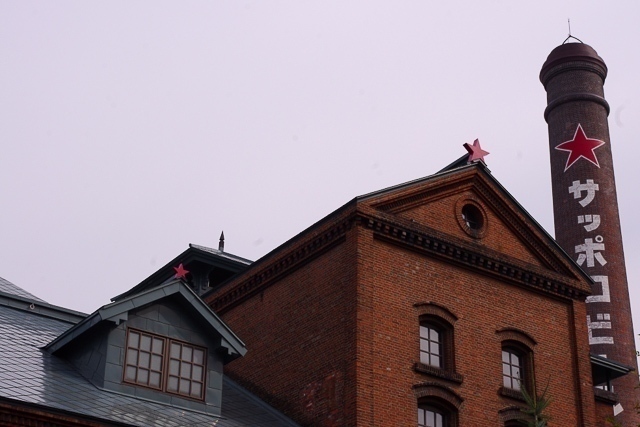 Sapporo beer museum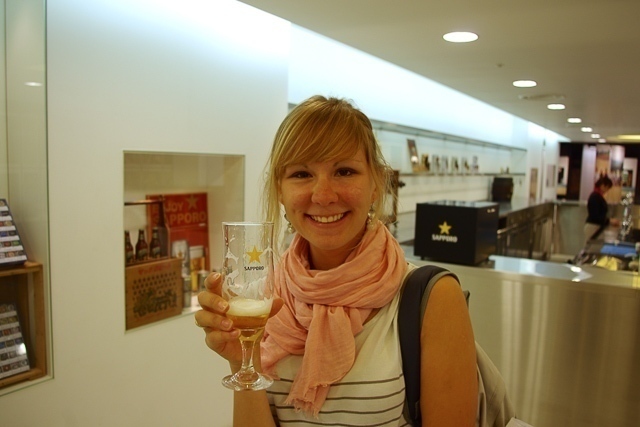 Lunch time beer sampling - straight from its source!
In the afternoon, another body guard volunteered to take me to a couple more places, so we headed to the Sapporo shrine, and to the ski jump that was built for the 1972 Sapporo Winter Olympic Games. Having lived nearly all my life in Switzerland, I must admit I never had seen a ski jump before - except on television - and it really was impressive. The views from the top were great as well - you can see all of Sapporo, the surrounding mountains and the sea. Next to the base of the ski jump is a museum dedicated to winter sports, where a lot of fun games give you the change to try out the different olympic disciplines, including ice hockey - which was very exciting - and ski jump, without breaking a leg!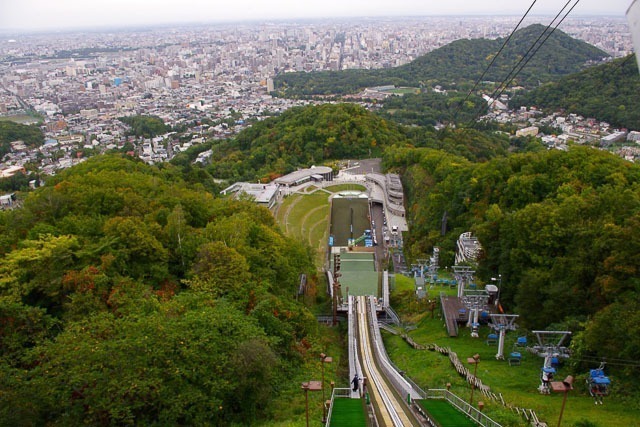 The scary ski jump
I finished my day with a Ferris wheel ride back in Susukino. The night views of Sapporo were really beautiful - eventhough I'm scared of hights!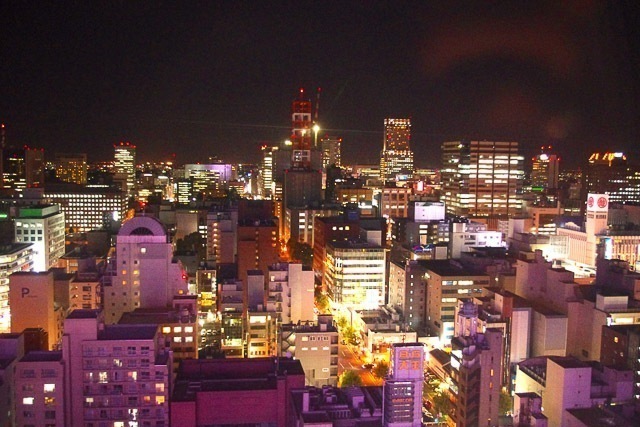 View of downtown Sapporo from the Ferris wheel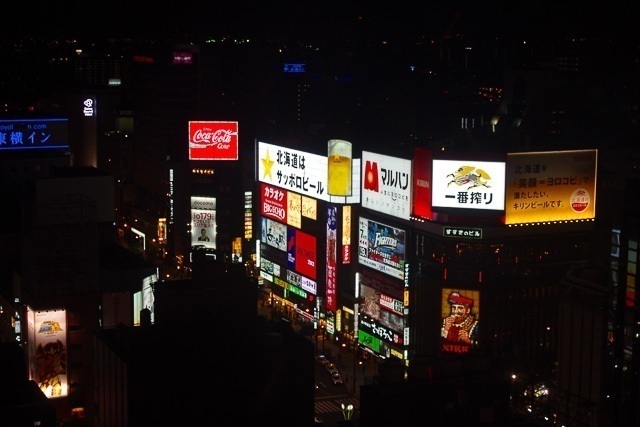 Susukino from the sky