Bear alert!
Bear alert!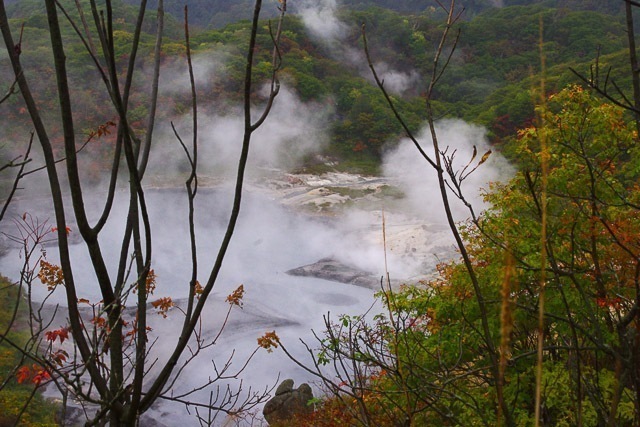 A glimpse of hell
Today I left Sapporo and headed South to Lake Toya. I only tok the highway for half the journey because I wanted to go and see lake Shikotsu on the way.
My original plan was to go for a little hike in the mountains near Shikotsu, however not only was it raining when I got there, one of the first things I saw were signs saying "beware of the bears" or stating that a bear had been spotted there a week ago. All alone, in the rain, without a bear bell - hiking didn't seem like such a good idea anymore!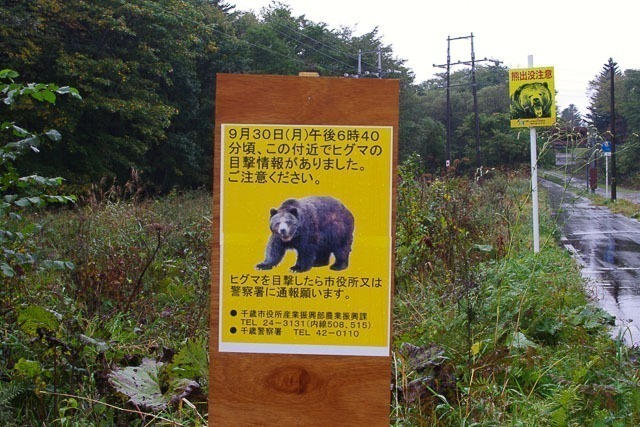 Bear sighting on the 30.09.... exactly what you want to see when you're sitting in your car putting on your hiking boots!
Little mountain roads, no cell phone reception and possibly a bear in the vicinity - not what we think of when we think of Japan!
So I headed for Noboribetsu onsen, Hokkaido's most popular onsen. Since I was going to stay at a very good onsen hotel in lake Toya I decided to just go for a wonder in Noboribetsu, up to Hell Valley (Jigokudani). Very interesting place - not only was there vapours flowing out from various ponds and craters, but the gases also were making hissing sounds coming it - it was the first time I'd been in a place like that. No wonder it's called Hell Valley!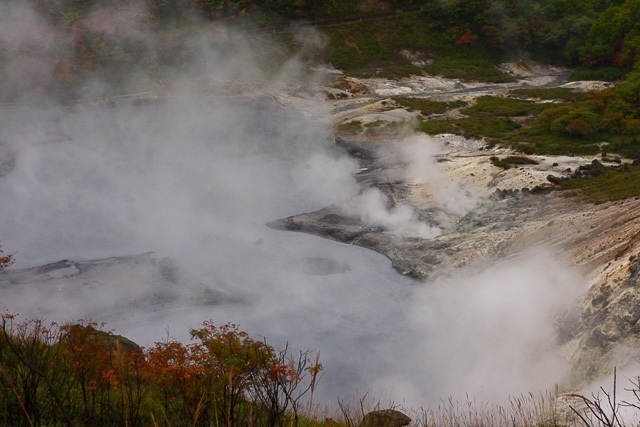 Hell Valley
After that I took little windy mountain roads to lake Toya. On the way I passed an abandoned theme park. I wanted to go in, but the only police car I've seen in trip so far was just passing me when I was analysing which part of the fence to jump over. So instead I continued driving, through the fog, and finally reached lake Toya.
I'm now getting ready for a hot yoga class at the hotel I'm staying in, Kawanami onsen. I never would have thought that my first ever hot yoga class would be here, in Japanese, and followed by a bath in one of the top 100 onsen of Japan!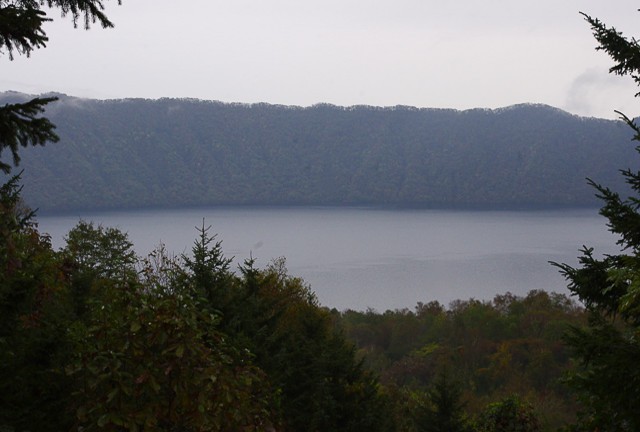 An almost perfectly round Caldera lake on the way from Noboribetsu to Toya