October 31, 2013
Day 28 - Kamikochi

Kamikochi (上高地) is a popular resort in the Northern Japan Alps of Nagano Prefecture, offering some of Japan's most spectacular mountain scenery.

Located in the Azusa River Valley about 1500 meters above sea level, the roughly 15 kilometer long plateau is a well-liked hiking destination that offers multiple lookout spots for breathtaking views of nature.
Kamikochi, you're the best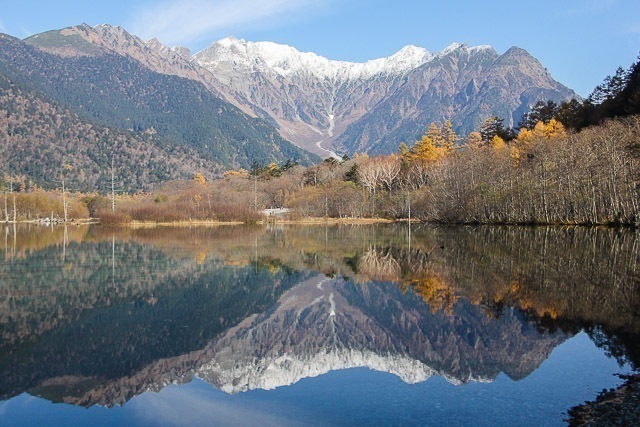 Beautiful skies and still waters. Hello Kamikochi.
If I thought Kiso Valley was beautiful (it still is!), I've been swayed by Kamikochi. Left the hotel early in the morning to start my journey towards Kamikochi. From Matsumoto train station, it takes about 2hrs, train and then bus to arrive at Kamikochi Bus Terminal. With temperatures in Matsumoto at 6 degreesC this morning, Kamikochi looked set to be even colder.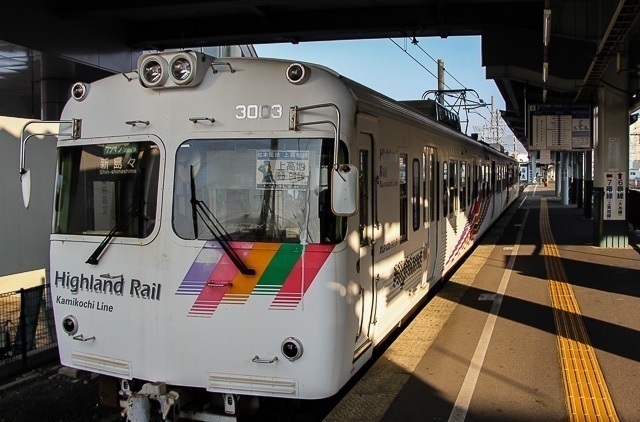 The local train from Matsumoto to Shinshimashima.
The bus ride towards Kamikochi was very scenic, and most of the passengers whipped out their cameras to catch the autumn colours as the bus drove past the mountains. I alighted at Taishoike stop and found the tables and benches, and leaves covered in a thin layer of frost. That's how cold it was! The crisp, cold morning air in Kamikochi give way to warmer temperatures towards the afternoon. There were already a few bus tour groups there and by the time I started my walk, the place was crowded with bus tour groups starting their walk towards Kappabashi.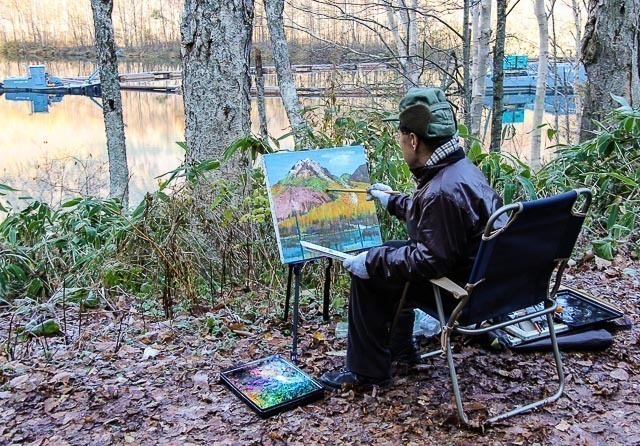 Old man painting.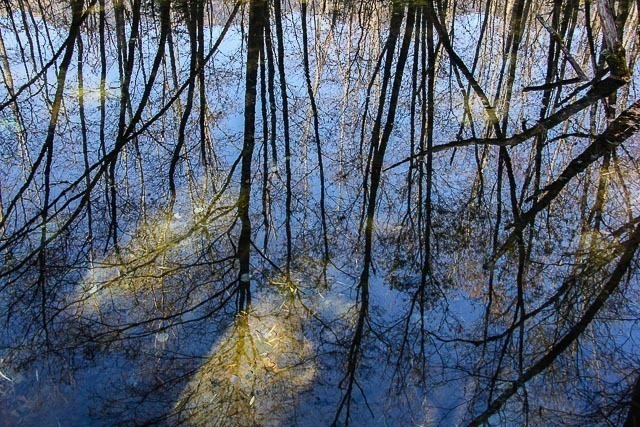 Reflection of trees, looking like they're growing upside down.
The route that I followed was well marked and there are information boards and signs dotted along the route to make sure no one got lost in the area. Kamikochi is so beautiful, that all you have to do is to point your camera in a direction and it would turn out great. There were many elderly people with huge cameras and tripods walking as well.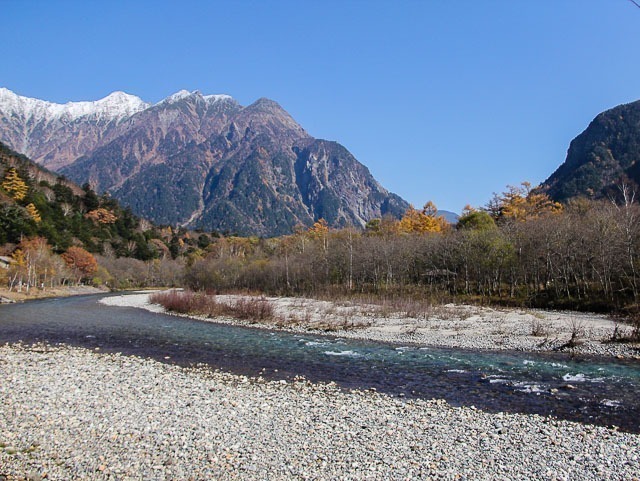 Kamikochi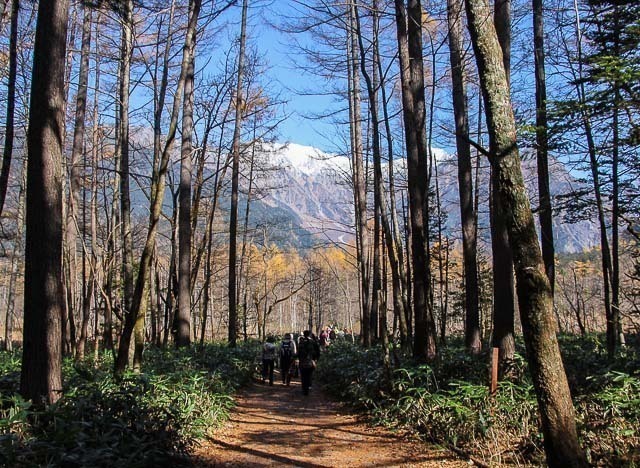 Along the trail with tour groups in front and behind me.
I left most of the tour groups behind at Kappabashi and forged on to Myojin-ike and then finally for Kamikochi Bus Terminal. The view of the mountains had changed by the time I got back to Kappabashi, with low hanging clouds in front of the mountain. It was really crowded there and at the bus terminal as well. I had to get a queue number for the bus as it tends to get full.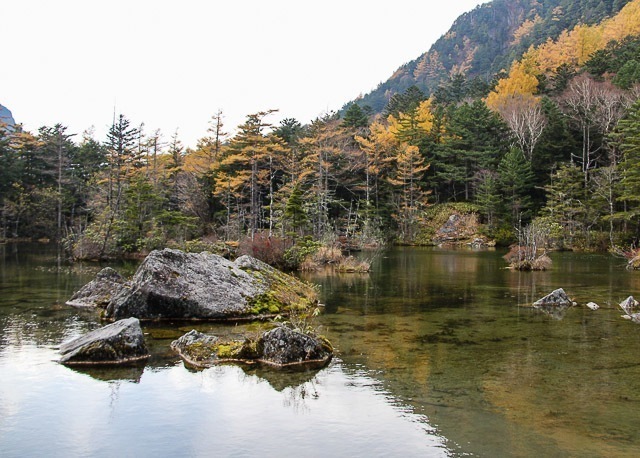 View around Myojin-ike.
View from Kappabashi around 2.30pm, cloudy.
Back in Hotel Buena Vista, I went to the lounge for a cup of tea to warm myself up after a day out in Kamikochi. Dinner was interesting as I got a chance to meet La Cafe Terraza's head chef, Adachi-san. He speaks good English having worked in New York for a few years. We had a great conversation and I learnt a little bit more about his cooking philosophy and why he comes out of the kitchen to meet and greet customers; cooking for people, as opposed to creating dishes for people to eat.

Tomorrow, I'll be driving to Itoigawa. Only two days left to the tour!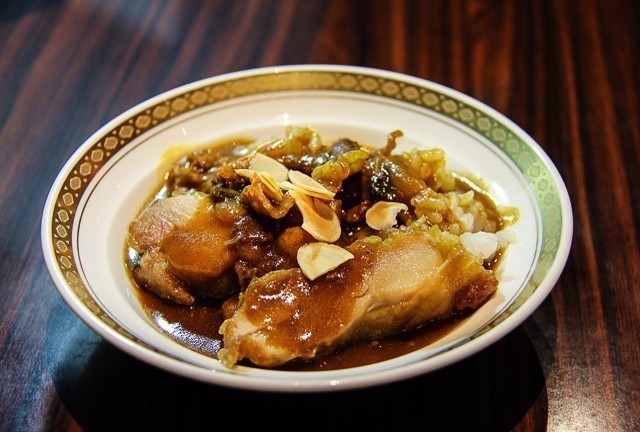 Curry rice is always great on a cold day.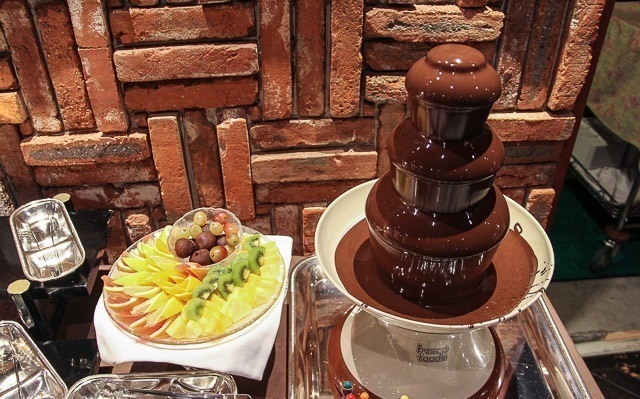 It's a chocolate fountain!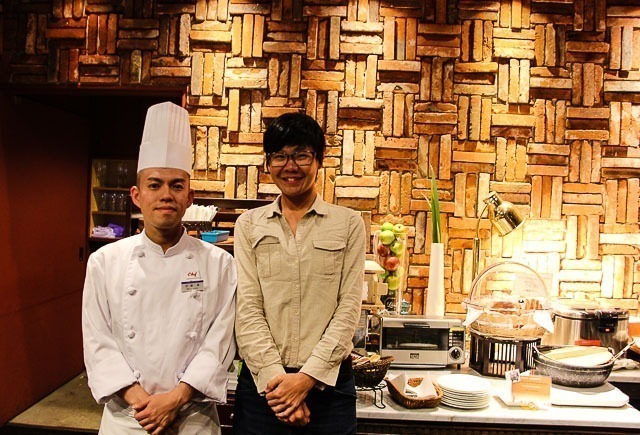 With Adachi-san.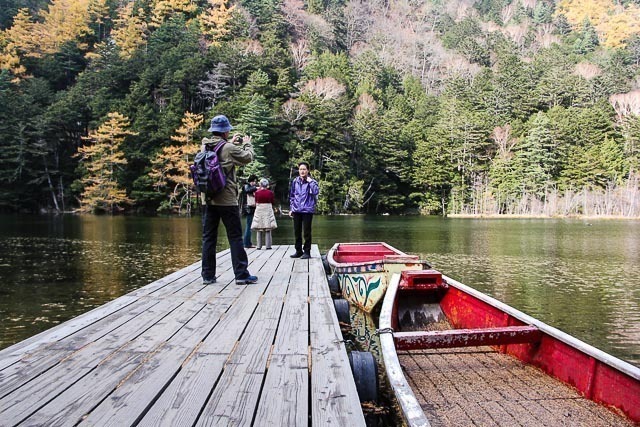 More tourists on the Myojin-ike grounds.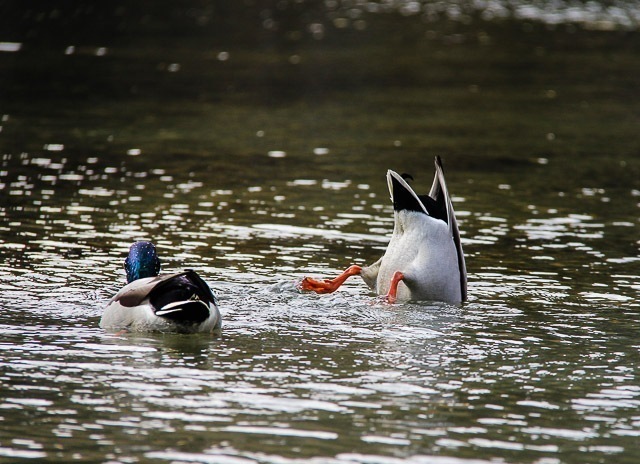 Local wildlife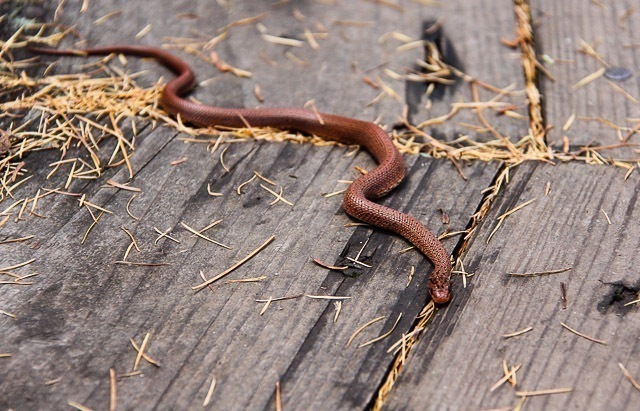 Another local wildlife.
Most of the terrain around Myojin-ike.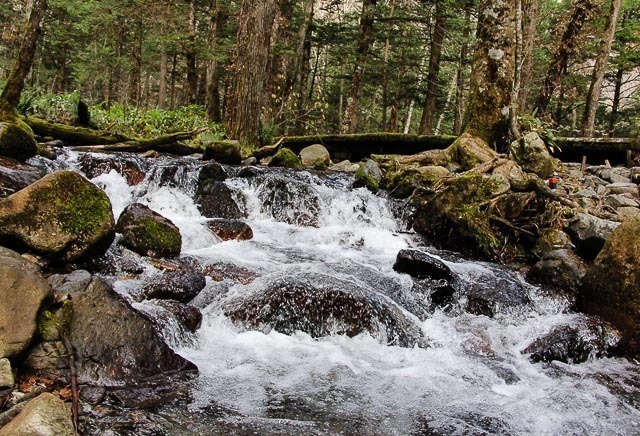 One of the many little streams.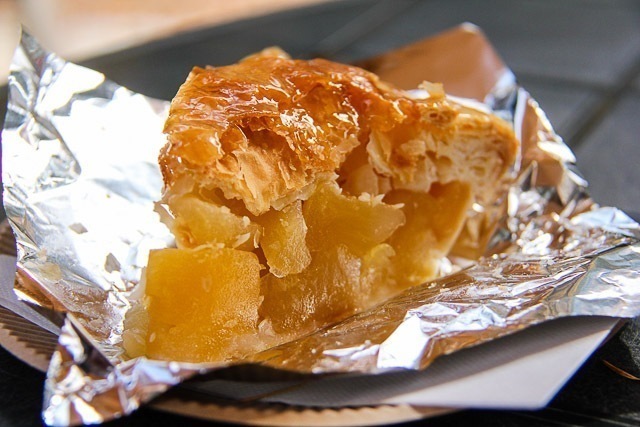 Shinshu apple pie was very delectable.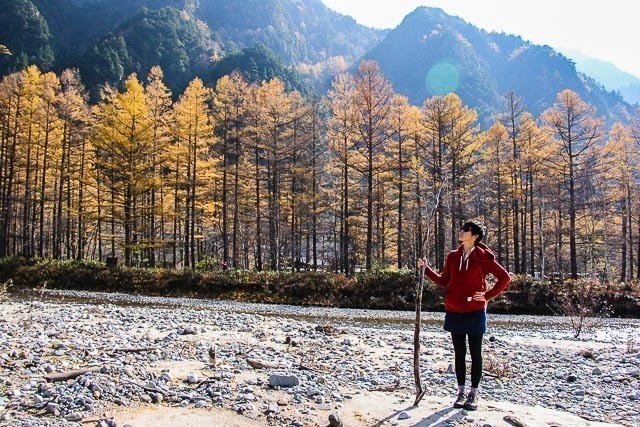 Autumn and I.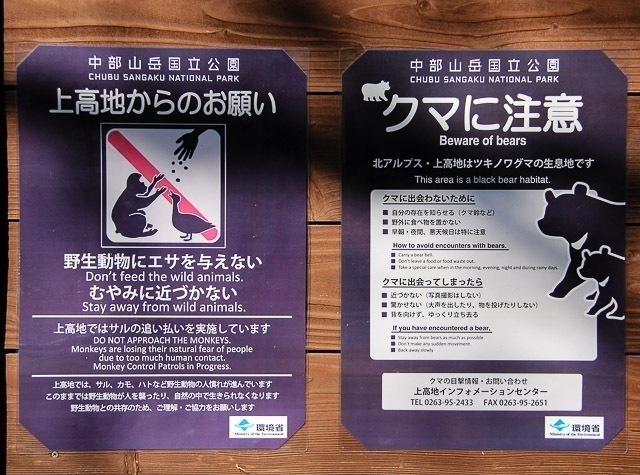 If most people stayed away and no one fed me, does that mean I'm a wild animal?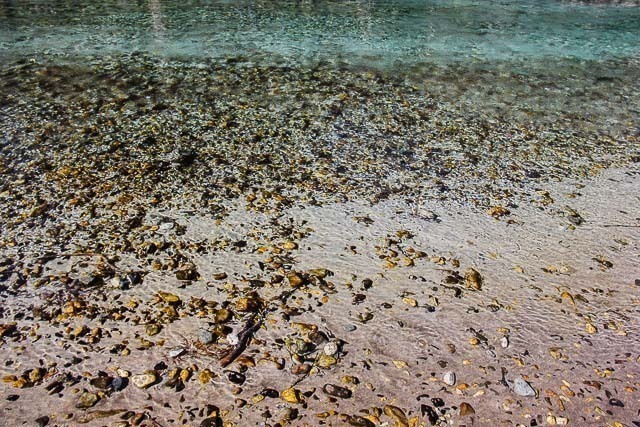 Everything is underwater here. The water is so clear.
Today's Walk: Hiking at Kamikochi

Join this walk
Today we arrive at Kamikochi, where a hike along the picturesque Azusa River is blessed with lovely views of the surrounding tall mountains, including Nishihotakadake (2909 m), Okuhotakadake (3190 m), Maehotakadake (3090 m) and the active volcano Yakedake (2455 m).
The day starts at the calm Taishoike Pond, where decayed trees standing in the pond provide a special sight. Next, we follow a nature trail through the woods which converges with Azusa River. We walk along the east bank of the river and cross over to the west side at the Kappabashi Bridge. Continuing north takes us to Takezawa Marsh, one of the most scenic areas of Kamikochi. We proceed to the nice Myojinike Pond and visit the adjacent Hotaka Shrine, before crossing the photogenic Myojinbashi Bridge and walking back to the Kappabashi Bridge.
The koyo season usually peaks around mid October here at Kamikochi, so we might only be in time to see the last vestiges of autumn colors. Among the wildlife to be observed are monkeys and various birds.
Date
October 31, 2013
Start Time
10:00
Start
Taishoike Pond
Goal
Kappabashi Bridge
Distance
12 kilometers (about 4 hours)
Terrain
Today's walk is mostly along a flat terrain and requires no hiking experience. However, proper walking shoes are required. Small sections of the route are paved, while others are on elevated boardwalks, nature trails and pebble paths.
Weather
Average daytime high: 11 degrees Celsius (52 degrees Fahrenheit)
Average nighttime low: -1 degrees Celsius (30 degrees Fahrenheit)
Weather Forecast for Nagano
Access
Kamikochi can only be accessed by bus or by taxi from nearby parking lots. When approaching Kamikochi by bus or taxi, get off at Taishoike (大正池) bus stop next to the Taishoike Hotel.
More details on how to get to Kamikochi
Lodgings
There are several accommodations available at Kamikochi, which make good bases for today's walk. More alternatives can be found at nearby cities of Matsumoto and Takayama.
Search hotels in Kamikochi through Booking.com or Japanican
Search hotels in Matsumoto through Agoda, Booking.com or Japanican
Search hotels in Takayama through Agoda, Booking.com or Japanican
The deadline for answering the quiz question for day 28 has passed.

Into which ocean or sea does the river water of Kamikochi eventually flow?
| | | |
| --- | --- | --- |
| 13% | Pacific Ocean | |
| 63% | Sea of Japan | |
| 3% | Seto Inland Sea | |
| 0% | Indian Ocean | |
| 22% | None of the above | |
The correct answer is: Sea of Japan
The river that passes through Kamikochi, the Azusa River, is an upper stream of the Shinano River which eventually flows into the Sea of Japan. However, since the Sea of Japan is part of the Pacific Ocean, answer 1) is also considered correct.
Current Standings: (after 30 days)

More about the quiz