October 9, 2013
Day 6 - Mount Aso

Mount Aso (ˆ¢'hŽR, Asosan) is an active volcano in the center of Kyushu. Its ancient caldera ranks among the world's largest, with a diameter of up to 25 kilometers and a circumference of over 100 kilometers.

In the center of the caldera stand the mountain's active volcanic peaks, including Mount Nakadake, whose spectacular crater is easily accessible to tourists by toll road or ropeway.
Mount Aso and I think I got sunburnt today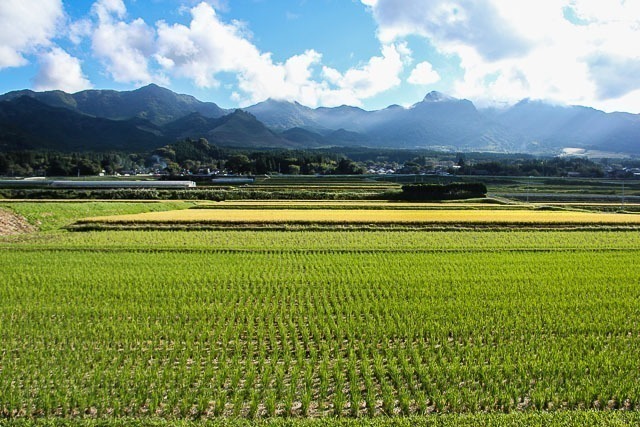 The smell of rice everywhere as we cycled through the fields
When the weather gets bad, the only thing to do is to stay indoors. Fortunately for me, Sozankyo is one of the best places to be stuck indoors. With English-speaking staff, brochures of the area in a variety of languages (English, Mandarin-Chinese, Thai, Korean, and the list goes on), English and Japanese newspapers, a bar in a traditional ryokan, private baths to rent for free, meticulously prepared food at meal times, therefs lots to read and do, when youfre stuck indoors because of the weather.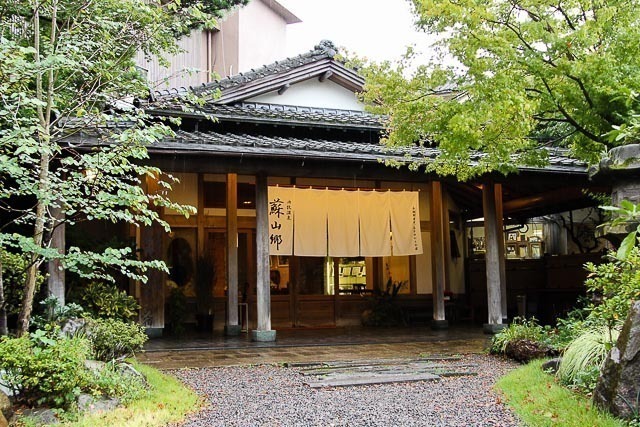 Main entrance to Sozankyo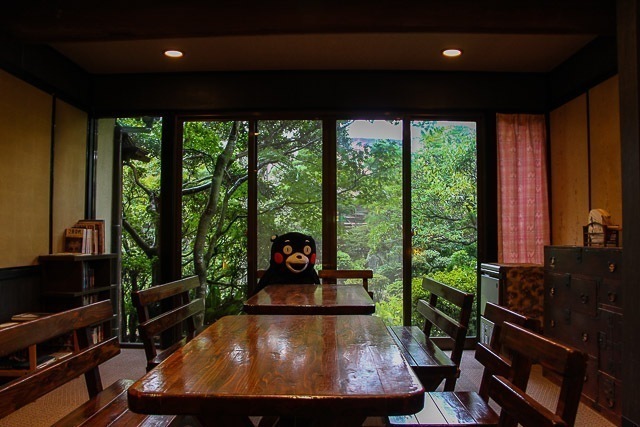 Say hello to Kumamoto's mascot, Kumamon
All Ifve done when Ifm here, is go for a soak in the bath (you can reserve any one of the two private baths at one time, or head to the communal bath), eat and lounge in the room. The room has a beautiful view of the garden outside, and come November, when the leaves of the tree turn red, this room has the best view in the house.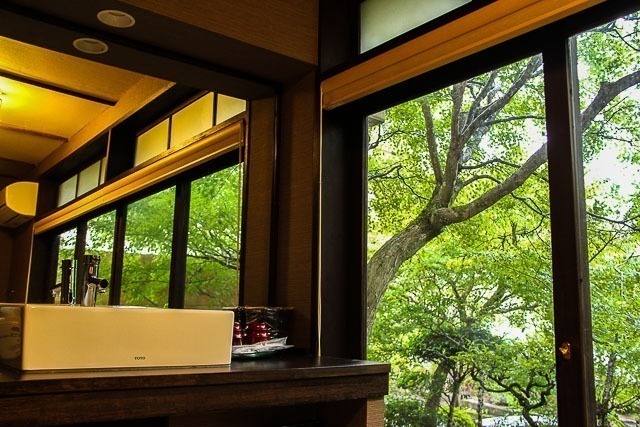 A part of the garden outside.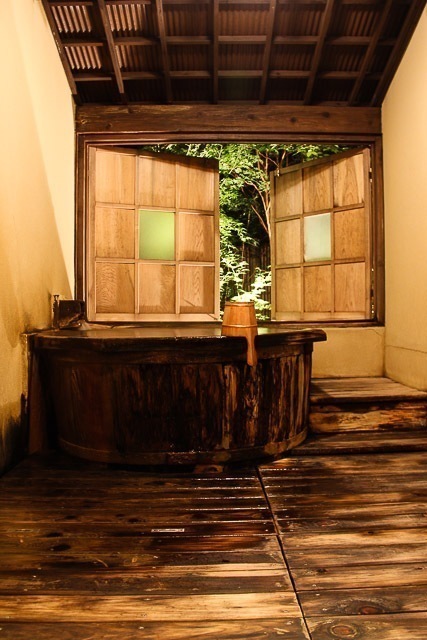 One of the two private baths you can rent. I also found out that shochu was made in this huge tub about 30 years ago.
A bar in a ryokan? Check.
Due to inclement weather, todayfs walk up to Asofs crater was cancelled. However, there was an alternative activity planned and off to that I went. The weather was gorgeous when I met up with Hoashi-san and his two staff, Arisa and Naomi, from Kumamoto University. We spent an afternoon exploring southern Aso, moving from freshwater pond to freshwater pond, eating local vegetables and fruit, and drinking fresh spring water. We even got to pick persimmons from the tree!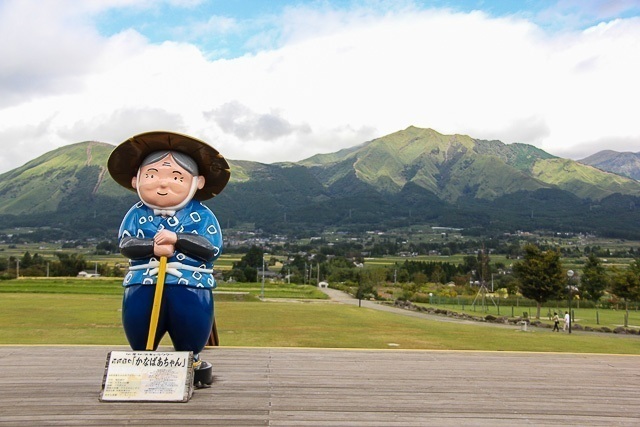 Grandma welcomes you and makes sure you don't get up to no good.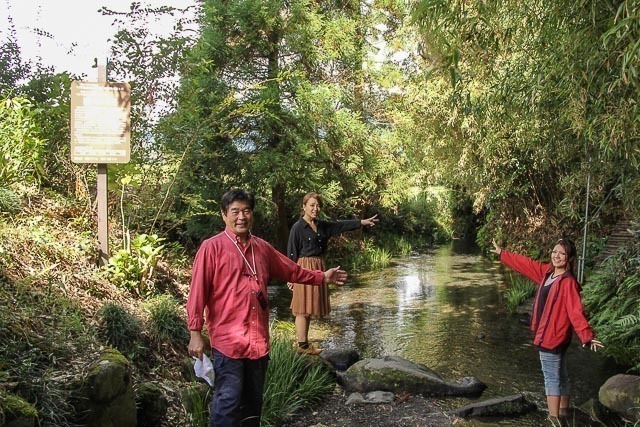 (l-r) Hoashi-san, Arisa and Naomi.
Our mode of transport was electric-assist bicycles and an electric car. We covered about 15-16km and I did my best to not use the electric assist in hopes of working off the past few meals (I think I only managed to work off this morningfs breakfast.) We ended the day at a cafe with awesome views of the mountain range and beautiful coffee. I had so much fun cycling around southern Aso, chatting to Hoashi-san, Arisa and Naomi, learning more about the area and going to areas where locals go.

Hoashi-san also runs the Earthtour Night Walk up Aso, which wouldfve been awesome to have gone, but once again, our best laid plans were foiled by the yesterdayfs bad weather.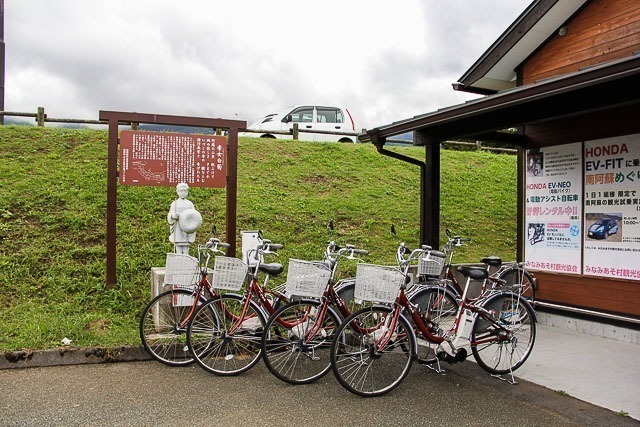 Our electric-assist mama chari.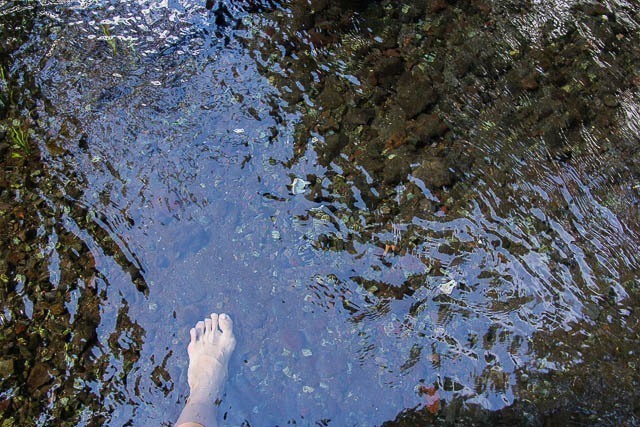 The water was really cold. I couldn't stand in it for longer than 5mins.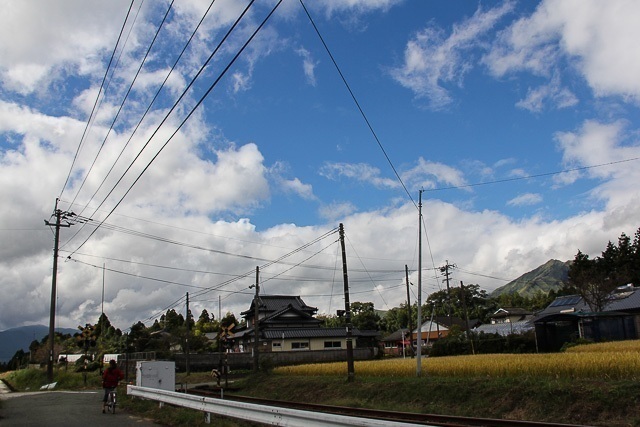 Blue skies and telephone/power lines.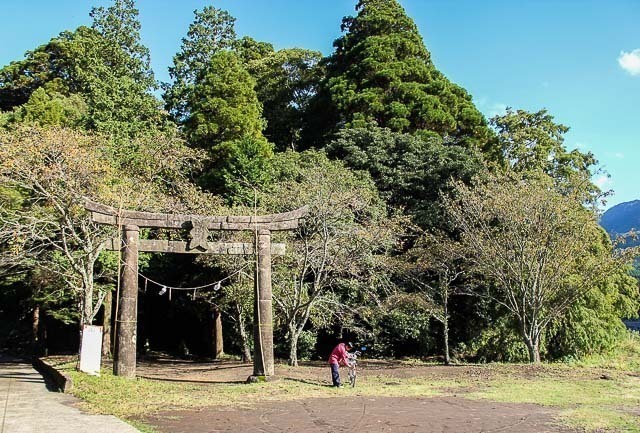 This shrine is the same as Izumo Taisha in Shimane prefecture. You can come here to pray for love/relationships.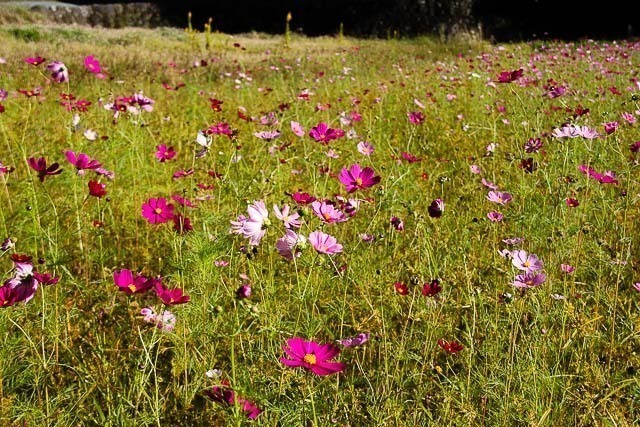 Autumn means cosmos.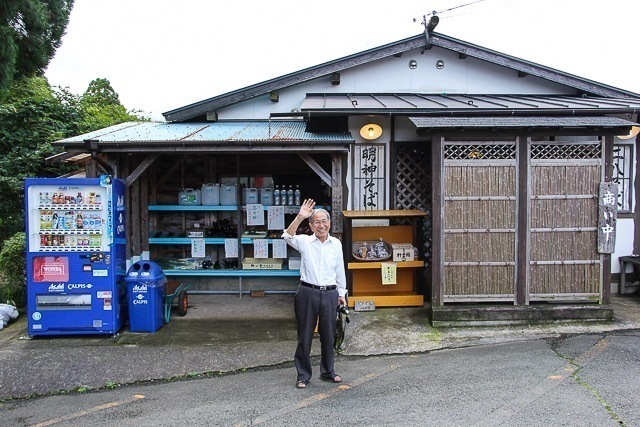 Friendly old man who showed us around the fresh water pond beside his place.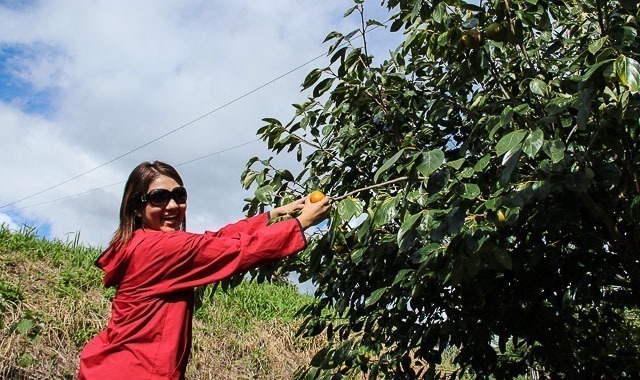 Friendly old man also let us pluck persimmons from his tree.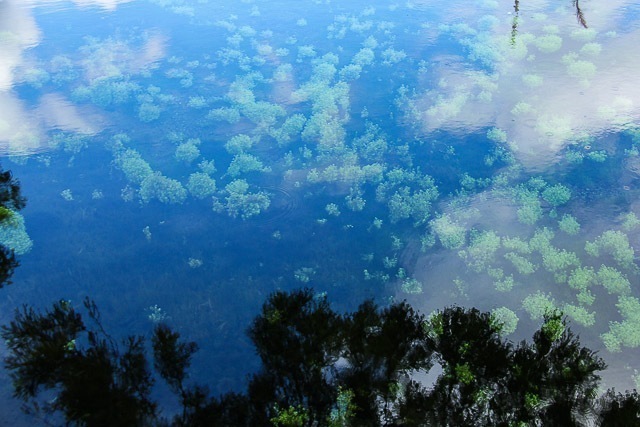 Doesn't this look like a mini rainforest from above? It's actually all underwater.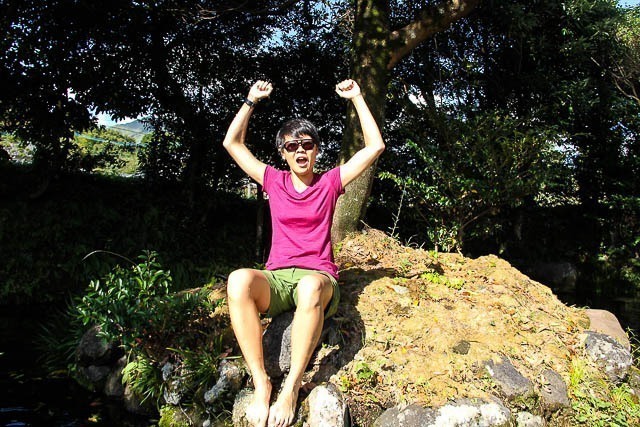 They say gno man is an islandh, but come to my island where you can soak your weary feet in fresh spring water.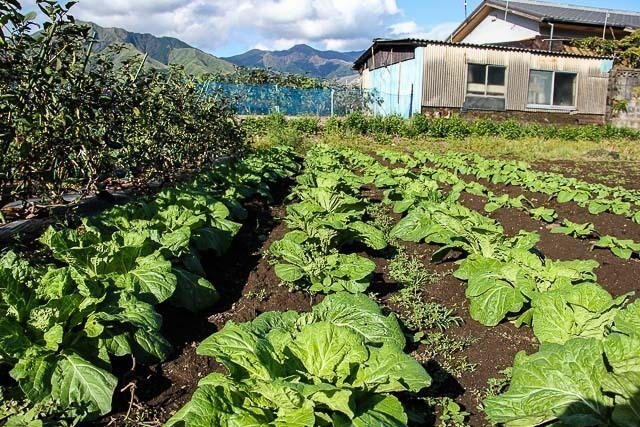 Love vegetable gardens. We didn't steal, I meant, help harvest any vegetables.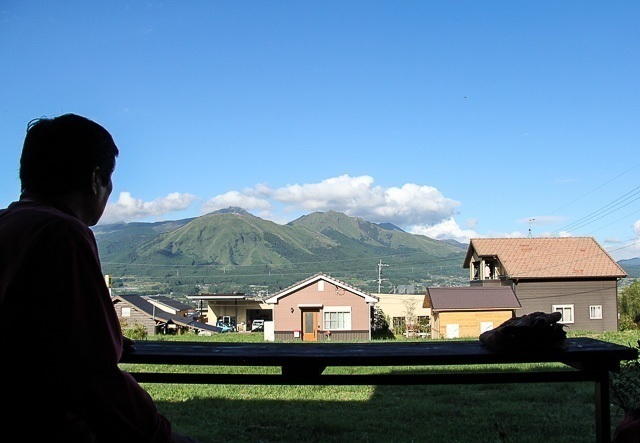 Hoashi-san enjoying the view. We all did.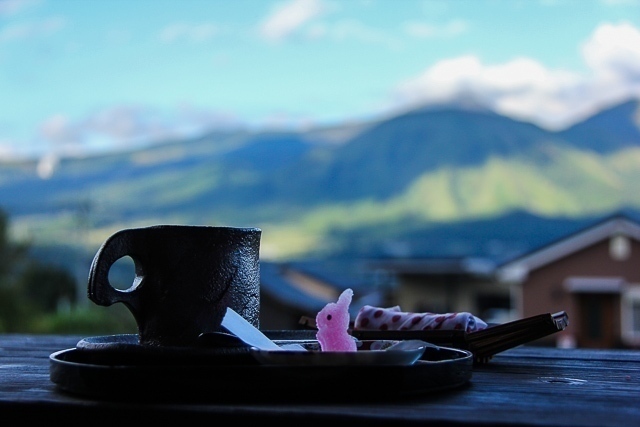 Enjoying a cuppa with the view.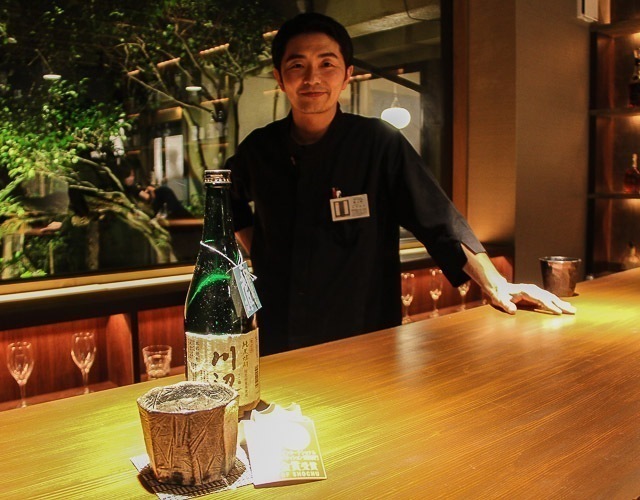 Boss-man Nagata-san being the bartender for the night.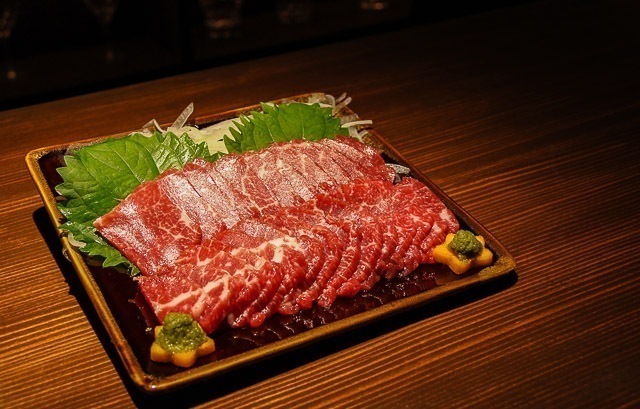 Horse sashimi to go with the shochu.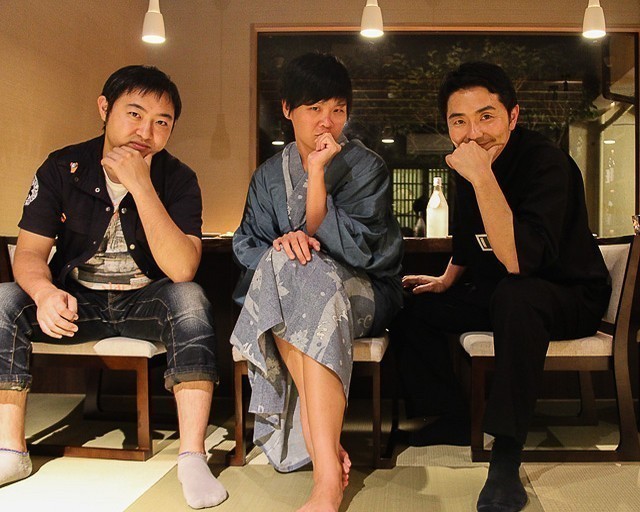 Our samurai pose to end the night.
Today's Walk: Climbing to Mount Aso's crater

Join this walk
Important Notice
Due to unfavorable weather and the closure of Mount Aso due to volcanic activity, today's walk has been cancelled.
Today's route starts at the Kusasenri-ga-hama Plain not far below the crater, where tourists can ride horses and visit a museum about volcanoes. The walk then leads along the road to the crater of Mount Aso.
Date
October 9, 2013
Start Time
10:05
Start
Kusasenri-ga-hama (in front of Volcano Museum)
Goal
Crater of Mount Aso
Distance
4 kilometers (about 2 hours)
Terrain
Today's journey proceeds generally uphill, along roads with narrow sidewalks. There is a designated walking path for the last 1.5 kilometers. Due to volcanic gas emissions, the last section leading up to the crater is sometimes closed according to conditions for the day. People with breathing problems are for the same reason advised not to participate in the last section of the walk.
Weather
Average daytime high: 15 degrees Celsius (59 degrees Fahrenheit)
Average nighttime low: 8 degrees Celsius (46 degrees Fahrenheit)
Weather Forecast for Kumamoto
Access
To get to Kusasenri-ga-hama, take a bus from Aso Station and get off at the Kusasenri Aso Kazanhakubutsukan-mae ('ç—¢ˆ¢'h‰ÎŽR"Ž•¨ŠÙ'O) bus stop. The buses depart from the station at 9:10, 9:50, 10:40, 12:10, 13:25 and 14:50. The one way trip takes 35 minutes and costs 470 yen. The 9:10 departure arrives at Kusasenri in time for today's walk.
More details on how to get to Aso
Lodgings
There are multiple hotels, ryokan and guest houses at the foot of Mount Aso. Lodgings at nearby Kurokawa Onsen or Kumamoto City also make good bases for today's walk.
Search hotels in Aso through Agoda, Booking.com or Japanican
Search hotels in Kurokawa Onsen through Booking.com or Japanican
Search hotels in Kumamoto through Agoda, Booking.com or Japanican

Join this walk

Today's Activity - Exploring Minami Aso
After having lunch together, we will explore Minami Aso on rental bicycles, motorcycles and electric cars. Along the way, we stop at the Yamamura Sake Brewery and the Takezaki Suigen water source.
Location
Minami Aso Village Tourist Association counter at Aso Bo no Sato (' '»–]'Ì‹½).

Address: 2807 Oaza Hisaishi, Minami Aso-Mura, Aso-gun, Kumamoto-ken

Time
October 9, 12:30 to 15:00
Cost
3000 yen (Includes lunch)
The deadline for answering the quiz question for day 6 has passed.

Aso is one of 19 national geoparks in Japan. How many global geoparks are there in Japan?
| | | |
| --- | --- | --- |
| 0% | Three | |
| 5% | Four | |
| 59% | Five | |
| 35% | Six | |
| 0% | None of the above | |
The correct answer is: Six
The Oki Islands were added as Japan's sixth global geopark in September 2013. The other five are Itoigawa, Lake Toya, the Sanin Coast, the Shimabara Peninsula and Muroto.
Current Standings: (after 30 days)

More about the quiz