2013/10/02 - We Love Japan Tour 2013 Kick-off Celebration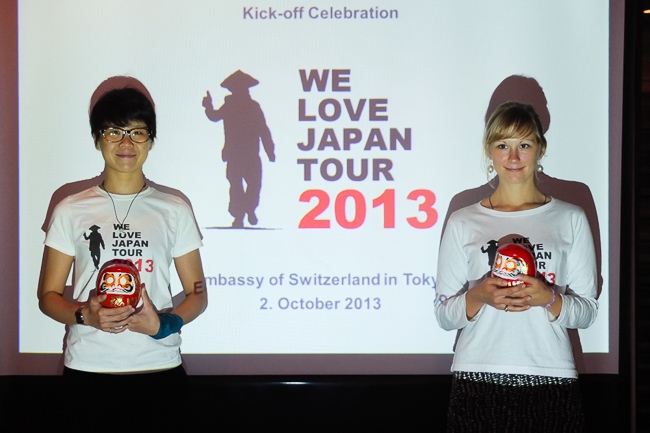 Travel bloggers Raina Ong (left) and Karolina Tammivuori (right)
After months of planning and preparation, the We Love Japan Tour 2013 is finally upon us. Tonight, the Embassy of Switzerland in Tokyo hosted the "We Love Japan Tour 2013 Kick-off Celebration" to introduce the tour's two travel bloggers to supporters, sponsors and the media before they will start their journeys across the country on Friday. The Embassy of Switzerland already supported Thomas Köhler on his inspirational walk through Japan two years ago and has been invaluable in making the We Love Japan Tour 2013 a reality.
The tour's supporters, sponsors and organizers were treated to speeches from Swiss Ambassador Urs Bucher, Diet member Yamamoto Kozo, Chairman Research Commissioner on Tourism, and JNTO President Matsuyama Ryoichi, all of whom echoed their hopes that the tour will be successful in its goal of further opening up Japan's hidden beauties to a global audience. In addition, Mr. Oi Atsushi, Executive Managing Officer, General Manager of the Osaka Branch of our main sponsor Mitsui & Co., Ltd., addressed the guests present and proposed a toast to start the evening's party.
We would like to thank everyone for their support and invite our readers to follow along with the tour on the website, participate in our daily quiz or even join the tour on one of the daily walks. We hope to see you there!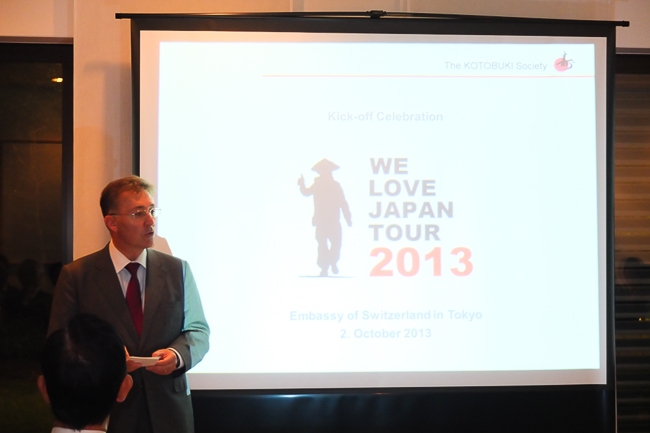 Welcome note by Ambassador Bucher
Diet member Mr. Yamamoto Kozo, Chairman of the Research Commission on Tourism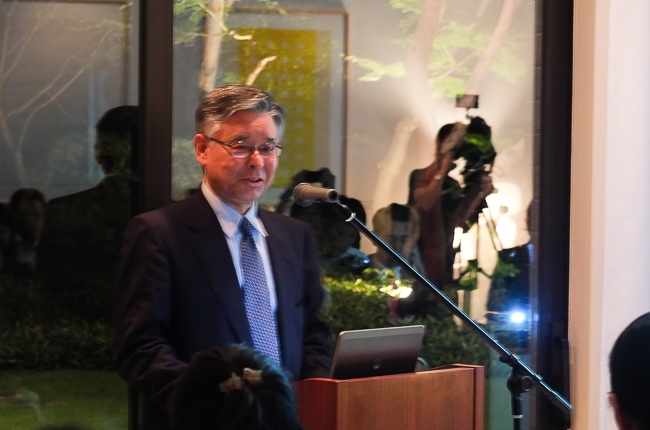 Mr. Matsuyama Ryoichi, President of JNTO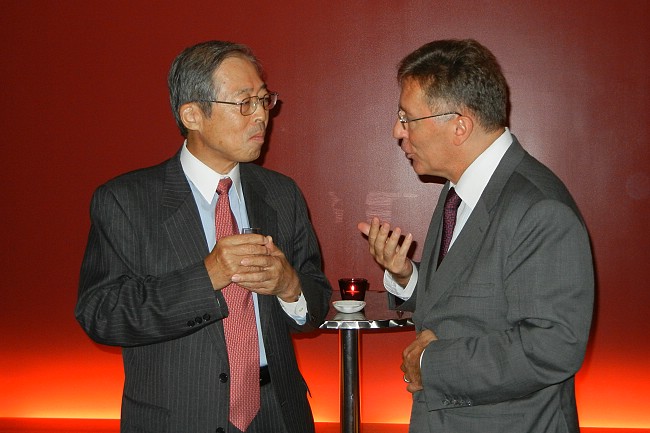 Mr. Oi, Executive Managing Officer, General Manager of the Osaka Branch of Mitsui & Co., Ltd. with Ambassador Bucher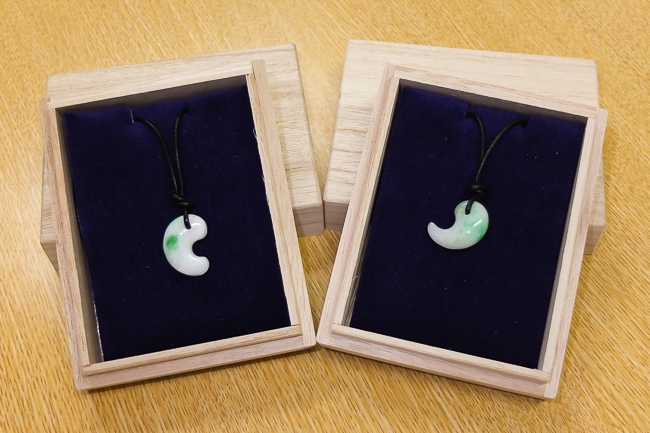 Itoigawa City, the tour's goal destination, presented the bloggers with jade amulets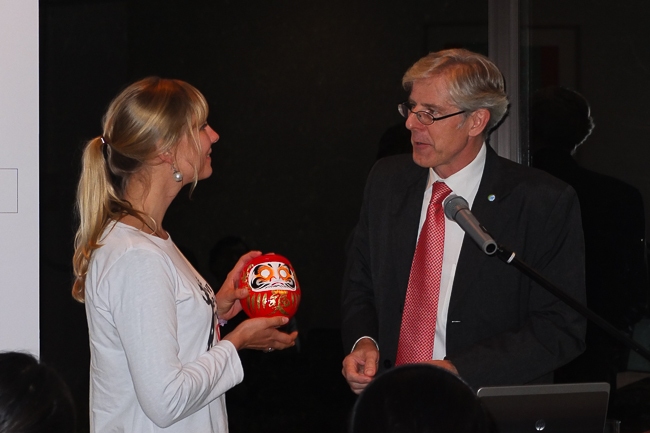 Blogger Karolina Tammivuori receiving a good luck daruma from Rolf Muller, member of the tour committee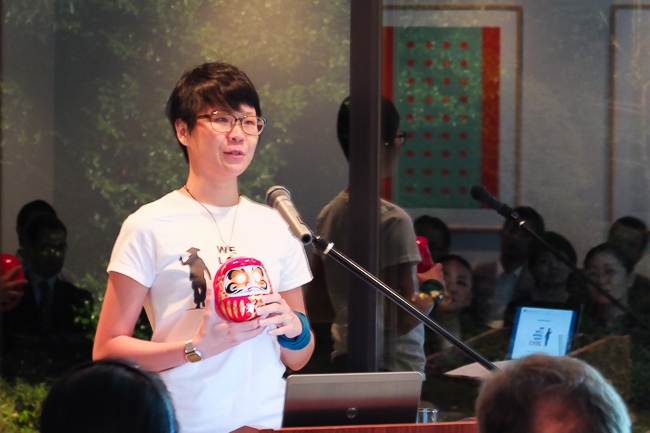 Blogger Raina Ong giving her introduction speech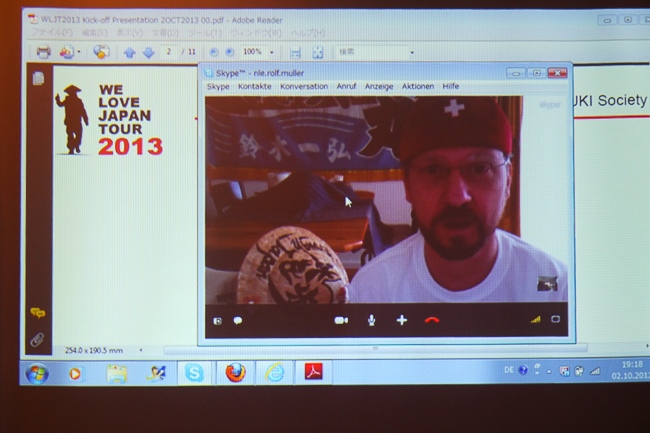 Thomas Köhler joined in from Switzerland via video conference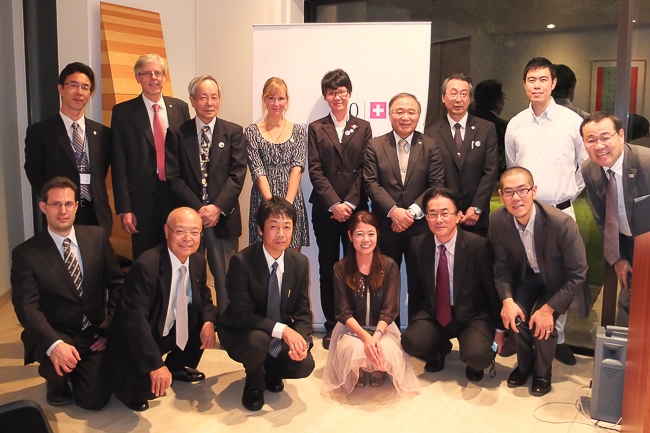 Some of the many supporters of the tour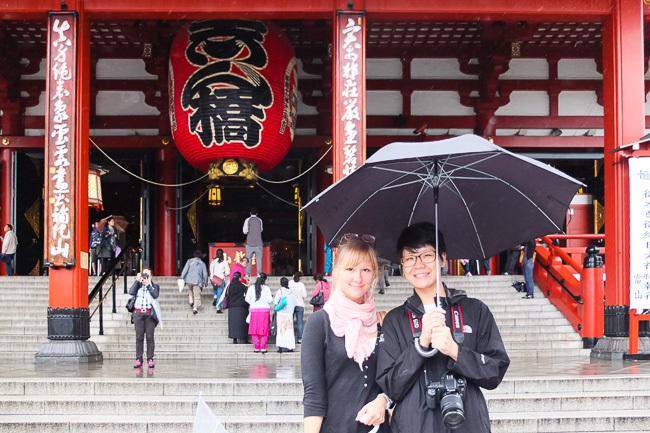 We Love Japan Tour 2013 travel bloggers at Sensoji Temple earlier during the day