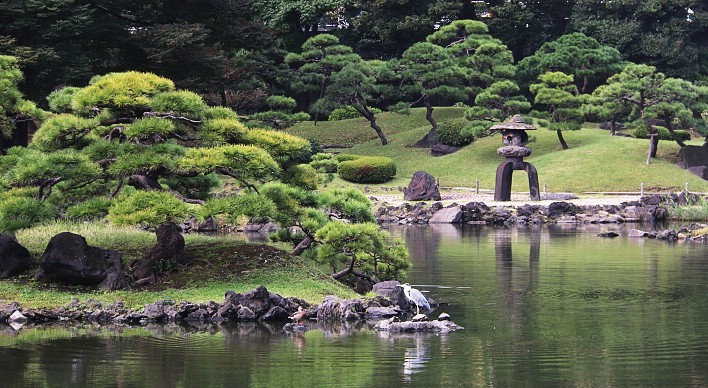 Gardens
Garden design is an important Japanese art form that has been refined for more than 1000 years. Gardens have evolved into a variety of styles with different purposes, including strolling gardens for the recreation of Edo Period lords and dry stone gardens for the religious use by Zen monks. Great gardens can be found throughout Japan, with particularly many in the former capital of Kyoto.
Below are Japan's best gardens according to japan-guide.com's editors and users:
1. Kenrokuen

Built in Kanazawa for the enjoyment of the former feudal lords, Kenrokuen feels like a collection of multiple excellent gardens that include a variety of ponds, streams, hills, groves, flower gardens and several pavilions and tea houses.
4. Kokedera

The moss covered garden of Kyoto's Kokedera (Moss temple) is one of the country's most celebrated. Advance reservations by mail and participation in a sutra copying session are required to see the garden.
5. Ritsurin Koen

The recreational garden of the former local lords, Ritsurin Koen in Takamatsu is one of the most beautiful strolling gardens in Japan, featuring ponds, tea pavilions and walking trails.
6. Ryoanji

Kyoto's Ryoanji Temple is home to the most famous of all stone gardens in Japan. Try to visit on weekdays in the early morning or late afternoon to reduce the crowds.
7. Korakuen

Korakuen is another of the best strolling gardens of Japan. It stands next to Okayama Castle whose former residents would use it for the entertainment of guests and themselves.
8. Daitokuji

Daitokuji Temple is the ultimate destination for those interested in Zen gardens. Consisting of nearly two dozen subtemples, Daitokuji offers a large number and variety of excellent gardens.
10. Byodoin

Byodoin is the best surviving example of a Pure Land Garden. Its celebrated Phoenix Hall appears on the 10 yen coin. A unique museum with temple treasures stands nearby.