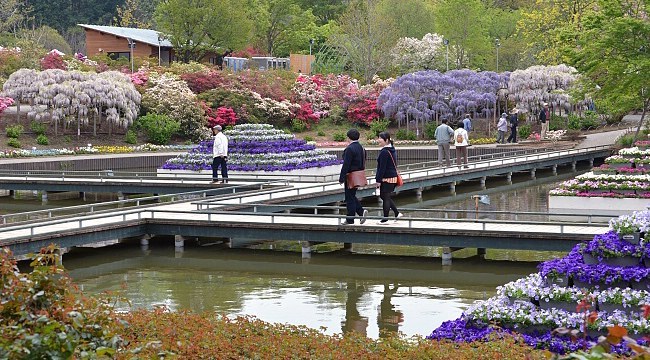 The Japanese love flowers, and wisteria are among their favorites. Wisteria are called fuji in Japanese, like Mt. Fuji, but unlike the mountain, the flower is pronounced by stressing the second syllable.
One of the best places to view fuji flowers is the Ashikaga Flower Park (あしかがフラワーパーク) in Ashikaga City, Tochigi Prefecture. Ashikaga Flower Park features lots of blue, white and pink fuji, as well as yellow laburnum (Japanese: kingusari) that look like yellow colored fuji.
One large fuji tree is 100 years old and its branches are supported to create a huge umbrella of blue fuji flowers. There is also a long tunnel of white fuji flowers, while a tunnel of yellow kingusari needs a few more years to become an actual tunnel. Yae-fuji, a variety with more than the usual number of petals, can also be viewed.
| | |
| --- | --- |
| One huge fuji tree | Tunnel of white fuji |
Besides the fuji, you will find many other flowers, restaurants and a shop selling plants and local products. There are no English descriptions and very few foreign visitors. The entrance fee depends on the season's beauty and is around 1000 Yen per adult during the fuji peak season.
The fuji in Ashikaga Flower Park are usually in full bloom in the beginning of May, one to two weeks later than the fuji of Tokyo. Because Ashikaga Flower Park is considered one of the best spots to view fuji flowers in Japan, the park can be very crowded even on weekdays during the peak season.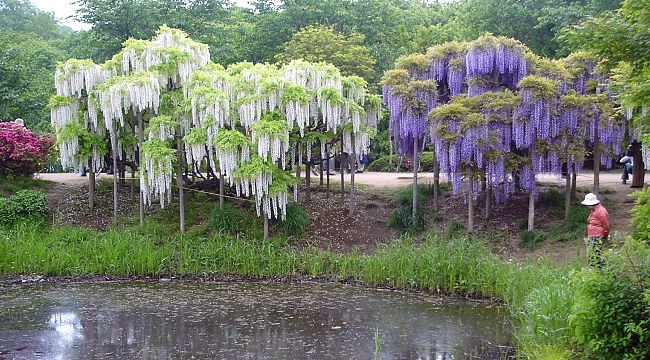 Any Questions? Ask them in our question forum.