Although Miyama is only located about 30 kilometers north of central
Kyoto
, it is rather complicated and time consuming to access. It is most easily visited as a side trip from Kyoto or along the way between Kyoto and
Amanohashidate
or
Kinosaki Onsen
: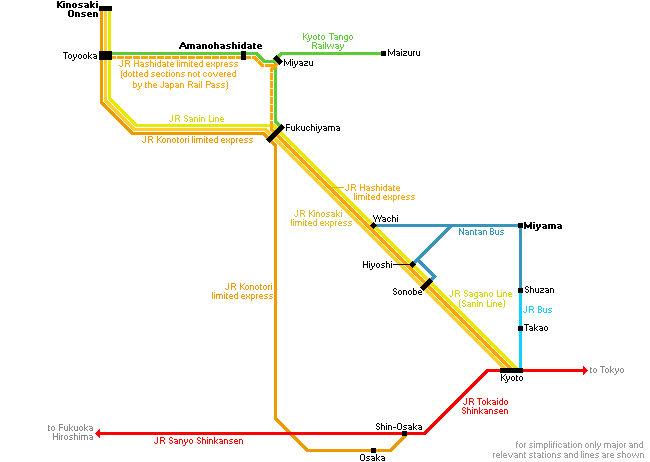 How to travel between Miyama and Kyoto
By train and bus via Hiyoshi Station

Timetables Kyoto-Miyama via Hiyoshi (pdf)
Take a local or rapid train along the JR Sagano Line (Sanin Line) from Kyoto to Hiyoshi Station (about 45 minutes, 760 yen, fully covered by the Japan Rail Pass). Most trains require a transfer at Sonobe along the way. From Hiyoshi take a Nantan Bus into Miyama (about 25-60 minutes, 300-660 yen depending on destination, may require 1-2 transfers along the way). A few buses depart from Sonobe Station instead of Hiyoshi Station. There are 3-6 good connections per day.
By bus via Takao through the mountains

Timetables Kyoto-Miyama via Takao (pdf)
From Kyoto Station, take the JR bus in direction of Takao and get off at Shuzan (90 minutes, 1180 yen, fully covered by the Japan Rail Pass), the terminal stop on the line (note that not all buses operate all the way to Shuzan). From there, Nantan Buses operate into Miyama (30-60 minutes, 350-600 yen depending on destination, requires a transfer along the way). There are 3-4 good connections per day.
By car
Due to poor public transportation in Miyama, rental cars are a convenient alternative for accessing and exploring the area. Many rental outlets can be found in Kyoto; however, to avoid the often unpleasant traffic in central Kyoto you may want to consider renting from an outlet north of the city center or from Kameoka. There are two main routes to reach Miyama from Kyoto:
By expressway via Sonobe

Take the Kyoto Jukan Expressway that runs through the mountains west of central Kyoto and get off at the Sonobe Interchange. From there head northeast along route 19 into Miyama. The entire journey from Kyoto to the Kayabuki no Sato takes about 90 minutes and costs about 750 yen in expressway tolls. The trip can also be made entirely on toll-free roads, but will probably take about 15-30 minutes longer.

Through the mountains via Takao

National Route 162 connects central Kyoto with Miyama via Takao. The one way trip takes about 90 minutes. During periods of heavy congestion, especially during the autumn color season in mid and late November, the journey can take considerably longer.
Above fees and schedules are subject to change. For the current yen exchange rate, click here.

How to get around Miyama
Miyama is covered by a fairly comprehensive bus network; however, buses tend to be infrequent and traveling across town often requires at least one transfer along the way, usually at Miyawaki or Shimo Sasae. Fortunately these transfers are often reasonably well timed especially along the major routes in and out of Miyama. Bus fares depend on the distance traveled. Alternatively, a one day bus pass for 1540 yen provides unlimited rides on Nantan buses on one calendar day (not including JR Bus to Kyoto).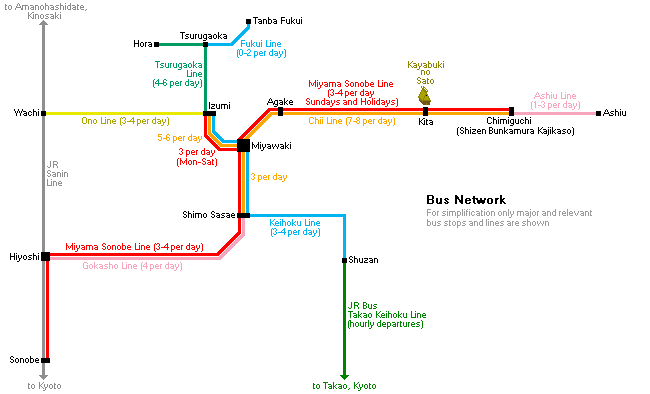 Miyama is also well suited to be explored by rental bicycle. Bicycles can be rented in Kayabuki no Sato (from the souvenir shop next to the parking lot), from the Shizen Bunkamura Kajikaso and from some of the local accommodations. They typically cost around 1000 yen per day. Rentals made from Kayabuki no Sato or Shizen Bunkamura Kajikaso can be ridden one way downhill to be returned at the Miyama Visitor Center at Agake.
The easiest way to get around Miyama is by rental car. There are no rental outlets near Miyama itself, but plenty of them around central Kyoto, Kameoka, Fukuchiyama and Maizuru.