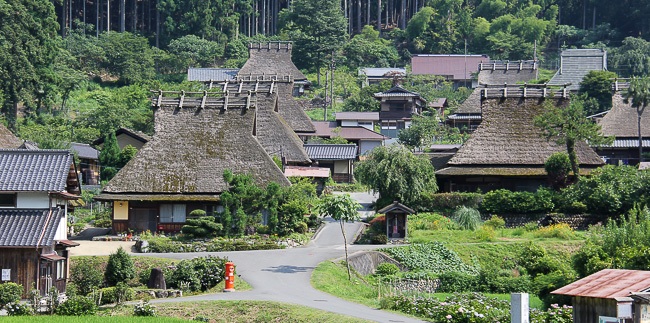 Kayabuki no Sato
Miyama (美山) is a remote, rural area in the mountains 30 kilometers north of central Kyoto. The area is famous for its traditional, thatched roof (kayabuki) farmhouses of which over 200 can be seen dotting the countryside. Unlike those found in many other historic towns and districts around the country, the majority of Miyama's old houses survive as residential dwellings where people still live and work. This in turn lends a very nostalgic atmosphere to the area, and gives visitors a chance to experience the traditional, authentic feel of rural Japan.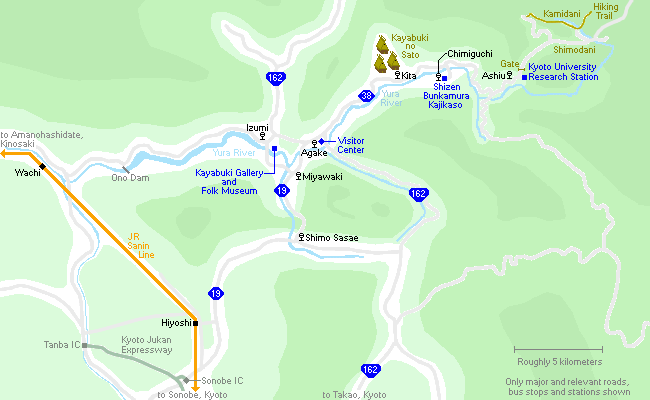 Miyama is made up of multiple small villages and hamlets scattered along its narrow, winding valleys. The main attraction among them is the northern village or Kayabuki no Sato, which features nearly 40 farmhouses with thatched roofs and has a higher percentage of thatched roof houses than any other place in Japan. Visitors can stroll around the village, but here too, most houses are private homes that cannot be entered.
One of the buildings open to the public is the Kayabuki no Sato Folk Museum. The former residence exhibits traditional tools and daily household items from past decades, as well as a few displays about the construction and maintenance of the thatched roofs. Not far from the folk museum stands the Little Indigo Museum, another thatched roof building which has been converted into an indigo dyeing studio and gallery. Apart from these two museums, the only tourist facilities in the village are three minshuku and a cafe. Furthermore, there are a few souvenir shops at the tourist parking lot across the street from the village.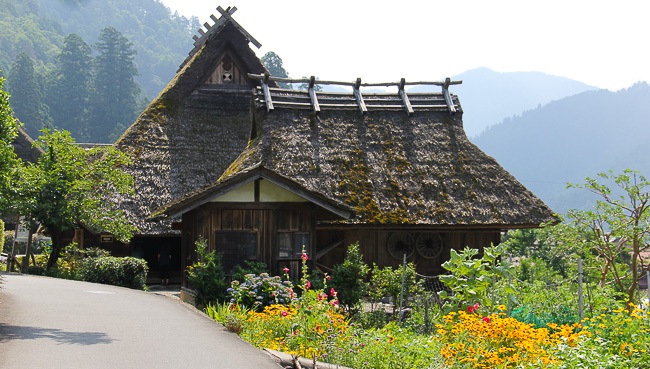 Kayabuki no Sato Folk Museum
One of the best ways to appreciate Miyama's thatched roof houses is to overnight in one of them. Three of the farmhouses in Kayabuki no Sato, along with several more in other villages of Miyama, also serve as lodgings. An overnight stay affords visitors a more intimate look at the houses as well as the chance to experience a traditional Japanese style home as many still feature tatami floors, futon beds and open hearths (irori).
The old wooden homes convey a pleasant, rustic atmosphere, yet at the same time they are typically equipped with simple, modern amenities. Baths and toilets are also usually modern but shared among the staying guests. An overnight stay typically starts from around 5000-8500 yen per person, depending on meals which usually feature local dishes such as sweetfish (ayu) caught locally in the Yura River.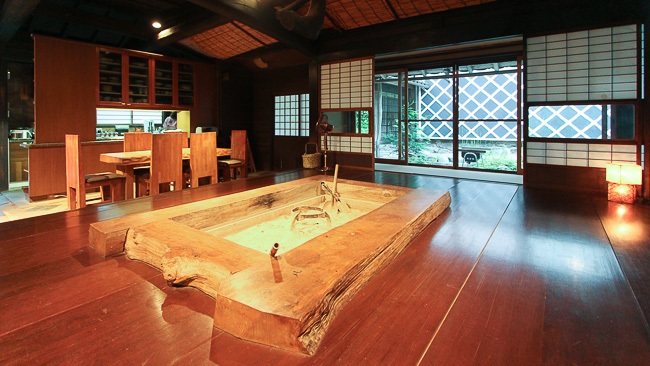 The open hearth of Miyama Futon and Breakfast, one of Miyama's lodgings
In addition to the houses in Kayabuki no Sato, a further 150 or so thatched roof farmhouses can be found scattered across Miyama. Two of these houses are the Miyama Kayabuki Gallery and Folk Museum, a 15 minute walk from the Izumi bus stop (Samotobashi bus stop is even closer). While the folk museum exhibits a large collection of traditional tools and artifacts from Miyama's past, the art gallery stages rotating exhibitions by various artists. One ticket covers admission to both.
Miyama is also known for its wealth of outdoor activities, including sweetfish fishing and hiking along the Yura River. A walking trail leads along the river for about two kilometers from the Kayabuki no Sato to the Shizen Bunkamura Kajikaso, a nature center and accommodation.
For more serious hiking, check out the Ashiu Forest that covers the mountainous eastern border of Miyama and is the source of the Yura River. This magnificent old-growth forest is populated by deer, bears and monkeys, and boasts the largest number of plant varieties in Japan. The forest is managed by Kyoto University as a research area and requires a permit to enter. Permits can be obtained from the research station at the entrance gate. While it is possible to visit on your own, it is easiest to access and explore Ashiu Forest by joining guided tours. Reservations can be made at Shizen Bunkamura Kajikaso.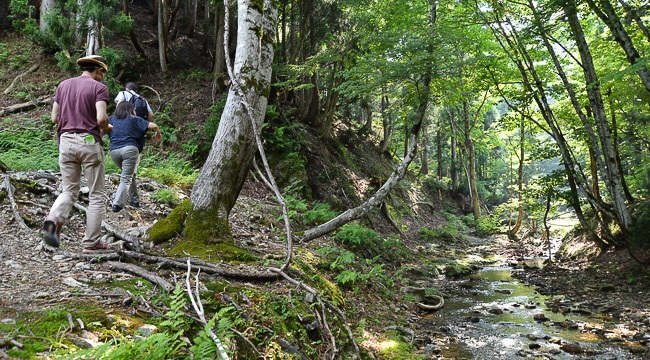 Hiking in the Ashiu Forest
Any Questions? Ask them in our question forum.