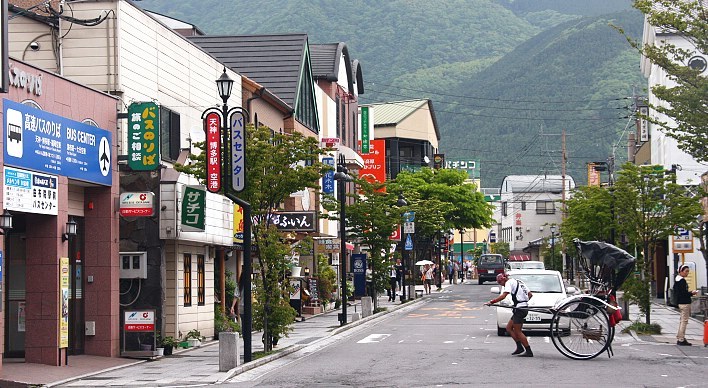 Yufuin (由布院 as onsen resort, 湯布院 as city district) is a popular hot spring resort, located about ten kilometers inland from Beppu, another, much larger and more developed hot spring resort. Yufuin has a wealth of art museums, cafes and boutiques, and many travelers come to the city just to stroll about town for the day.
Yufuin is located on a flat river basin surrounded by mountains. The most prominent feature of Yufuin's skyline is the twin peaked Mount Yufu, which hovers over the town and serves as the backdrop for many scenic views. The area is rural and shortly after leaving the main walking route, travelers will come across the rice paddies and farm houses that make up a considerable part of the town.
| | |
| --- | --- |
| A shopping area along the main walking route | Lake Kinrinko |
The ryokan and hotels of Yufuin are spread out around town, and not clustered along the main street like in many other resort towns. Instead, the main street is lined with cafes, boutiques and small museums, giving Yufuin an atmosphere more like a trendy shopping area than a traditional onsen town. Nonetheless, there is a large number of lodgings with hot spring baths, some of which open their baths to non-staying guests during daytime.
Another natural landmark of Yufuin besides Mount Yufu is Lake Kinrinko. The small lake is located at the end of the town's main walking route, about a kilometer and a half from the station. Walking paths surround the lake as well as more small shops and cafes, and there is a small shrine located at the lake's southern end. There are also a few public bath houses, one of which, the Shitanyu, can be used by tourists, while the others are for use by local residents only.
Below is a list of some of Yufuin's best baths: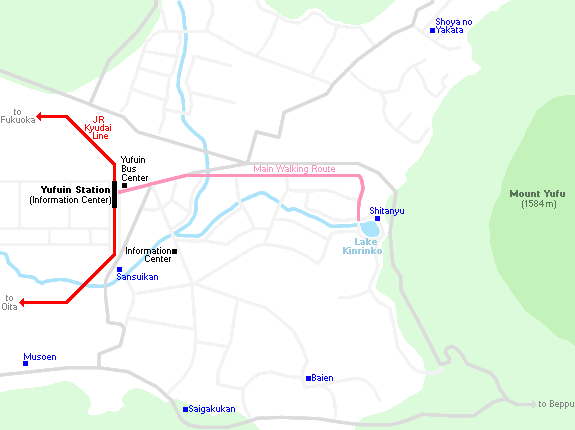 Shoya no Yakata
Daytime Hours: 9:30 to 16:20 (entry until 15:30)
Daytime Admission: 800 yen
Overnight Stay: From 18,000 yen per person including two meals
Shoya no Yakata is located on a hillside in the northern part of Yufuin where large steam clouds from hot spring sources can be seen raising into the air. Shoya no Yakata has large, gender separated outdoor baths which are best known for their blueish water, untypical for Yufuin. The location on the hillside allows for some views onto the town below.
Baien
Daytime Hours: 11:00 to 16:00 (entry until 15:00)
Daytime Admission: 600 yen
Overnight Stay: From 19,000 yen per person including two meals
Baien is located slightly above the town to the south, and has large, attractive outdoor baths (rotemburo) for visitors. On clear days, the twin peaks of Mount Yufu are visible from the baths. The facilities are gender separated.
Musoen
Daytime Hours: 10:00 to 15:30 (entry until 15:00)
Daytime Admission: 700 yen
Overnight Stay: From 19,000 yen per person including two meals
The views of Mount Yufu from Musoen's outdoor baths are considered among Yufuin's best. The ryokan is located slightly above town to the south and has large, attractive baths that are gender separated. The ryokan grounds are quite attractive, as well.
Sansuikan
Daytime Hours: 12:00 to 15:00
Daytime Admission: 500 yen
Overnight Stay: From 14,000 yen per person including two meals
Located just a short walk from Yufuin Station, the Sansuikan offers some of the most easily accessible baths to tourists without private means of transportation. The large ryokan's gender separated bathing facilities feature multiple outdoor and indoor pools, a scented bath and a sauna.
Saigakukan
Daytime Hours: 11:00 to 16:00 (entry until 15:00)
Daytime Admission: 620 yen
Overnight Stay: From 17,000 yen per person including two meals
Saigakukan is located to the south of town, however its baths are not quite as large, open and attractive as those of the Baien and Musoen. Nonetheless, they are quite nice and offer some views of Mount Yufu. There are gender separated indoor and outdoor pools.
Shitanyu Public Bath
Hours: 10:00 to 22:00
Admission: 200 yen
The Shitanyu is a very simple, old-fashioned public bath house at the shore of Lake Kinrinko with two small pools. It is gender mixed without dedicated changing rooms and very limited facilities. The bath house opens towards the back, giving bathers a view onto some greenery.
Ratings:

best of the best

best of Japan

outstanding
Get There and Around
How to travel between Yufuin and Beppu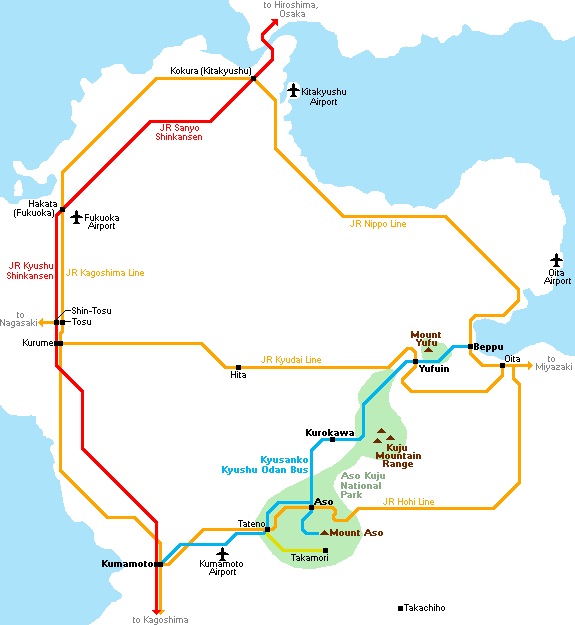 By bus
Kamenoi Bus operates 1-2 buses per hour between Beppu and Yufuin Stations. The one way trip takes 50 minutes and costs 900 yen.
By train
Train travel between Beppu and Yufuin requires a transfer of trains at Oita Station. By local trains, the one way journey takes about 80 minutes, costs 1110 yen and is fully covered by the Japan Rail Pass and Kyushu Rail Pass.
By Kyusanko Kyushu Odan Bus
The Kyushu Odan Bus operates between Beppu and Kumamoto, stopping at Yufuin along the way. The one way journey between Beppu and Yufuin takes one hour minutes, costs 980 yen and is covered by the Sun Q Pass.
Above fees and schedules are subject to change. For the current yen exchange rate, click here.
Orientation
Yufuin can be easily explored on foot, and the majority of the town's attractions are located along the 1.5 kilometer long main walking route between Yufuin Station and Lake Kinrinko. Walking the entire route takes between 20 and 30 minutes, not counting any stops along the way.
Yufuin's baths are spread out all across the town, and many of them are difficult to access without private transportation. Bicycles are a convenient method for traveling to the more remote baths or for seeing the town quickly. Rental bicycles can be obtained at Yufuin Station for 250 yen per hour or 1250 yen per day. Taxi and rental car are other options for getting around. Nissan and Ekiren have rental car outlets in Yufuin, while many more outlets are found in nearby Beppu.