How to travel between Yufuin and Beppu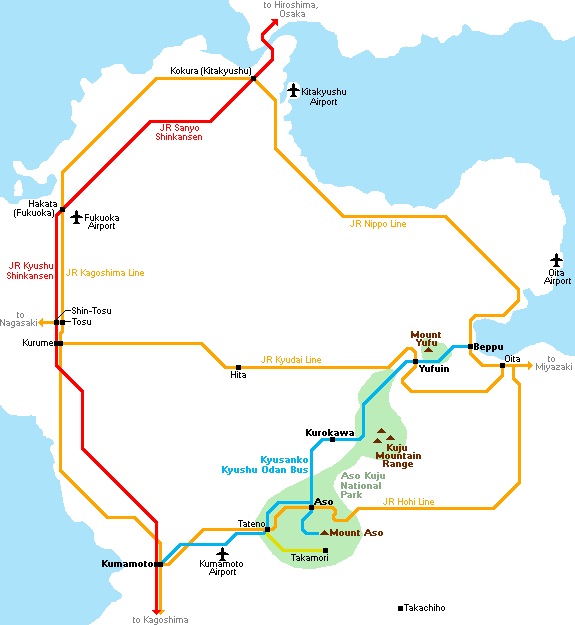 By bus
Kamenoi Bus operates 1-2 buses per hour between Beppu and Yufuin Stations. The one way trip takes 50 minutes and costs 900 yen.
By train
Train travel between Beppu and Yufuin requires a transfer of trains at Oita Station. By local trains, the one way journey takes about 80 minutes, costs 1110 yen and is fully covered by the Japan Rail Pass and Kyushu Rail Pass.
By Kyusanko Kyushu Odan Bus
The Kyushu Odan Bus operates between Beppu and Kumamoto, stopping at Yufuin along the way. The one way journey between Beppu and Yufuin takes one hour minutes, costs 980 yen and is covered by the Sun Q Pass.
Above fees and schedules are subject to change. For the current yen exchange rate, click here.

Orientation
Yufuin can be easily explored on foot, and the majority of the town's attractions are located along the 1.5 kilometer long main walking route between Yufuin Station and Lake Kinrinko. Walking the entire route takes between 20 and 30 minutes, not counting any stops along the way.
Yufuin's baths are spread out all across the town, and many of them are difficult to access without private transportation. Bicycles are a convenient method for traveling to the more remote baths or for seeing the town quickly. Rental bicycles can be obtained at Yufuin Station for 250 yen per hour or 1250 yen per day. Taxi and rental car are other options for getting around. Nissan and Ekiren have rental car outlets in Yufuin, while many more outlets are found in nearby Beppu.