The view from the summit of the Kuju peak
The Kuju mountain range (九重山, Kujūsan) is part of the Aso-Kuju National Park and includes the highest peak on the island of Kyushu. The mountains are covered by a network of hiking trails that offer spectacular views of the volcanic terrain. Between late October and mid November, Kuju becomes one of the best places on Kyushu to find fall colors.
The Kuju mountains are located along the Yamanami Highway that extends from Beppu to Aso as part of the attractive Trans Kyushu Route. The two main trailheads for the Kuju mountains are located at the Makinoto Pass and the Chojabaru Visitor Center, which are both along the popular road.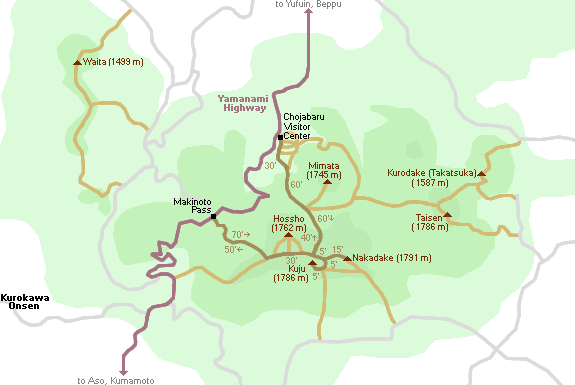 Of the park's two main trailheads, the Makinoto Pass is located at a higher elevation and is closer to the main mountain peaks, while the Chojabaru Visitor Center has informative displays about the area and more facilities. Depending on the trailhead and route taken, a round trip to Kuju's main peaks typically takes between four and six hours.
The park's highest point is the Nakadake (中岳) peak, which stands at 1791 meters. The nearby Kuju (久住山) peak stands slightly shorter at 1786 meters and is popular for its fantastic views. Another popular peak to visit is Hossho (星生山), which has steam emitting vents along its slopes. The peaks of the Kuju mountains are usually covered in snow from December through March.
| | |
| --- | --- |
| The Makinoto Pass | A line of hikers |
Travelers who are looking for a less time consuming and physically demanding hike can explore a network of walkways around the Chojabaru Visitor Center. There is a wetland beside the visitor center above which wooden walkways are elevated. A looping 2.5 kilometer course takes 30-40 minutes to walk, and the Kuju mountains can be seen from along the path.
Due to the area's volcanic activity, there are quite a few onsen (natural hot springs) in the Kuju area. Around the base of the mountains there are a few ryokan and hotels with hot spring baths that can be used by overnight guests and in some cases day trippers. The particularly attractive hot spring town of Kurokawa Onsen is also located nearby.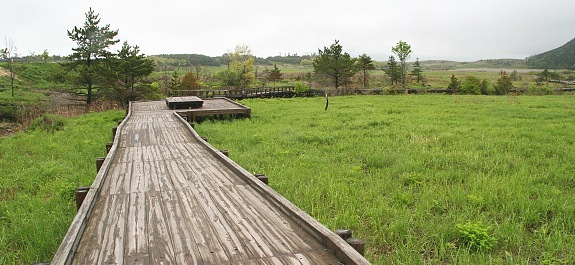 Elevated walkways above the wetlands beside the Chojabaru Visitor Center
Any Questions? Ask them in our question forum.