Kansai International Airport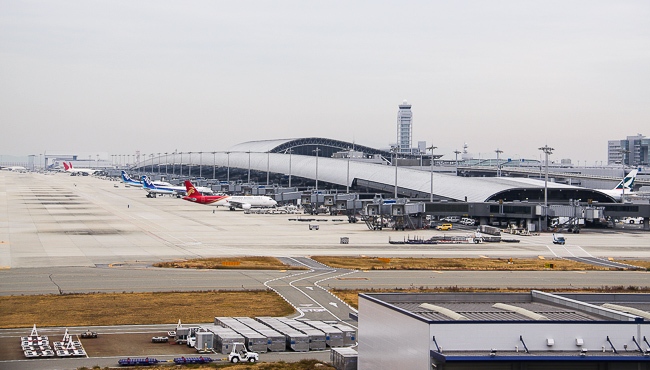 Kansai International Airport (関西空港, Kansai Kūkō, KIX) is one of Japan's most important international airports. Located on a man made island about 40 kilometers south of central Osaka, Kansai Airport was opened in 1994, taking over all international and some of the domestic air traffic formerly handled by Osaka's Itami Airport.
Kansai Airport has two terminals. Terminal 1, the main terminal, is housed in a long, modern building and serves both domestic and international flights by regular airlines. The railway station is located directly adjacent to it. Added in 2012 in a more remote, spartan building, terminal 2 serves low-cost airlines (LCCs). It has fewer bus connections and no train service, and is connected to terminal 1 and the railway station by a free shuttle bus.
The following train and bus lines connect Kansai Airport's terminal 1 with the nearby cities of Osaka, Kyoto, Kobe and surroundings. Only a limited number of buses also stop at terminal 2.
How to travel between Kansai Airport and Kyoto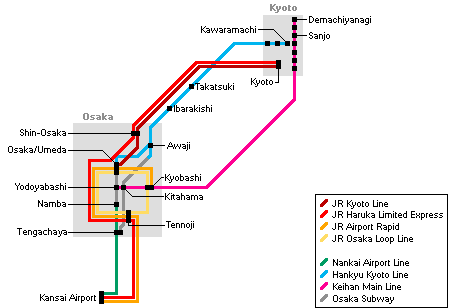 By JR Haruka limited express train
Direct, 70 minutes, 1600-3500 yen, 2 trains per hour
The JR Haruka limited express takes about 70 minutes and costs 2850 yen by non-reserved seat or around 3500 yen by reserved seat from Kansai Airport to Kyoto. There are departures every 30 minutes. With the Icoca & Haruka ticket, available to foreign tourists only, you can do the trip by non-reserved seat for only 1600 yen if you own or purchase an Icoca prepaid card.
By JR rapid trains
1 transfer, 100 minutes, 1880 yen, 4 connections per hour
Take the JR Airport Rapid from Kansai Airport to Osaka Station and transfer to a special rapid train along the JR Kyoto Line to Kyoto. The one way trip takes about 100 minutes and costs 1880 yen.
By Nankai and Hankyu Railways
2 transfers, 120 minutes, 1230-1600 yen, frequent connections
Take a Nankai express train from Kansai Airport to Tengachaya Station (40 minutes, 920 yen), and then the Sakaisuji Subway Line and Hankyu Kyoto Line to central Kyoto (about 60 minutes, 680 yen, one transfer of trains along the way, typically at Awaji, Ibarakishi or Takatsuki Station). A special ticket, the "Kyoto Access Ticket" (also known as "Kanku Access Ticket" if purchased in Kyoto), covers this route for only 1230 yen one way. This route is worth considering by people staying in central Kyoto along or around Shijo-dori Street.
By Nankai and Keihan Railways
2 transfers, 120 minutes, 1570 yen, frequent connections
Take a Nankai express train from Kansai Airport to Tengachaya Station (40 minutes, 920 yen), followed by a 10 minute ride on the Sakaisuji Subway Line to Kitahama (240 yen). From Kitahama, take the Keihan Main Line to central Kyoto (50 minutes, 410 yen). This route is worth considering by people staying in eastern Kyoto along the Keihan Line, e.g. Higashiyama or Gion.
By bus
Direct, 100 minutes, 2550 yen, 1-2 buses per hour
Direct airport buses from Kansai Airport to Kyoto Station take about 100 minutes and cost 2550 yen.
By taxi
Direct, 90-150 minutes, 3600 yen per person (shuttle service), 20,000 yen (regular taxi)
By regular taxi the trip costs around 20,000 to 25,000 yen and takes about 90-150 minutes depending on the destination in Kyoto. Furthermore, several taxi companies operate so called "shuttle services" (mini buses shared by several passengers) between the airport and a desired location in Kyoto for around 3600 yen per person. Advance reservations are required for these "shuttle services".
Above fees and schedules are subject to change. For the current Yen exchange rate, click here.
Means of access to/from Kansai Airport
JR Limited Express "Haruka"
About 2000 yen, 30 minutes to Tennoji
About 3000 yen, 50 minutes to Shin-Osaka
About 3500 yen, 70 minutes to Kyoto
Departures every 30 minutes
The Haruka is a comfortable train for travelers to and from the airport, which connects to Tennoji (a large station in southern Osaka), Shin-Osaka (the shinkansen station of Osaka) and Kyoto. Reserved and non reserved seats are available. Thanks to the Icoca & Haruka discount ticket, the Haruka can also be a relatively economical option.
JR Kansai Airport Rapid
About 1000 yen, 50 minutes to Tennoji
About 1200 yen, 70 minutes to Osaka
Departures every 15 minutes
The JR Airport Line is the inexpensive JR alternative to the Haruka limited express between the airport and central Osaka, serving Tennoji, Osaka and other major stations on the Osaka Loop Line. It cuts the ticket price in half, but increases the traveling time by about 15 minutes. Unlike the Haruka, it is a normal commuter train which stops a few times between the airport and Osaka and can become crowded during rush hours.
Nankai "Rap:t"
About 1400 yen, 35 minutes to Namba
Departures every 30 minutes
The Nankai "Rap:t Alpha" and "Rap:t Beta" trains are limited express trains which connect the airport with Namba, the heart of Osaka's southern city center. Beta trains stop at two more stations than Alpha trains and are, therefore, just slightly slower than Alpha trains. Both are comfortable trains especially for travelers to and from the airport. All seats are reserved.
Nankai Airport Express
About 900 yen, 45 minutes to Namba
Departures every 15 minutes
The Nankai Airport Express, also connecting the airport with Namba, is the cheaper but slower alternative to the "Rap:t" trains. Unlike the "Rap:t" trains, these trains are normal commuter trains which stop more frequently and can become crowded during rush hours.
Airport Limousine Bus
About 1500 yen, 60 minutes to central Osaka
About 2500 yen, 100 minutes to Kyoto
About 2000 yen, 75 minutes to Kobe
Airport limousine buses connect Kansai Airport with various places and hotels in Osaka, Kyoto, Kobe and other destinations in the Kansai Region.
Taxi
About 15,000 yen (17,500 yen late night), 50 minutes to central Osaka
Because Kansai Airport is located about 50 km outside of Osaka, a taxi ride into the city center of Osaka is very expensive and not recommended to common travelers.
Ferry
1850 yen, 30 minutes to Kobe Airport
A high speed ferry connects Kansai Airport with Kobe Airport. A shuttle bus connects the airport terminal with the ferry pier.
Late night and early morning flights
Travelers with flights departing in the early morning (before 8:00) or arriving in the late evening (after 22:00) should take note that all trains and most buses do not operate overnight except for hourly buses to Osaka Station. Taxis remain available, but are an expensive option with fares to Osaka starting around 17,500 yen. Affected travelers are advised to stay at a hotel in the vicinity of the airport, instead.
Late night transportation
The last train out of Kansai Airport to Osaka's Namba area departs around 23:40, while the last trains with connections to Osaka Station and Kyoto depart about half an hour earlier than that. Likewise, most last buses depart the airport around 23:00 with the exception of a few late-night departures some of which are listed below (departure times from terminal 1):
Early morning transportation
The first train connections in the morning from Osaka reach the airport around 6:00, while those from Kyoto do so about an hour later. Early morning buses generally also start arriving around 6:00, including the following early-morning bus connections (arrival times for terminal 1):
Hotels around the airport
Kansai Airport is open 24 hours, and it is possible for budget travelers to spend their first or last night there. Both terminals offer a variety of 24 hour facilities such as convenience stores, fast food and restaurants, while terminal 1 additionally offers showers, a paid airport lounge and an internet cafe.
The Hotel Nikko Kansai Airport is the only airport in the immediate vicinity of the airport:
Several more accommodation options are available around Rinku Town Station, a short train (5 minutes, 370 yen) or taxi ride (about 2500-3500 yen) away. Some hotels offer free shuttle bus services to/from the airport: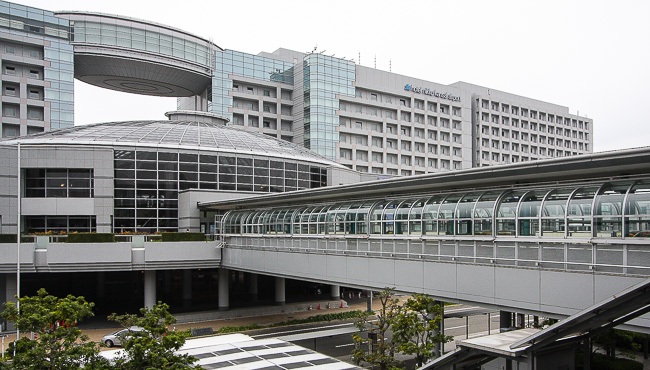 Sightseeing attractions around the airport
Sky View Observation Hall
Hours: 8:00 to 22:00, free entry
Free shuttle bus from terminal 1 departs every 20 minutes
The Sky View Observation Hall is an airport museum and observation deck. Its close proximity to one of the runways affords visitors excellent views of the planes taking off and landing at Kansai Airport. The hall is located near the ferry terminal building and is accessible by free shuttle buses (8 minutes) from terminal 1 and the Rinku Premium Outlets.
Rinku Town
Hours: typically 10:00 to 20:00 (shops), 11:00 to 22:00 (restaurants)
Access by train (5 min, 370 yen) or bus from terminal 1 (200 yen, 1-2 departures per hour)
Rinku Town is a shopping district with a large variety of shops, restaurants and other attractions. Some of the larger complexes include Seacle, a large shopping mall with a kids theme park, hot spring and ferris wheel; the Rinku Premium Outlets with over 200 brand name outlet shops and restaurants; and an Aeon shopping mall a little further away from Rinku Town Station.