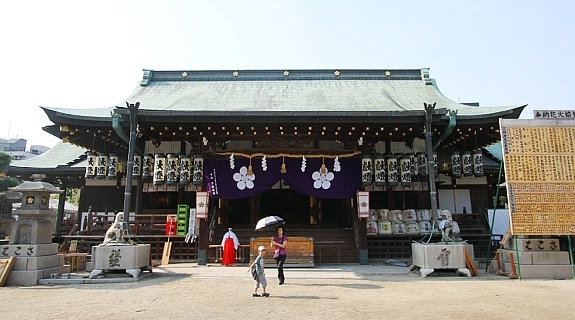 Osaka Tenmangu Shrine (大阪天満宮, Ōsaka Tenmangū), founded in the 10th century, is one of the most important of hundreds of shrines across Japan that are devoted to the Shinto deity of scholarship, Sugawara Michizane. Osaka Tenmangu Shrine has been destroyed by fire a number of times during its history, and its current main hall (honden) and main gate date back to 1845.
Osaka Tenmangu is famous for its festival, the Tenjin Matsuri, which is held annually on July 24 and 25 and is ranked as one of Japan's top three festivals besides Kyoto's Gion Matsuri and Tokyo's Kanda Matsuri. During the festival, the shrine's deity is paraded in a divine palanquin (mikoshi) through the city in a joyful land and river procession, accompanied by fireworks.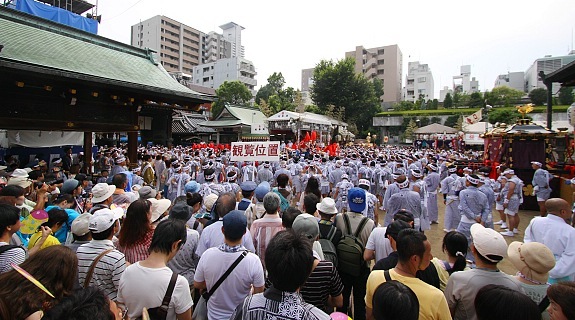 Osaka Tenmangu is located in a residential area and has a neighborhood feeling about it. Locals pray at the shrine mostly for academic fortunes, but there are also secondary shrines at its precincts, such as an Inari Shrine, where people pray to the deity of fertility, agriculture and industry.
Located just steps away from Tenmangu Shrine is the Tenjinbashi-suji Shopping Street, which claims to be the longest in Japan. The covered shopping street stretches more than two kilometers, starting approximately from Tenjimbashi-suji Rokuchome Subway Station and leading south until close to the Tenjinbashi Bridge.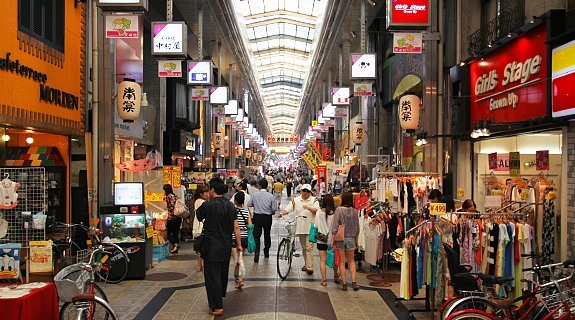 The shopping street has a neighborhood atmosphere and is where many locals shop for a huge variety of goods, such as groceries, clothes, shoes, books, medicine, snacks and sundries. Prices for fashion products are relatively low in return for average quality. There are also many eateries and cafes. In the evenings, izakaya at a couple of side alleys provide an authentic local dining experience.
The Osaka Museum of Housing and Living, situated along the shopping street, presents a glimpse of the streets of Osaka during the Edo Period (1603-1867) through recreated houses which visitors can enter. English audio guides depict the housing conditions in the past, and visitors can borrow kimono for a small fee and dress in them for picture taking or just strolling along the streets.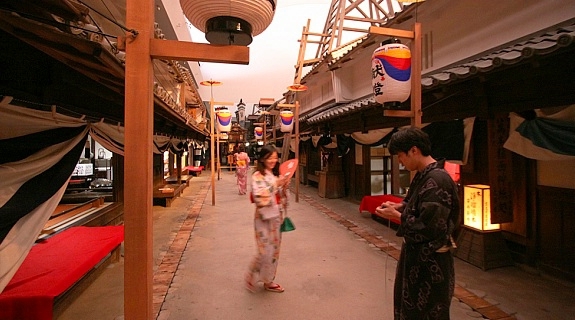 Osaka Tenmangu Shrine is a short walk from Minamimorimachi Station on the Tanimachi and Sakaisuji Subway Lines or Osaka Temmangu Station on the JR Tozai Line.
The Tenjinbashi-suji Shopping Street starts around Tenjimbashi-suji Rokuchome Station on the Tanimachi and Sakaisuji Subway Lines, runs south and passes by Osaka Tenmangu Shrine before ending around the Tenjinbashi Bridge. The Osaka Museum of Housing and Living is located on the 8th floor of the Housing Information Center just above Tenjimbashi-suji Rokuchome Station.
How to get to and around Osaka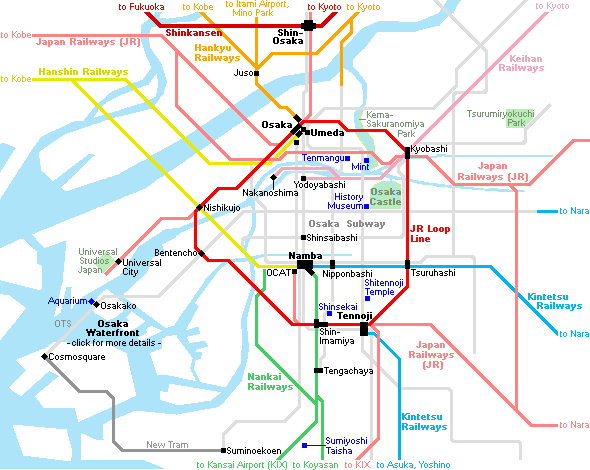 Tenjinbashi-suji Shopping Street
Hours
Varies by shop; typically 10:00 to 20:00 (restaurants typically 11:00 to 22:00)
Closed
Varies by shop; generally no closing days
Osaka Museum of Housing and Living
Hours
10:00 to 17:00 (entry ends 16:30)