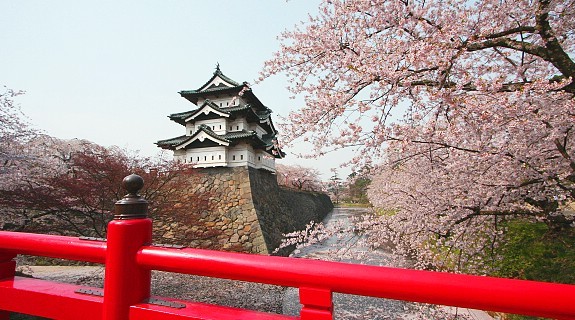 Hirosaki Castle (弘前城, Hirosakijō) was built in 1611 by the Tsugaru Clan. A three-story castle tower, fortified moats, castle gates and some corner turrets (yagura) survive or were reconstructed. The castle is located in Hirosaki Park, a spacious public park of about 0.6 square kilometers.
The castle's original five-story keep burnt down in 1627 after being struck by lightning. Rebuilt in 1810, the present three-story keep is the only one in the Tohoku Region that was not rebuilt in the modern era, amongst only a handful in all of Japan.
| | |
| --- | --- |
| | Construction Notice: Major renovation works on the castle's stone walls are carried out from 2013 for about ten years. In a unique procedure, the castle keep will be moved by about 70 meters to enable renovation works on its foundation and the surrounding stone walls. The schedule: |
From Autumn 2014
The moat around the castle keep is drained of water and reclaimed in order to enable work on the stone walls.
From May to October 2015
The castle keep is moved by about 70 meters away from the moat in order to enable the renovation of the keep's foundation and the stone walls surrounding it.
From 2016
The castle keep is re-opened to the public in its new location. The keep will remain there for about five years until it is moved back. The overall renovation works are expected to take a total of about ten years.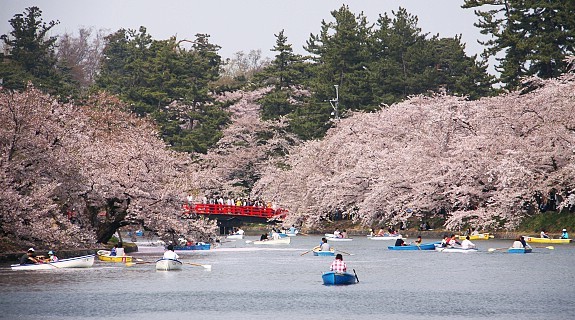 West Moat
Hirosaki Park is one of Japan's best cherry blossom spots. With its abundance of over 2500 trees, cherry blossom tunnels, petal filled moats, numerous pleasant picnic areas, rental rowing boats, many varieties of cherry trees and illuminations in the evenings, it feels like multiple great cherry blossom spots combined into a single one. A festival is held annually from April 23 to May 5, when the blossoms are usually in bloom.
There are a few other sites of interest inside Hirosaki Park, including the Hirosaki Castle Botanical Garden in the park's southeast corner and Gokoku Shrine, the Aomori branch of Yasukuni Shrine in the north end of of the park. Most of the city's other tourist attractions are also located within walking distance of the park.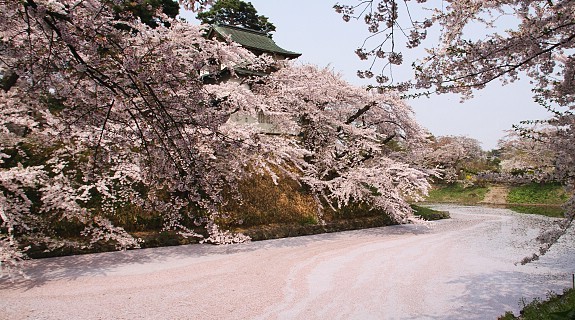 Petal filled castle moat