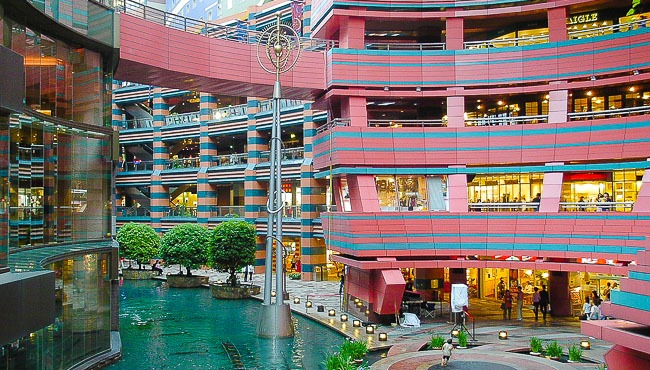 Canal City Hakata (キャナルシティ博多) is a large shopping and entertainment complex, calling itself a "city within the city". Attractions include about 250 shops, cafes and restaurants, a theater, game center, cinemas, two hotels and a canal running through the complex.
Visitors, who are planning on shopping, will likely be able to find something of interest in one of Canal City's many stores, whether it be in a shop unique to Japan or a branch of an international company. There is also a wide variety of restaurants, offering Japanese and international food, that generally have reasonably priced menus. The fifth floor consists of the "Ramen Stadium", which has eight ramen shops with noodle dishes from across Japan, including the local specialty Hakata Ramen.
Canal City has been designed to create a spacious and interesting atmosphere with creative and unique colors and shapes. The artificial canal runs right through the middle of the five floored entertainment complex, creating a lot of open space. At the center of the canal there is a fountain with water shows every 30 minutes from 10:00 until 22:00.