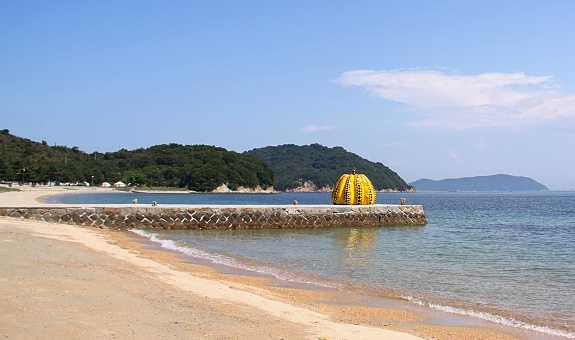 Naoshima (直島) is an island in the Seto Inland Sea that is known for its modern art museums, architecture and sculptures. Part of Kagawa Prefecture, the island with its Mediterranean atmosphere, sandy beaches and sunny weather, combined with a laid back, rural feel is a relaxing getaway from Japan's large urban areas such as Tokyo and Osaka.
Much of Naoshima's art was installed by the Benesse Corporation, which oversees art museums, installations and sculptures both on Naoshima and on neighboring islands. Benesse's museums were designed by the well known Japanese architect Ando Tadao and include the Chichu Art Museum, Lee Ufan Museum and all the buildings of the Benesse House. In addition, Naoshima's municipal buildings and schools were designed by the modern architect Ishii Kazuhiro.
The island is one of the main venues of the Setouchi Triennale art festival, displaying one of the highest densities of artworks among the participating ports and islands. In 2013, the Ando Museum dedicated to architect Ando Tadao, joined the many permanent art pieces already found across Naoshima.
Any Questions? Ask them in our question forum.