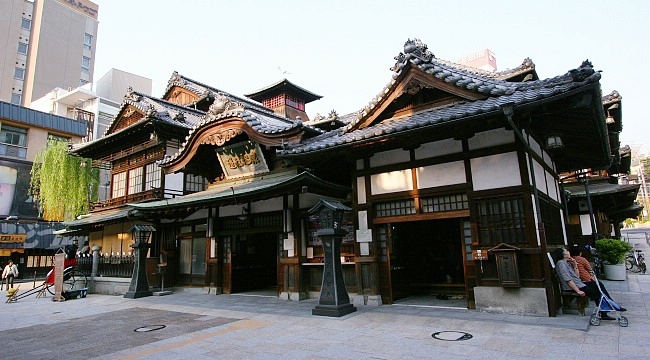 Dogo Onsen (道後温泉, Dōgo Onsen) is one of Japan's oldest and most famous hot springs, located to the east of central Matsuyama. The area is popular with tourists for its beautiful bath house and many ryokan. Dogo Onsen has also been a frequent destination for Japan's most prestigious guests, the Imperial Family.
The main attraction in Dogo Onsen is the Dogo Onsen Honkan, a Meiji Period wooden public bathhouse, dating from 1894. The interior of the Honkan is a maze of stairways, passages and rooms, all of which bustle with bathers and staff. It is said to have served as inspiration for Miyazaki's popular animated film "Spirited Away".
The Dogo Onsen area also features many other attractions such as a shopping arcade, the secondary bath house Tsubaki no Yu, interesting temples and shrines, Dogo Park and a museum about Masaoka Shiki, one of Matsuyama's most celebrated figures. Ryokan guests often walk around the streets in their yukata, giving the onsen town a very pleasant atmosphere.
Dogo Onsen Honkan (more details)
Hours: 6:00 to 23:00 (entry until 22:30)
Admission: 410 to 1550 yen
The Honkan has two indoor baths: Kami no Yu is the larger public bath and Tama no Yu is the smaller, more noble and less crowded bath. Four different options provide visitors with varying levels of access to the Honkan's facilities, with some price plans including a snack and some green tea. Visitors on the highest price level can view the exclusive bathing facility reserved for visiting emperors.
Tsubaki no Yu
Hours: 6:30 to 23:00 (entry until 22:30)
Admission: 400 yen
Located less than 100 meters away from the Honkan is Dogo Onsen's secondary bath house, Tsubaki no Yu. It offers gender separated indoor baths using the same hot spring water that the Honkan does.
Dogo Onsen Station
Built in 1895, Dogo Onsen Station is a nice representation of Meiji Period architecture. It serves as the terminal station to three tram lines. A "Botchan" steam locomotive is often exhibited in front of it.
Botchan Karakuri Clock
Clock chimes every 30-60 minutes from 8:00 to 22:00
Foot bath can be used from 6:00 to 23:00
The Botchan Karakuri Clock near the station plays music on the hour whilst figurines of characters from the famous novel "Botchan" come to life. Next to the clock stands a foot bath free for all to enjoy.
Shopping Arcade
Hours: varies by shop, typically from 9:00 to 22:00
Closed: varies by shop from no closing days to one per month or week, typically Tuesday or Wednesday
An approximately 250 meter long covered shopping arcade connects Dogo Onsen Honkan with Dogo Onsen Station. The arcade is filled with stores selling local specialties, gifts and snacks. Most shops here open into the night and the shopping street remains lively with strolling visitors and ryokan guests in their yukata.
Shiki Memorial Museum
Hours: 9:00 to 18:00 (until 17:00 from November to April)
Admission ends 30 minutes before closing
Admission: 400 yen
Closed: Tuesdays
The Shiki Memorial Museum displays information on one of Matsuyama's most well-known sons, Masaoka Shiki, who introduced modern haiku poetry. Shiki's works of poems and paintings, as well as materials documenting his life are presented.
Dogo Park
Dogo Park occupies the former grounds of a castle. Today, only the moats and barely noticeable castle ruins remain, and Dogo Park is better known as a great cherry blossom spot in spring. The spacious park offers wide lawns which are ideal for picnics and barbecue parties.
Ishiteji Temple (more information)
Hours: Always open
Admission: Free
Ishiteji is Matsuyama's most famous temple, located a short bus ride or 20 minute walk from central Dogo Onsen. On its spacious grounds stand several temple buildings, a three-storied pagoda and a temple gate that is a designated national treasure. Ishiteji also has a cave that leads to a somewhat bizarre secondary temple complex.
Isaniwa Shrine
Hours: 5:00 to 19:00 (6:00 to 18:00 during winter)
Admission: Free
Isaniwa Shrine is located about 200 meters east of Dogo Onsen Station. A tall flight of stairs lead to the shrine, which is constructed of the traditional Hachiman architectural style. In this style, the shrine consists of two halls whose roofs are connected with each other, essentially forming a single building. Sheltered corridors and vermillion pillars and walls are also a feature of this style.