Katsurahama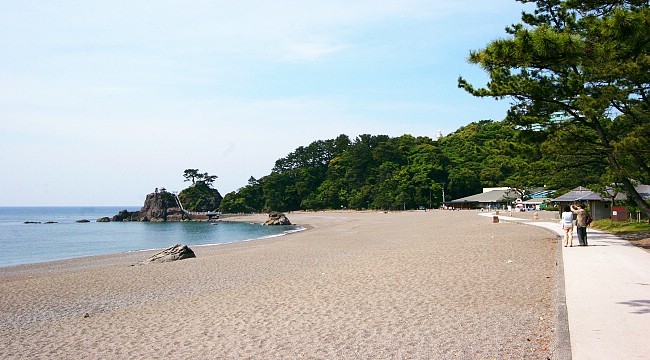 Katsurahama (Œj•l) is a scenic beach 30 minutes south of central Kochi by bus. Because of strong currents, swimming is prohibited at Katsurahama. In place of swimming, visitors see the many other attractions located around the area.
A famous statue of Kochi's favorite son, Sakamoto Ryoma stands near the beach. Sakamoto was one of the architects of modern Japan. He was instrumental in negotiating an alliance between the Choshu and Satsuma clans that helped to bring an end to Japan's feudal age in 1868. The Sakamoto Ryoma Memorial Museum stands on the hill above the beach.
| | |
| --- | --- |
| Statue of Sakamoto Ryoma | Tosa Dog Fighting |
Katsurahama is also known for the Tosa Dog Museum about the large local breed of dogs that perform in dog fighting. Standing next to the bus terminal, the museum contains explanations about the Tosa dogs (Tosa is the old name of Kochi Prefecture) and the history of dog fighting in Kochi. It also contains a fighting ring where fights take place irregularly between dogs ranked in a hierarchy similar to sumo. On weekends, visitors have the opportunity to see a ring-entering ceremony by the highest ranked dog and to meet some puppies.
Other minor sites of interest are a small aquarium at the beach and a small shrine on the point of Katsurahama, which is connected to the Sakamoto Ryoma Memorial Museum on the hill above by pleasant walking paths. Kochi's specialty dish, katsuo no tataki, is served at the local restaurants.