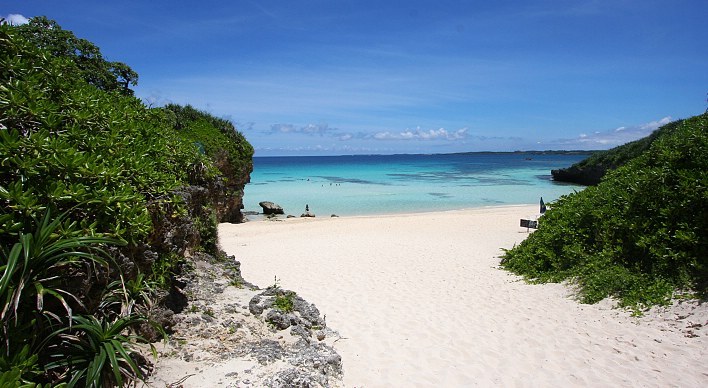 Miyako Island (Miyakojima)
Miyako Island (宮古島, Miyakojima), located 300 kilometers south of Okinawa Main Island and 100 kilometers north of the Yaeyama Islands, is known for some of Japan's best beaches and as a great destination for snorkeling and diving in the coral reefs. The sub tropical climate provides mild weather year around.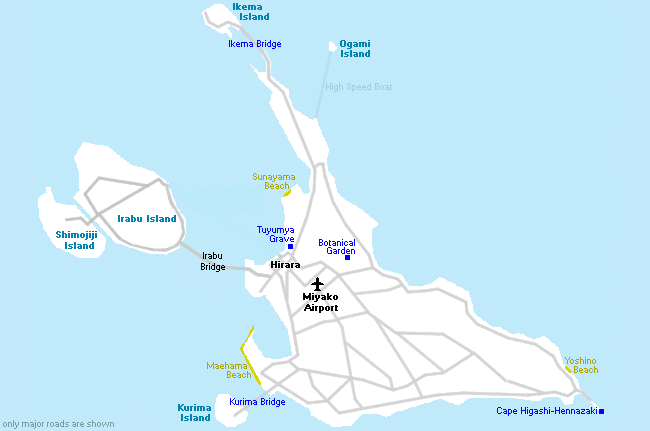 Miyako is the fourth largest island in Okinawa Prefecture. It lacks any major hills or mountains and is mostly covered by sugar cane fields and a few towns, among which Hirara is the largest with a moderate range of restaurants and bars. Resort hotels and pensions are found across the island. Unlike other parts of Okinawa, Miyako is free of habu snakes.
Goya chanpuru and soba noodles, two famous Okinawa dishes, are also popular on Miyako
Beaches
Beaches are Miyako's most famous attraction. There are picturesque sand beaches for swimming and relaxing and coral reefs that provide excellent snorkeling. While the beaches are open year round, they are best enjoyed from April to November when the air temperature consistently tops 25 degrees and the water is very warm.
When enjoying the beaches, beware of strong currents that can pull you out to sea and poisonous creatures such as Habu Jellyfish, a type of box jellyfish, that is most prevalent from June to October. Although jellyfish stings are rare, if stung you should pour vinegar over the sting, remove any tentacles, and seek medical help as it may become life threatening if left untreated.
Maehama Beach
Also known as Yonaha-Maehama Beach, this white sand beach in the southwestern corner of Miyako usually leads rankings of Japan's best beaches. It stretches seven kilometers and is suited for swimming and various other water sports. The beach is also known for beautiful sunsets. Its facilities include showers, toilets and a rental shop.
Yoshino Beach
Also referred to as Yoshino Kaigan, this is the best beach on Miyako for snorkeling. Swarms of colorful fish surround you as soon as you enter the water. And a few steps further starts the maze of a spectacular coral reef with an abundance of marine life. Beach facilities include showers, toilets and a rental shop.
Sunayama Beach
With its white sand, clear blue waters and rock formations, Sunayama Beach is another of Miyako's most beautiful beaches. It is reached in a short walk over a sand dune from the parking lot. Its facilities include showers and toilets.
Ratings:

best of the best

best of Japan

outstanding
Other Attractions
Besides its beaches, snorkeling and diving, Miyako offers a small range of other attractions, including places of natural beauty and cultural interest, and a couple of elegant bridges to neighboring islands.
Cape Higashi-Hennazaki
Lighthouse: 9:00 to 16:30, 150 yen
Higashi-Hennazaki is the southeastern cape of triangle shaped Miyako. At the tip of the two kilometer long, narrow peninsula stands a handsome lighthouse.
Tuyumya Grave
Freely accessible
Located in central Hirara near the port, the Tuyumya Grave enshrines Nakasone Tuyumya (Toyomiya in standard Japanese), a leader of Miyako in the 16th century, and his descendants. The grave is built in a unique style and designated a national cultural asset.
Tropical Botanical Garden
Freely accessible
Miyakojima City Botanical Garden is a spacious park for recreation and the study of tropical plants in inland Miyako. Several walking trails pass by the over 1600 types of plants that include trees, bushes and flowers from Miyako and from Hawaii, Taiwan and Southeast Asia.
Ikema and Kurima Bridges
Freely traversable by car, motorcycle, bicycle or on foot
Miyako is connected to two of its smaller, neighboring islands by gracefully shaped bridges. At the northern tip of Miyako, the 1.4 kilometer long Ikema Ohashi leads to Ikema Island, while the 1.7 kilometer long Kurima Ohashi connects Kurima Island with Miyako in the southwest.
Ratings:

best of the best

best of Japan

outstanding
Get There and Around
Miyako Airport has direct flights to Tokyo's Haneda Airport (2.5 to 3 hours), Osaka's Kansai Airport (2 hours), Naha Airport on Okinawa Main Island (45 minutes), Ishigaki (30 minutes) and Tarama (20 minutes), a small island between Miyako and Ishigaki. Air passes can provide big savings on the Tokyo and Osaka routes.
Ferry services between Ishigaki, Miyako and Okinawa Main Island were discontinued in 2008.
How to get around
Miyako is a relatively small island, measuring about 25 kilometers from south to north and about 15 kilometers from east to west.
A rental car is the most convenient means of getting around Miyako. Most rental car companies have an outlet at Miyako Airport. Driving on Miyako is easy and enjoyable. There are also rental shops for bicycles and scooters.
Many hotels offer their guests free shuttle bus rides from/to the airport. Likewise, many leisure and water sport companies will pick up their customers from hotels free of charge. A bus network on the island is existent, but it is not easy to use, and bus connections are infrequent. Airport access is provided by taxis rather than buses.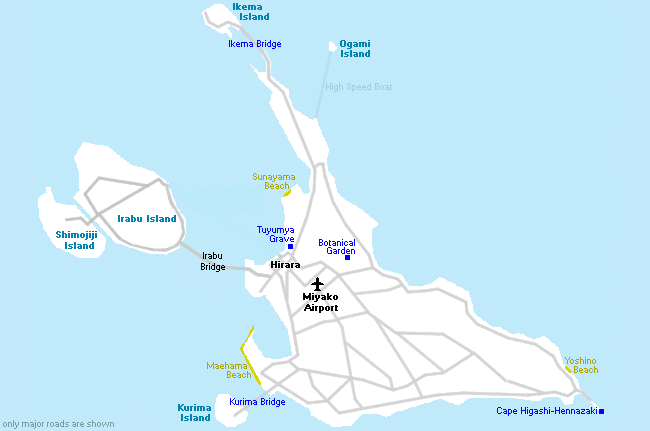 Hotels
around Miyako Island