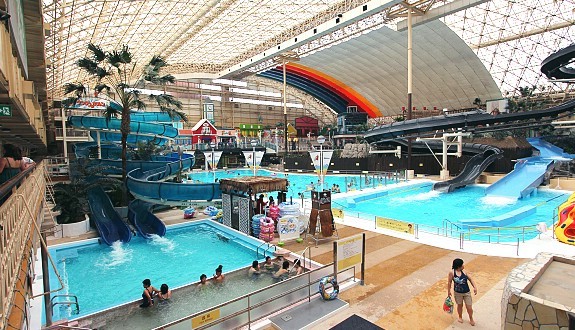 Spa Resort Hawaiians
Iwaki (いわき) is a city in southeastern Fukushima Prefecture along the Pacific coast, about 50 kilometers south of the stricken nuclear plant. The city suffered damage from both the earthquake and tsunami, but many tourist attractions have reopened in the meantime. Radiation levels in the city are two to three times higher than before the nuclear accident, but are well within safety limits.
Coal mining was Iwaki's main industry from the 1870s to the 1960s, as commemorated by the Iwaki Coal and Fossil Museum. When oil took over as the predominant energy source in Japan, coal mines started closing, and the city turned towards tourism for new sources of income. In 1966, a new water park resort with a Hawaiian theme was built in the hot spring resort of Yumoto Onsen. Now known as the Spa Resort Hawaiians, it remains Iwaki's most famous tourist attraction today.