Zao Ski Resort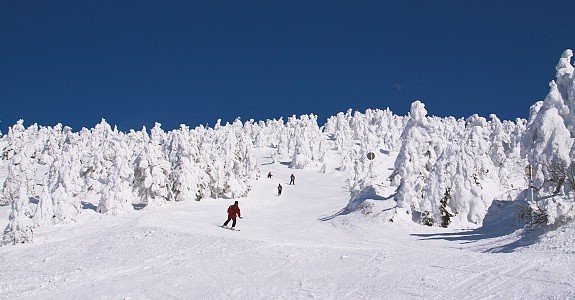 Zao Onsen is a well known hot spring and ski resort in the mountains of Yamagata Prefecture. It is one of only a few places in Japan where juhyo or "ice trees" can be seen. Also known as "snow monsters", the trees take on curious shapes due to the heavy snowfall and freezing winds.
The snow monsters form around the peak of the Zao Ski Resort and are usually most spectacular around mid February. Access to the monsters is provided by a ropeway and a gondola for both skiers and non-skiers. In the evenings, the monsters around the summit are lit up to be enjoyed outside or from a warm seat in the cafe. Night skiing, however, is offered only in the lower elevations of the resort.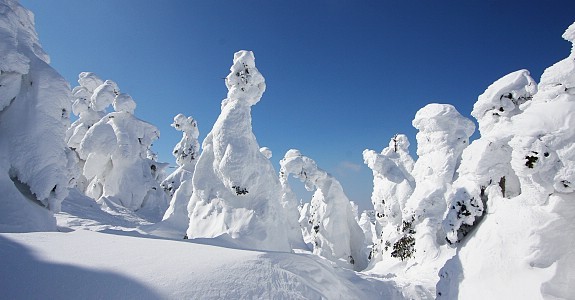 Snow Monsters
Zao's ski resort is one of Japan's oldest and offers over thirty lifts, gondolas and ropeways and a variety of different courses suitable for skiers and snowboarders of all abilities, especially beginners and intermediates. The longest course starts in the territory of the snow monsters at the summit of the mountain and is about ten kilometers long.
Zao Onsen Ski Resort
Description
Zao Onsen Ski Resort features long runs with good snow, many slopes for all skill levels, and the famous "snow monsters".
Season

Early December to early May
(December 6, 2014 to May 6, 2015)

Lifts

39 Lifts

Tickets
full day

8:15 to 17:00

5000 yen

Rentals
ski

4000 yen

half day

4 hour pass
5 hour pass

4300 yen
4500 yen

board

4000 yen

nighter

17:00 to 21:00

2000 yen

clothes

3000 yen

Access
bus/train
car
40 minutes by bus or car from Yamagata Station.