How to get to Arita
From Fukuoka (how to get to Fukuoka)
Fukuoka's Hakata Station and Arita Station are connected with each other once per hour by direct JR Midori and JR Huis Ten Bosch limited express trains. The one way trip takes about 90 minutes, costs about 3000 yen and is fully covered by the Japan Rail Pass.
Note that the limited express trains do not stop at Kami-Arita Station, which is closer to many of the town's attractions than Arita Station. People wishing to travel to Kami-Arita Station should take the limited express train as far as Hizen-Yamaguchi (45 minutes) and transfer to a local train to Kami-Arita (35 minutes). The one way fare is around 3000 yen.
From Nagasaki (how to get to Nagasaki)
There are no direct trains between Nagasaki and Arita, and multiple ways to travel between the two towns. A fast and cheap way is to travel by local trains via Haiki Station (110 minutes, 1650 yen one way), but there are only a handful of favorable connections per day. Alternatively it is possible to travel via Hizen-Yamaguchi Station, but it is more expensive and time-consuming.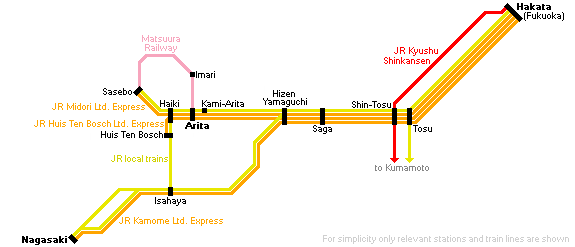 How to get around Arita
Most of Arita's attractions are within a kilometer of Kami-Arita Station (served by local trains only) and can be accessed on foot. However, one of the city's most interesting attractions, the Prefectural Museum, is closer to Arita Station (served by local and limited express trains), a three minute, 160 yen ride to the west by hourly trains. Walking between the two stations takes about 40 minutes.
The Arita Porcelain Park is located on the outskirts of town, about four kilometers southeast of Arita Station, without access by public transportation. A taxi ride from Arita Station to the park takes about ten minutes and costs around 1500 yen.