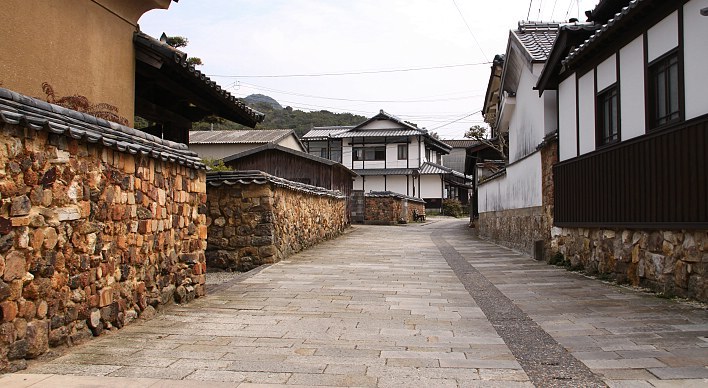 Arita (有田) is a small town in western Saga Prefecture on Kyushu that is famous throughout Japan for its pottery, known as Arita-yaki. All of the town's attractions are somehow related to pottery, including multiple museums, archaeological sites, shops and even the local shrine.
The history of Arita-yaki dates back about 400 years, when Toyotomi Hideyoshi attempted to invade Korea and brought back several highly skilled Korean craftsmen to Japan. In 1616, one of these craftsmen discovered kaolin, the rock required for the making of porcelain, at the later site of the Izumiyama Quarry. Consequently, Arita became the first place of porcelain production in Japan.
Porcelain on display at Tozan Shrine (left) and the Ceramic Museum (right)
Several kilns for the large scale production of pottery were subsequently built around Arita, resulting in great prosperity for the town. Arita's pottery was not only made for the domestic market, but became also popular in China and Europe. Because the pottery traveled out of nearby Imari Port, Arita-yaki would also become known as Imari-yaki, especially in case of products made for foreign markets.
Most of Arita's attractions and shops are found in the old town around Kami-Arita Station, about 2.5 kilometers away from the larger Arita Station. However, tourists will not find many attractions around Arita Station, except for the Prefectural Museum of Kyushu Ceramic Arts, the best museum on the local pottery. A porcelain related theme park is, furthermore, located on the outskirts of the town.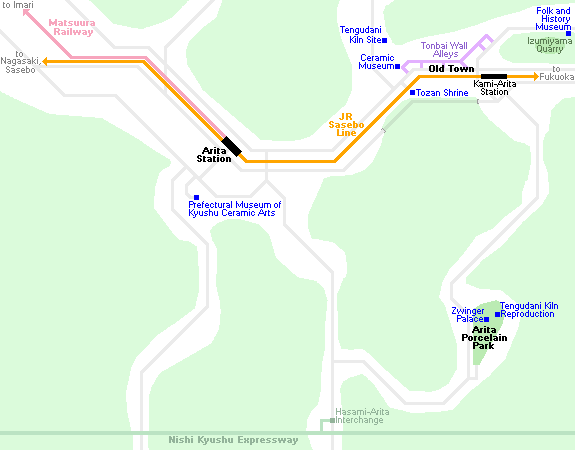 Around Kami-Arita Station
Tozan Shrine
Hours: Always open
Admission: Free
The shrine was built in the mid 1600s and is dedicated to one of the most influential of the Korean potters who introduced porcelain making to Arita. The shrine is unique for having both a torii gate and statues of komainu guardian dogs made out of porcelain.
Tonbai Wall Alleys
While the merchants of Arita sold pottery along the town's main street, the potters themselves lived in the back alleys and built high walls to conceal their techniques from competitors. These walls, which can still be seen today, were made out of old bricks from the kilns and fragments of discarded pottery and porcelain.
Ceramic Museum
Hours: 9:00 to 16:30
Admission: 100 yen
Closed: Mondays (except during Golden Week), December 29 to January 3
This small museum displays a collection of Arita pottery in a two story stone building that was formerly a storehouse. One of the most interesting pieces is a large dish with illustrations of the local methods of porcelain production.
Izumiyama Quarry
Hours: Always open
Admission: Free
It was due to the discovery of kaolin stone at this site, that Arita developed into a prosperous center of porcelain production. In the meantime, there in no longer any active mining at the quarry, and visitors can view the exposed rocks from a nearby observation area.
Folk and History Museum
Hours: 9:00 to 16:30
Admission: 100 yen
Closed: December 29 to January 3
Located just beside the Izumiyama Quarry, this small museum covers the history of Arita with displays about porcelain production and daily life, including documents of the porcelain business and local currencies.
Tengudani Kiln Site
The Tengudani Kiln was one of the first kilns in Arita, built along a slope. The 50 meter long and five meter wide kiln no longer stands, but its location is marked. A reproduction of the kiln can be seen in the Arita Porcelain Park.
Around Arita Station
Prefectural Museum of Kyushu Ceramic Arts
Hours: 9:00 to 17:00
Admission: Free (except for special exhibitions)
Closed: Mondays (except on national holidays), Dec 29-31
This is the best museum in Arita, providing a wealth of displays and information. Unfortunately, information in English is quite limited. The museum covers the history of ceramics on all of Kyushu, not just Arita.
Arita Porcelain Park
Located outside of the town center, the Arita Porcelain Park is a somewhat bizarre porcelain related theme park with a large reconstruction of the the Zwinger Palace of Dresden. Although the park has seen better days, some of its attractions are well done. Admission to the park grounds is free.
Zwinger Palace
Museum Hours: 10:00 to 16:00
Museum Admission: 500 yen
The main attraction of the Arita Porcelain Park is a reconstruction of the Zwinger Palace of Dresden, Germany, which houses a paid porcelain museum in its right wing. Like Arita, Dresden is famous for its local porcelain, Meissen Porcelain, produced not far from the city.
Tengudani Kiln Reproduction
In one of the park's corners stands a reconstruction of the Tengudani Kiln whose original location can be visited in Arita's old town. At a nearby workshop, visitors can participate in hands-on pottery lessons and create their own cups or bowls for between 800 and 4000 yen.
Ratings:

best of the best

best of Japan

outstanding
Get There and Around
How to get to Arita
From Fukuoka
(how to get to Fukuoka)

Fukuoka's Hakata Station and Arita Station are connected with each other once per hour by direct JR Midori and JR Huis Ten Bosch limited express trains. The one way trip takes about 90 minutes, costs about 3000 yen and is fully covered by the Japan Rail Pass.

Note that the limited express trains do not stop at Kami-Arita Station, which is closer to many of the town's attractions than Arita Station. People wishing to travel to Kami-Arita Station should take the limited express train as far as Hizen-Yamaguchi (45 minutes) and transfer to a local train to Kami-Arita (35 minutes). The one way fare is around 3000 yen.
From Nagasaki
(how to get to Nagasaki)

There are no direct trains between Nagasaki and Arita, and multiple ways to travel between the two towns. A fast and cheap way is to travel by local trains via Haiki Station (110 minutes, 1650 yen one way), but there are only a handful of favorable connections per day. Alternatively it is possible to travel via Hizen-Yamaguchi Station, but it is more expensive and time-consuming.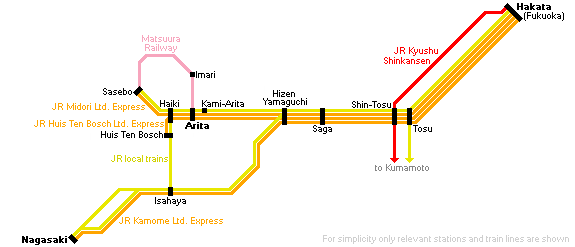 How to get around Arita
Most of Arita's attractions are within a kilometer of Kami-Arita Station (served by local trains only) and can be accessed on foot. However, one of the city's most interesting attractions, the Prefectural Museum, is closer to Arita Station (served by local and limited express trains), a three minute, 160 yen ride to the west by hourly trains. Walking between the two stations takes about 40 minutes.
The Arita Porcelain Park is located on the outskirts of town, about four kilometers southeast of Arita Station, without access by public transportation. A taxi ride from Arita Station to the park takes about ten minutes and costs around 1500 yen.