Baseball (野球, Yakyū) was imported from the United States during the early Meiji Period and almost immediately gained popularity among amateur athletic clubs and universities. Over the years, baseball's reach continued to spread across the country to the point that it became the most watched and played sport in Japan. Baseball teams compete at all levels from elementary school teams to the professional leagues.
Japanese baseball is also highly regarded outside of the country as Japanese teams continue to perform well in international competitions. Several Japanese players are also playing successful careers in the American Major Leagues and enjoy great popularity and media coverage in Japan. Their games are often broadcast on television with special highlights of the Japanese players.
Professional baseball is played in two leagues of six teams each: the Central League and the Pacific League: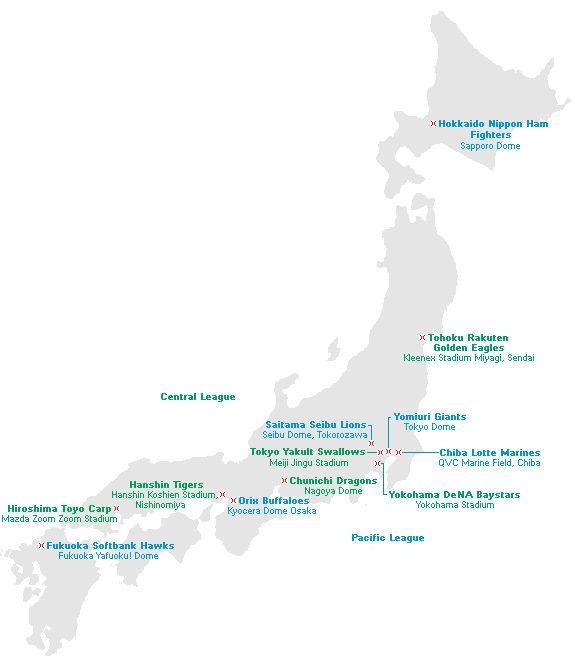 Season
The professional baseball season typically begins with spring training in February and March, while regular season games are held from late March to October. Regular season games take place almost every day of the week (except for semi-regular holidays on Mondays) and are broadcast live on television. The season culminates with league playoffs (Climax Series) in late October followed by the seven game Nippon Series Championship between the two league champions.
How to see a game
Tickets to most games are available at the ballpark on game day. The exception are Yomiuri Giants and Hanshin Tigers games, which have a tendency to sell out (especially on weekends), and games that are held over big national holidays such as Golden Week. While it may be possible to purchase advance tickets online or by telephone, it usually requires some Japanese ability or a Japanese credit card. There are a few online services that can get tickets for you for a small service fee and have them delivered to your hotel or foreign address.
Tickets range in price from around 1000 yen for non-reserved bleacher seats to upwards of 15,000 yen for field level seats. One of the spectacles of Japanese baseball are the enthusiastic cheering sections, which engage in organized cheering and sing fight songs virtually non-stop throughout the game. It is definitely an adventure to sit in the home team cheering section, and spectators may want to try and secure tickets in or as close to the cheering section as possible to get the full experience.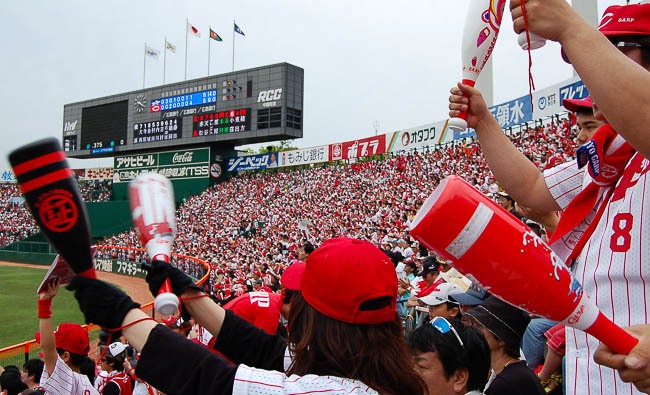 Japan also has vibrant minor, semi-pro, and university leagues that play high levels of baseball, often feeding players to professional teams. High school baseball is particularly popular, with students training year round. The high school baseball season culminates in the annual Summer Koshien national tournament held at the Koshien Stadium near Osaka, which enjoys wide media coverage.
Other baseball related attractions
Several other baseball related attractions can be found around the country, including a few museums dedicated star players. The following is an incomplete list of some of the sites of interest: