Internet Access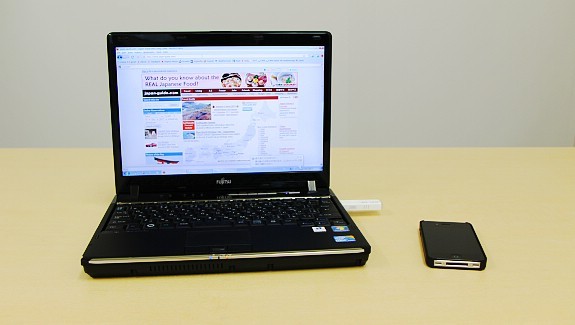 There are a variety of ways to stay connected to the internet while traveling in Japan. However, this is a quickly evolving industry where services and rates are constantly changing. Although this is not an exhaustive list, the following are some of the common solutions currently available.
Hotels
A majority of hotels in Japan offer free internet in their guest rooms. A few hotels, typically the higher end Western chains, charge for internet access based on 24 hour periods. Access is usually provided as wired internet via LAN cable or as a wireless network. At older hotels you may have to borrow and install some hardware in order to connect to the internet in your room.
Internet in the room is much less common at ryokan. Instead, many ryokan provide wireless internet or a public computer in their lobby. However, there are also some hotels, ryokan and minshuku that do not have internet access of any kind, especially in remote places, such as national parks or rural hot spring resorts.
Many hotel reservation websites, such as Japanican, have details on internet availability for their listed properties and offer the option to filter for places with internet access.
Wireless (Wi-Fi) Hotspots
Both paid and free wireless (Wi-Fi) hotspots are available in Japan. Laptops and mobile devices can connect to publicly accessible hotspots found around airports, train stations, hotels, restaurants, coffee shops and bars.
Free Wi-Fi Hotspots

Although far from ubiquitous, free public Wi-Fi is becoming increasingly widespread in Japan. Free public networks can be found around major airports and train stations, tourist information centers and major shopping streets. A few cities, such as Kyoto and Fukuoka, have also begun to introduce free public networks in their central districts. In addition, several nationwide convenience store and cafe chains provide free Wi-Fi access to their customers.

Registration is required to use most of these services, and in some cases must be done in advance. While some of the networks offer sign up pages in English, others do not. A few networks are also limited to specific devices (e.g. iphone only) or restrict the content that can be accessed.

Currently there are two, free smartphone applications that allow foreign visitors in Japan to use large numbers of hotspots for free and without having to sign up for each service individually:

Japan Connected-free Wi-Fi
Visitors who register through this app have easy access to over 100,000 hotspots across Japan including almost all of the free networks mentioned on this page. Registration of some personal data is required.
Travel Japan Wi-Fi
Two weeks free access to over 60,000 hotspots across Japan. Registration is not required, however by getting a "premium code" from one of several partners (e.g. JAL or selected shops in Japan), the number of hotspots can be increased to over 200,000. Service is provided by wi2, one of Japan's largest internet hotspot providers.

Some useful individual free public Wi-Fi networks for foreign tourists in Japan are listed below:

Major Airports
Most major international airports, including Tokyo's Narita and Haneda Airports, Nagoya's Central Japan Airport, Osaka's Kansai Airport, Sapporo's New Chitose Airport, Hiroshima Airport and Fukuoka Airport. Registration can be done on the spot.
Freespot
Thousands of hotels, restaurants and shops nationwide. Registration can be done on the spot.
7spot
Thousands of 7-Eleven convenience stores, Denny's family restaurants, Ito Yokado and Seibu department stores and other locations nationwide. Registration can be done on the spot.
NTT East Free Wi-Fi
Thousands of Wi-Fi spots across Eastern Japan (including Tokyo) for free use by foreign tourists. A card with login ID and password can be picked up at a number of designated places around Eastern Japan (see official website for a list) by presenting your passport.
Starbucks
Available at over one thousand Starbucks coffee shops nationwide. Registration must be done in advance for free access, otherwise it is accessible as a paid network.

In Tokyo:

JR East Free Wi-Fi
Most JR railway stations in central Tokyo. Also available at JR East Travel Centers in Tokyo Station, Shinjuku Station, Narita Airport and Haneda Airport. Registration can be done on the spot.
Tokyo Subways
Over 140 subway stations by Tokyo Metro and Toei offer free Wi-Fi for foreign tourists using the "Japan Connected-free Wi-Fi" app.
Japan Free Wi-Fi
In many buildings of the Marunouchi district west of Tokyo Station, including Marunouchi Building, Shin-Marunouchi Building, Oazo Building and more. Registration can be done on the spot.

Around Mount Fuji:

In Takayama:

In Kanazawa:

In Western Japan:

JR West Free Wi-Fi
Major JR railway stations in the service area of JR West, including Kyoto, Osaka, Shin-Osaka, Sannomiya, Okayama, Hiroshima, Hakata, Kanazawa and many more. A "guest code" has to be obtained in advance by email or in person at the information center at Kyoto Station or Osaka Station City.

In Kyoto:

Kyoto_WiFi
Around a large number of bus stops, subway and train stations, cafes and restaurants in central Kyoto. Registration must be done in advance.
Shijo Musen LAN
Along Kyoto's Shijo Dori shopping street. No registration necessary.

In Osaka:

Osaka Free Wi-Fi
Available at Kansai Airport, at major railway stations along Nankai, Kintetsu, and Keihan train lines and at popular tourist facilities around the city. In addition, a few selected hotels, restaurants and shops are also covered. Registration can be done on the spot.

In Kobe:

Kobe Free Wi-Fi
Free use of 3000 access points across the city for foreign tourists. It is necessary to pick up a card with login information at the information center at Sannomiya Station, Shin-Kobe Station or the Kitano District before use.

In Hiroshima:

In Fukuoka:

Paid Wi-Fi Hotspots

Paid Wi-Fi hotspots are far more common than free ones, offering thousands of locations nationwide. Most offer subscription based services aimed at residents; however, a few allow short term access on an hourly, daily or weekly basis. A one-day pass typically costs around 500-800 yen and gives you access to all of that company's locations (and their affiliates) for a 24-hour period.

Registration interfaces are often only provided in Japanese, and some services require a Japanese credit card or address. The following are a few of the rare nationwide services that provide English registration interfaces and accept foreign credit cards:

docomo Wi-Fi for visitor
Currently in a trial phase, this service offer foreign tourists access to 150,000 high-speed access spots nationwide for 972 yen per week or 1404 yen for three weeks.
Softbank Wi-Fi Spot
Thousands of hotels, restaurants, cafes, bars, shops and public spaces nationwide. Generally targeted at Softbank subscribers, but 24-hour plans are also available to non-subscribers.
Wi2
200,000 locations at hotels, restaurants, cafes, bars, shops and public spaces nationwide. Various plans are available from six-hour to week long packages.
Fon
Fon offers thousands of hotspots operated by its members across Japan. Fon members can use the hotspots for free, while non-members can purchase plans online.
Skype WiFi
A special partnership between Skype and several of Japan's major Wi-Fi providers (including Wi2 and Fon listed above) allows you to use the Skype WiFi application to bypass the Japanese login and pay for internet access in your own currency via your Skype account. Usage is charged by the minute and relatively expensive for heavy users.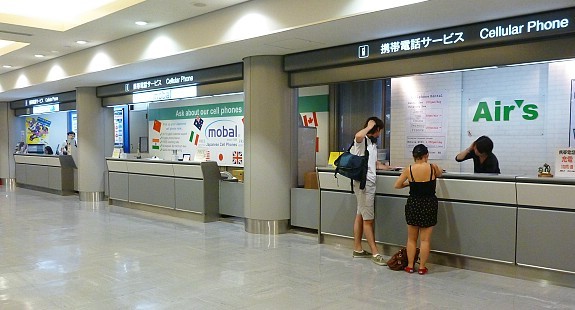 Cellular phone and mobile internet rental kiosks at Narita Airport
Personal Hotspots
Personal hotspots (also called mifi, portable hotspot, personal Wi-Fi, pocket Wi-Fi, etc.) are small, battery powered devices that use the cellular phone network to create a local wireless network. They are easy to set up, provide reasonably fast internet, work anywhere there is cell phone service, allow multiple devices to connect at once and are relatively inexpensive. Personal hotspots are available to rent at major Japanese airports or via the internet for delivery to your home or hotel.
Rental Smartphones
Several companies rent smartphones that include unlimited data and Wi-Fi tethering, effectively turning them into personal hotspots. This can be a great value as the devices serve as both a rental phone and as a means for connecting to the internet on the go. Both iphone and android models are available to rent at major Japanese airports or via the internet for delivery to your home or hotel. See our mobile phone page for more details.
USB Modems
USB modems are available to directly connect a laptop to the internet via the cellular phone network. They are offered by the same companies that rent personal hotspots, and have similar coverage and speeds. Conversely, they tend to be less expensive and require no batteries or charging, but they can only be used with one device at a time. Be aware that a lot of the rental companies are starting to discontinue their USB modem services, however there are still a few providers that rent them at major Japanese airports or via the internet.
Rental and Prepaid SIM cards
Those who wish to use their own mobile phones or tablets to directly access the internet in Japan can get rental or prepaid SIM cards that allow for unlimited internet access via the cellular phone network. They are available to rent or purchase at major Japanese airports, selected retailers or via the internet for delivery to your home or hotel. Your device must not be locked to a specific provider to utilize these services.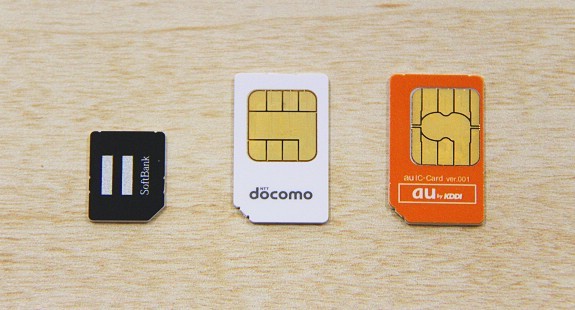 Sim cards of some major cell phone carriers. From left to right: Softbank, docomo, au.
International Roaming
International roaming is a convenient, albeit expensive way to access the internet during your travels. In order to do so, your device must be able to operate in Japan and your carrier needs to have roaming agreements with a Japanese provider. Be aware that international roaming can be extremely expensive, so check with your home provider for specific details, pricing and eventual plans.
Internet Cafes and Manga Kissa
Internet cafes, known as netto cafe (ネットカフェ) or manga kissa (漫画喫茶 or マンガ喫茶), rent out internet connected computers at hourly rates of a few hundred yen. Most offer discounted rates for longer blocks of time or special overnight deals. While internet cafes are often located near major stations, they may be difficult to find as they tend to be in inconspicuous locations with signs only in Japanese. Also, some internet cafe chains require that you sign up for a membership and pay a small registration fee.
Internet Kiosks
Although increasingly rare, coin operated internet kiosks can still be found around some major train stations, tourist information centers and airports. They are also occasionally found at hotels and libraries. Coin operated internet kiosks usually only accept 100 yen coins.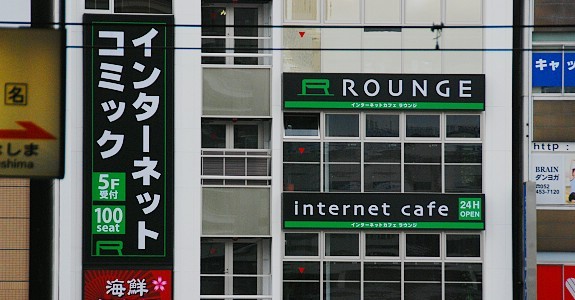 An internet cafe with a rare sign in English
Links
PuPuRu
Wi-Fi router and mobile phone rental service.
Travel Japan Wi-Fi
Another free smartphone application to connect to a large number of networks across Japan.
JR East Free Wi-Fi
English pdf about free wireless hotspots around major stations in Tokyo.
Freespot
English database of public (free and paid) wireless hotspots in Japan.
G-Free
Free wireless service in Ginza, Tokyo.
Fon
Wi-Fi network operated by its members.
Freespot
Nationwide database of public (free and paid) wireless hotspots in Japan.
G-Free
Free wireless service in Ginza, Tokyo.
7 Spot
Free Wi-Fi hotspots at 7-Eleven convenience stores.
Lawson Wi-Fi
Free Wi-Fi hotspots at Lawson convenience stores.