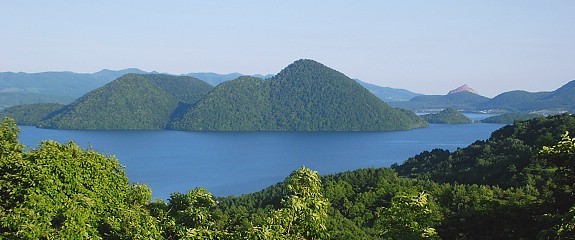 Shikotsu-Toya National Park (支笏洞爺国立公園, Shikotsu-Tōya Kokuritsu Kōen) was named for its two famous lakes, Toya and Shikotsu. The park is located in southwestern Hokkaido. Its proximity to Sapporo makes it a popular destination for travelers with limited time in Hokkaido.
Shikotsu-Toya is the easiest national park to access from Sapporo and offers visitors a range of outdoor activities from hiking to hot springs. The spectacular scenery includes caldera lakes, onsen towns and volcanic mountains.
There are five parts to Shikotsu-Toya National Park, each featuring various attractions. The most famous two park areas are its namesake lakes, Toya and Shikotsu. The onsen towns of Noboribetsu and Jozankei are also popular. Mount Yotei, a perfectly shaped volcano near Niseko, is the fifth distinct park area.
Any Questions? Ask them in our question forum.
Attractions
Hokkaido's most famous hot spring resort.
User rating: 83/100 (184 votes)
Visited by: 435 users

Site of Mount Usu, an active volcano.
User rating: 78/100 (123 votes)
Visited by: 333 users

Picturesque caldera lake near Sapporo.
User rating: 72/100 (56 votes)
Visited by: 146 users

Popular hot spring resort near Sapporo.
User rating: 71/100 (61 votes)
Visited by: 151 users
Suggest 5d driving itinerary in Hokkaido
1 reaction, last updated 21 days ago
Hokkaido mid April (10th to 20th)
0 reactions, last updated 25 days ago
Limitation on Hokkaido Rail Pass?
2 reactions, last updated 31 days ago
Driving in Hokkaido in early April
0 reactions, last updated 47 days ago
Route for Eastern Hokkaido from Sapporo
7 reactions, last updated 95 days ago
Snow for skiing in Hokkaido in March 2015...
2 reactions, last updated 117 days ago
Quiet onsen village in Hokkaido
4 reactions, last updated 122 days ago
Do I need 7 days JR Hokkaido
3 reactions, last updated 140 days ago
Hokkaido JR Pass
2 reactions, last updated 164 days ago
When the best time to see flowers in...
1 reaction, last updated 174 days ago
End October in Hokkaido
0 reactions, last updated 174 days ago
Hiking in Hokkaido Oct/Nov
0 reactions, last updated 176 days ago
Hokkaido sightseeing in early winter
1 reaction, last updated 179 days ago
Visiting Hokkaido from 21 to 28 November...
7 reactions, last updated 190 days ago
8 days trip - Hokkaido
2 reactions, last updated 207 days ago
Driving from Abashiri to Nemuro in 1 day?...
2 reactions, last updated 231 days ago
Any interest place in Hokkaido after mid...
2 reactions, last updated 244 days ago
Private transfer niseko to furano
0 reactions, last updated 244 days ago
Where to stay in shiketsu toya national...
0 reactions, last updated 244 days ago
Hokkaido JR Rail Pass
1 reaction, last updated 252 days ago