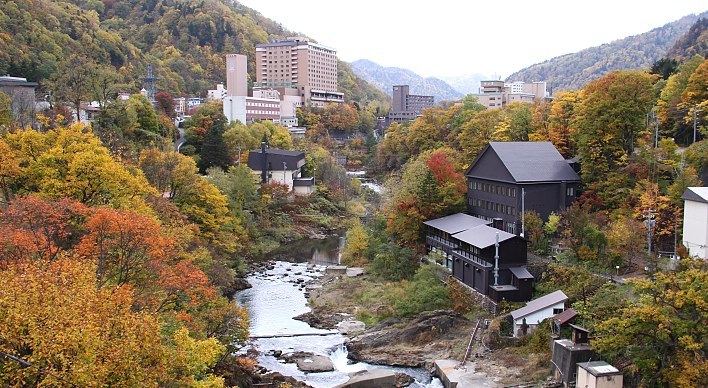 Jozankei Onsen (定山渓温泉, Jōzankei Onsen) is located inside Shikotsu-Toya National Park between the high cliffs of the Toyohira River. The town is only one hour outside central Sapporo, making it a popular side trip from the city. As a result, Jozankei is rather developed compared to smaller onsen towns in Hokkaido.
The onsen waters of Jozankei were discovered in 1866 and the town now has dozens of ryokan, restaurants and shops catering to hot spring tourists. Many ryokan offer day visitors entrance to their baths for a fee of 500 to 1500 yen. Furthermore, free foot baths can be found around town.
Below is a list of some of Jozankei's bathing facilities, all of which have gender separated baths:
Shogetsu Grand Hotel
Daytime Hours: 13:00 to 17:00 (entry until 16:00)
Daytime Admission: 1500 yen
Overnight Stay: From 15,000 yen per person including 2 meals
The hotel has simple baths that are very attractive and well maintained. One of the baths is a large, square tub made of Japanese cypress, and there is also an outdoor bath made of stone that has views of the valley.
Hotel Sansui
Daytime Hours: 12:00 to 19:00 (until 15:00 on Saturdays and days before holidays); admission ends two hours before closing
Daytime Admission: 640 yen
Overnight Stay: From 8500 yen per person including 2 meals
The Hotel Sansui is one of the smaller and more rustic baths in Jozankei. The small outdoor bath has a view of the valley and is a mixed bathing environment for both genders. There are also indoor baths and a steam bath area.
Jozankei View Hotel
Daytime Hours: 9:00 to 15:00 (entry until 14:00)
Daytime Admission: 1600 yen
Overnight Stay: From 9000 yen per person including 2 meals
The View Hotel is one of the largest hotels in Jozankei, and its baths are similarly large. There is a wide variety of baths that include outdoor baths, scented baths and jet baths. However, the general atmosphere of the bathing areas lacks some character that can be found at other establishments.
Besides being an onsen destination, Jozankei is a popular fall colors destination when the trees along the valley and in the side valleys turn to brilliant yellows and reds. The best time to see the leaves is usually around mid October.
Iwato Kannondo is a unique temple in central Jozankei, as most of the temple is located in a cave. Built for road workers, who were killed during the construction of a tunnel, the temple's cave is 120 meters long with 33 statues of Kannon, a Buddhist deity of compassion, placed at intervals along the way.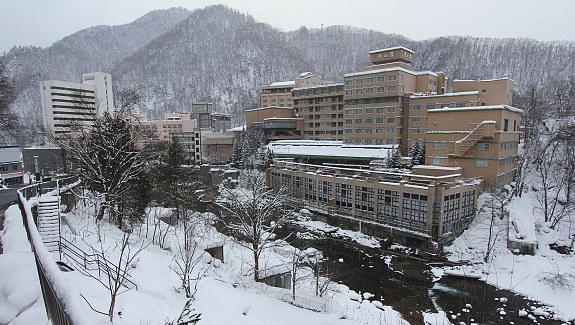 Get There and Around
From Sapporo Station Bus Terminal, take the Jotetsu Bus number 7 or 8 for Jozankei Onsen. Buses depart two or three times an hour, take 75 minutes and cost 770 yen one way.
Alternatively, you can catch Jotetsu Bus number 12 from Makomanai Station, the terminal station of Sapporo's Namboku Subway Line. From Makomanai Station, the one way trip to Jozankei Onsen takes 50 minutes and costs 610 yen. There are buses every 30 to 60 minutes.
Hours and Fees
Iwato Kannondo Temple
Hotels
around Jozankei Onsen