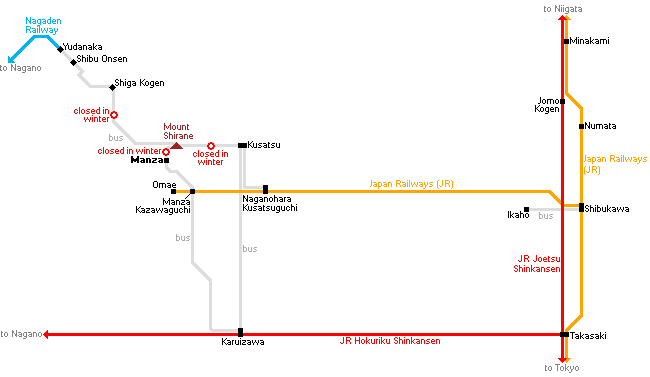 How to get to Manza Onsen
By train and bus via Manza Kazawaguchi
Trains travel as far as Manza Kazawaguchi Station, from where there are infrequent buses to Manza Onsen (40 minutes, 1350 yen). The Japan Rail Pass, JR East Pass and JR Kanto Area Pass are valid on the trains, but not on the buses.
There are various ways to get from Tokyo to Manza Kazawaguchi Station. The most convenient is by direct limited express train from Tokyo's Ueno Station, requiring three hours and costing about 5500 yen for the one way trip. However, there are only around two round trips per day.
Alternatively, you can do the whole trip by local trains, which takes about four hours, requires a transfer of trains at Takasaki and costs 3350 yen one way. Faster and more expensive is taking the shinkansen to Takasaki and transferring there to a local train to Manza Kazawaguchi Station (about 2.5 hours, 6000 yen one way).
By train and bus via Karuizawa
Take the Hokuriku Shinkansen from Tokyo to Karuizawa (65 minutes, around 5500 yen) and then a Seibu Kogen bus from Karuizawa to Manza Onsen (110 minutes, 2890 yen). The Japan Rail Pass, JR East Pass and JR Kanto Area Pass are not valid on the buses between Karuizawa and Manza Onsen.
By bus from Kusatsu
Direct buses make about 7 daily round trips between Kusatsu and Manza Onsen, stopping at Mount Shirane along the way. It takes approximately 50 minutes and costs 2200 yen to travel between Kusatsu and Manza Onsen. These buses operate only from around mid April to early November due to road closure in winter.
By hotel bus for staying guests
Some of Manza's hotels offer free shuttle bus services from Karuizawa Station or packaged transport and accommodation plans for tourists departing from Tokyo.
By car
Access to Manza Onsen from the south leads via a toll road that costs 1020 yen one way per car (overnight guests can get a waiver for the return journey from their hotels). Access from the north is not possible during winter due to road closures around Mount Shirane from around early November to mid April.
How to get around Manza Onsen
Manza Onsen is a compact, small town. Most attractions and hotels in the town center are accessible on foot, although the roads are steep and tend to be slippery in winter. The summit of Mount Shirane is located about a 15 minute bus or car ride north, above the town.