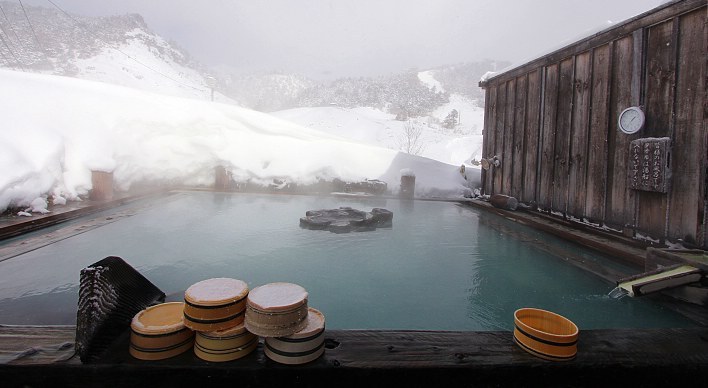 Manza Onsen (万座温泉) is a hot spring resort town located 1800 meters above sea level, high up on the slopes of Mount Shirane at the northwestern edge of Gunma Prefecture. Its highly acidic waters are obtained from Mount Shirane and are among the most sulfuric in all of Japan. They are known to provide various health benefits through improving metabolism and blood circulation.
Manza Onsen has several hotels and ryokan with outstanding hot spring baths. In particular, the open air baths are a treat with their excellent waters and tranquil setting. Guaranteed snow in the winter makes the town one of the best places near Tokyo to enjoy an outdoor bath in the snow. The following is a list of recommended ryokan and hotels that open their baths not only to staying guests but also to daytime visitors:
Nisshinkan
Daytime Hours: 10:00 to 17:00 (entry until 16:30)
Daytime Admission: 1000 yen
Overnight Stay: From 7,000 yen per person including 2 meals
The indoor and outdoor bath areas of Nisshinkan are located in separate buildings a short walk away from each other. The serene outdoor bath offers nice mountain scenery. The indoor bath area has a beautiful wooden interior equipped with several pools and fan shaped windows. All facilities are gender separated.
Manza Prince Hotel
Daytime Hours: 11:00 to 18:00 (entry until 17:00)
Daytime Admission: 1200 yen
Overnight Stay: From 10,000 yen per person including 2 meals
The outdoor baths at Manza Prince Hotel offer great, unobstructed views of the surrounding mountain landscape. There are two open air baths for each gender and one mixed gender bath in addition to gender separated indoor bath areas.
Manza Kogen Hotel
Daytime Hours: 11:00 to 18:00 (entry until 17:00)
Daytime Admission: 1200 yen
Overnight Stay: From 7,000 yen per person including 2 meals
Manza Kogen Hotel offers a large outdoor bath facility with seven mixed gender pools and one female-only pool. The outdoor bath area is called Sekitei Rotenburo ("Rock Garden Open Air Bath") with reference to its baths made of rocks and having a rocky decor. The hotel also has indoor bathing facilities.
Manzatei
Hours: 11:30 to 18:00 (entry until 17:00)
Closed: No closing days
Admission: 1000 yen
Overnight Stay: From 8,000 yen per person including 2 meals
The baths at the Manzatei have an elegant wooden interior design. There is one indoor and one outdoor bath for each gender.
Ratings:

best of the best

best of Japan

outstanding
Above the town, there is a small network of pleasant walking trails around the valley which contains a lot of the hot spring sources. It is also the site of Manza's yubatake ("hot water field"), a pool in which some of the thermal waters accumulate; however, it is too hot for bathing. One of the trails also leads to an observation point with views over the town. Due to the snow, the walking trails are unaccessible during the winter.
Instead, Manza Onsen offers skiing and snowboarding from around mid December to early April. The town's small resort has four lifts and is operated by the Manza Prince Hotel that stands right next to the ski slope and also offers rental equipment and package plans that combine accommodation with ski passes.
| | |
| --- | --- |
| Yubatake in summer | Manza in winter |
Get There and Around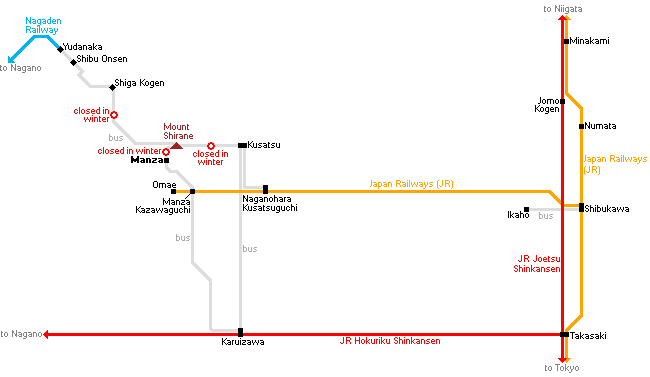 How to get to Manza Onsen
By train and bus via Manza Kazawaguchi
Trains travel as far as Manza Kazawaguchi Station, from where there are infrequent buses to Manza Onsen (40 minutes, 1350 yen). The Japan Rail Pass, JR East Pass and JR Tokyo Wide Pass are valid on the trains, but not on the buses.
There are various ways to get from Tokyo to Manza Kazawaguchi Station. The most convenient is by direct limited express train from Tokyo's Ueno Station, requiring three hours and costing about 5500 yen for the one way trip. However, there are only around two round trips per day.
Alternatively, you can do the whole trip by local trains, which takes about four hours, requires a transfer of trains at Takasaki and costs 3350 yen one way. Faster and more expensive is taking the shinkansen to Takasaki and transferring there to a local train to Manza Kazawaguchi Station (about 2.5 hours, 6000 yen one way).
By train and bus via Karuizawa
Take the Hokuriku Shinkansen from Tokyo to Karuizawa (65 minutes, around 5500 yen) and then a Seibu Kogen bus from Karuizawa to Manza Onsen (110 minutes, 2890 yen). The Japan Rail Pass, JR East Pass and JR Tokyo Wide Pass are not valid on the buses between Karuizawa and Manza Onsen.
By bus from Kusatsu
Direct buses make about 7 daily round trips between Kusatsu and Manza Onsen, stopping at Mount Shirane along the way. It takes approximately 50 minutes and costs 2200 yen to travel between Kusatsu and Manza Onsen. These buses operate only from around mid April to early November due to road closure in winter.
By hotel bus for staying guests
Some of Manza's hotels offer free shuttle bus services from Karuizawa Station or packaged transport and accommodation plans for tourists departing from Tokyo.
By car
Access to Manza Onsen from the south leads via a toll road that costs 1020 yen one way per car (overnight guests can get a waiver for the return journey from their hotels). Access from the north is not possible during winter due to road closures around Mount Shirane from around early November to mid April.
How to get around Manza Onsen
Manza Onsen is a compact, small town. Most attractions and hotels in the town center are accessible on foot, although the roads are steep and tend to be slippery in winter. The summit of Mount Shirane is located about a 15 minute bus or car ride north, above the town.
Hotels
around Manza Onsen