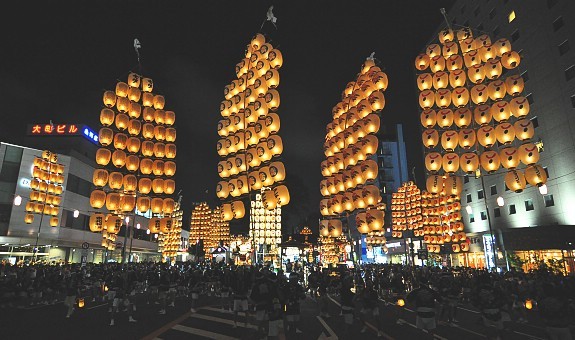 Kanto Matsuri, Akita City
Akita (秋田県, Akita-ken) is a large prefecture at the Sea of Japan coast in the northern Tohoku Region. Prefectural capital is Akita City. Among Akita's main attractions are its natural beauty of mountains and the sea, hot springs and the town of Kakunodate, which preserves one of Japan's most interesting samurai districts.
Any Questions? Ask them in our question forum.
Thinking about Tohoku
3 reactions, last updated 10 days ago
Tohoku exploration
14 reactions, last updated 109 days ago
Aomori attraction
2 reactions, last updated 382 days ago
Tohoku Onsen Tour
5 reactions, last updated 597 days ago
Autumn in Tohoku
6 reactions, last updated 615 days ago
Is my Tohoku trip itinerary OK?
1 reaction, last updated 618 days ago
Onsen towns in NE Japan?
4 reactions, last updated 718 days ago
Cheap stays at Oishida Station
1 reaction, last updated 864 days ago
Cheapest Travel to Tohoku
1 reaction, last updated 898 days ago
Visit to Tohoku Prefecture
5 reactions, last updated 1092 days ago
Ryusendo cave by JR bus from Morioka
5 reactions, last updated 1143 days ago
Ginzan onsen and Yamagata pref
9 reactions, last updated 1148 days ago
Sidetrip from Akita?
4 reactions, last updated 1365 days ago
Akita Bus Timetable
1 reaction, last updated 1620 days ago
Inawashiro-Goshikinuma bus timetable
4 reactions, last updated 1631 days ago
Taimatsu-akashi Festival Sukagawa
3 reactions, last updated 1634 days ago
Omoshiroyama
3 reactions, last updated 1657 days ago
Bus from JR Oishida to Ginzan onsen
2 reactions, last updated 1662 days ago
Famous food in aomori
0 reactions, last updated 1663 days ago
Asamushi onsen
0 reactions, last updated 1663 days ago