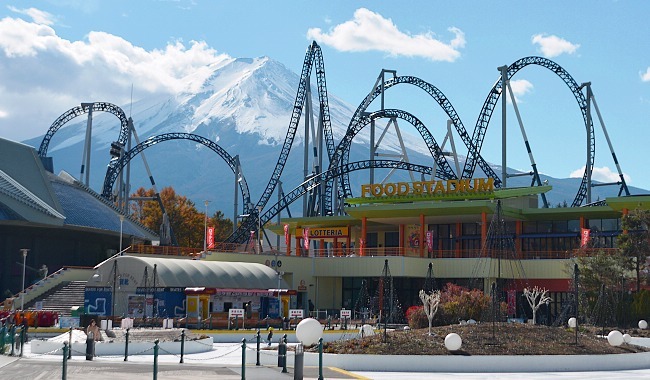 Fuji-Q Highland (•xŽm‹}ƒnƒCƒ‰ƒ"ƒh) is a major amusement park located in the Fuji Five Lakes region at the foot of Mount Fuji. One of Japan's most popular theme parks, Fuji-Q Highland is best known for its thrilling, record holding roller coasters and elaborate, anime themed rides and attractions. The park strives to be at the forefront of theme park entertainment, and has been constantly opening new rides and attractions, including Guinness World Record breaking roller coasters.
Currently, the park has four major roller coasters. Fujiyama, the park's centerpiece attraction, was the world's tallest and fastest roller coaster when it opened in 1996, and it continues to rank among the best coasters in the world. Dodonpa (2001) is currently the parks speediest coaster and the world record holder for fastest acceleration. Eejanaika (2006), a "4th dimension" roller coaster with seats rotating within the car, has the most inversions of any roller coaster. Finally, Takabisha, built in 2011, is the steepest roller coaster in the world, dropping at an angle of 121 degrees.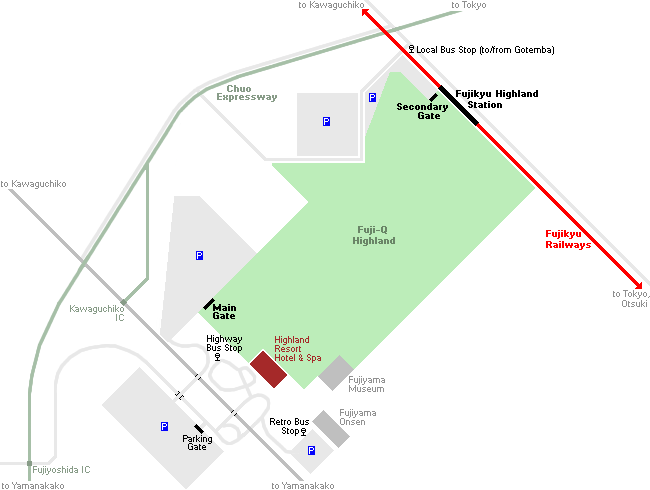 The park also has several large scale entertainment attractions, many of which are based on popular anime series. Gundam Crisis and Evangelion World are immersive displays of their respective robot suit themed anime and include life-sized models of the robots and characters. There are also three maze attractions: the Ultimate Horror Labyrinth (aka Haunted Hotel), one of the world's largest and scariest haunted attractions; Ultimate Fort, a prison escape themed puzzle maze; and Kassen Sengoku Basara, a warring states period themed attraction.
In addition to those major rides and attractions, the park further offers a host of amusement park staples such as tea cup, frisbee, log flume, pirate ship and drop tower type rides along with traditional rides such as a ferris wheel, carousel and sky swings. Seasonal attractions, such as an ice skating rink, are also available. Restaurants, rest areas, souvenir shops and carnival games are spread out around the park.
There are also a number of anime based kids attractions, such as the Ge Ge Ge no Kitaro haunted house, Hamutaro rides (including a kid sized roller coaster, pirate ship and labyrinth), Kaiketsu Zorori Land, and the Loony Toons themed Cartoon Lagoon.
Furthermore, one area of the park is home to Thomas Land, a train themed zone which is based on the British Thomas the Tank Engine books and television series. This area is aimed at young children, and features child friendly rides and attractions including the Thomas and Percy Train Ride, the Thomas Land 3D Theater, and a variety of small rides and other kid related activities.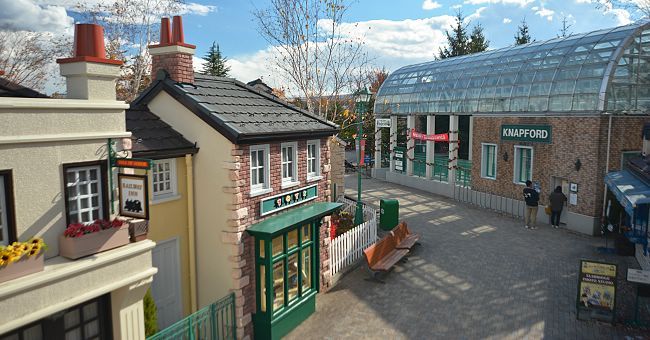 Thomas Land
Just outside the park a few steps from its main entrance stands the Highland Resort Hotel and Spa, an affiliated hotel that offers nice views of Mount Fuji and easy access to Fuji-Q Highland and its surrounding attractions. Hotel guests enjoy perks such as early entrance to the theme park and free entry to the Fujiyama Museum and Fujiyama Onsen.
The Fujiyama Museum is an art museum displaying a wide variety of paintings and other illustrations of Mount Fuji. The museum is located on the Fuji-Q Highland park grounds and is free to enter for park attendees that have unlimited ride tickets. Those who only wish to visit the museum and not the amusement park can enter via the Highland Resort Hotel and Spa outside of the park grounds.
Also nearby just outside the park is the Fujiyama Onsen, a modern hot spring facility next to the Fuji-Q Highland Resort. The bath house features nice, traditionally styled wooden baths and offers both indoor and outdoor baths segregated by gender. Unfortunately, Fujiyama Onsen does not have views of Mount Fuji from its baths, but the mountain can be seen from the facility's restaurant.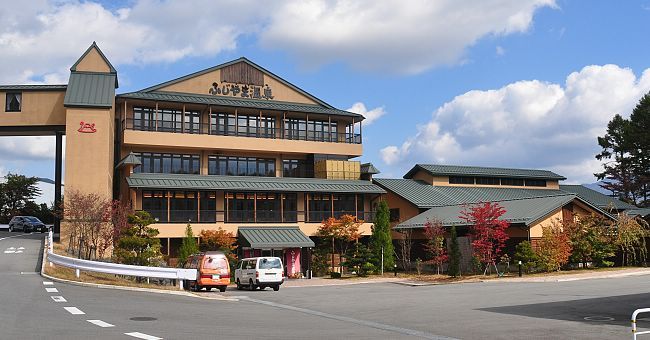 Fujiyama Onsen