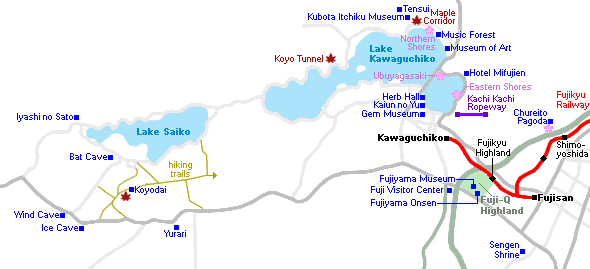 Kawaguchiko Station is the terminal station of the Fujikyu Railway from Otsuki. The bus terminal for local buses and highway buses to/from Tokyo, Kofu, Gotemba and other destinations is located just in front of the station.
From Kawaguchiko Station, two retro bus lines provide tourists with local transportation around Lake Kawaguchiko and neighboring Lake Saiko: The Kawaguchiko Line operates along Lake Kawaguchi's eastern and northeastern shores (2 buses/hour), while the Saiko-Aokigahara Line operates along Lake Kawaguchiko's southern shore and around Lake Saiko (1 bus/hour).
Fares for the retro buses depend on the distance traveled, however, a 2-day pass for the Kawaguchiko Line is available for 1030 yen, while a 2-day pass for both lines costs 1340 yen.
How to get to and around the Fuji Five Lakes
Bus Network Map: