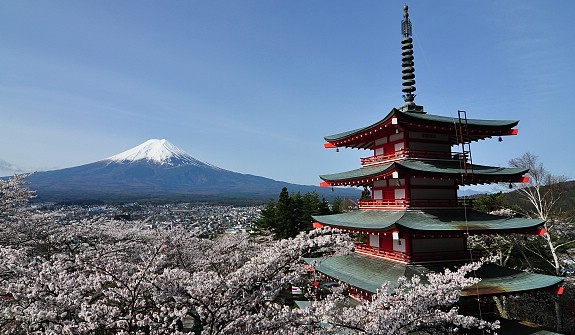 The Chureito Pagoda (忠霊塔, Chūreitō) is a five storied pagoda on the mountainside overlooking Fujiyoshida City and Mount Fuji off in the distance. The pagoda is part of the Arakura Sengen Shrine and was built as a peace memorial in 1963 nearly 400 steps up the mountain from the shrine's main buildings.
The location offers spectacular views of Mount Fuji in combination with the pagoda, especially during the cherry blossom season in mid April when there are hundreds of trees in bloom and during the autumn color season which usually takes place in the first half of November. The spot is particularly popular among photographers as it allows for some wonderfully stereotypical shots of Japan.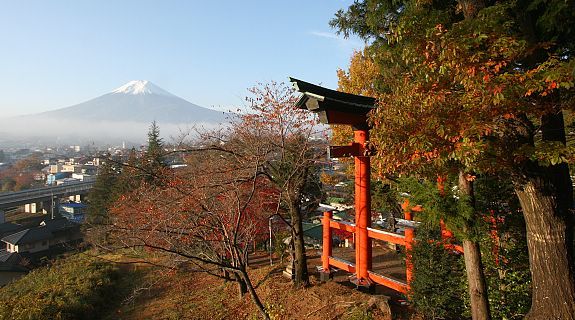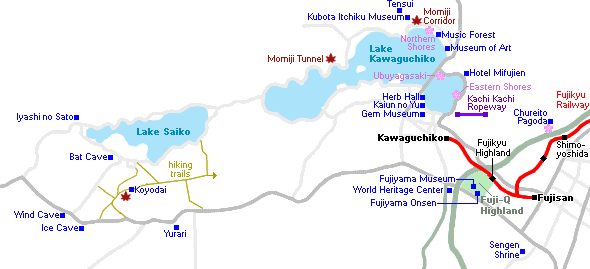 Arakura Sengen Shrine is a ten minute walk from Shimo-Yoshida Station along the Fujikyu Railway Line (35 minutes, 960 yen from Otsuki or 10 minutes, 300 yen from Kawaguchiko). The pagoda is an additional five minute walk up the hill.
How to get to and around the Fuji Five Lakes
Bus Network Map: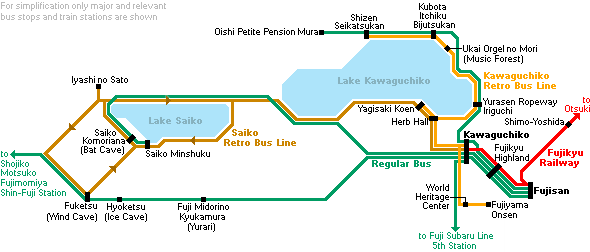 Hotels
around Fuji Five Lakes