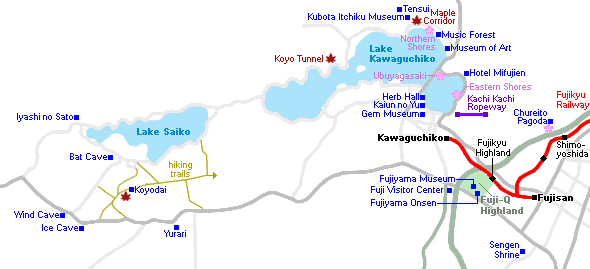 The Fuji Visitor Center is located at the entrance of the Subaru Line toll road which leads to Fuji Subaru Line 5th Station on Mount Fuji.
Retro buses along the Kawaguchiko Line connect Kawaguchiko Station with the Fuji Visitor Center once per hour in about 15 minutes. A 2-day pass for the Kawaguchiko Line is available for 1030 yen and a 2-day pass for all retro buses costs 1340 yen. Alternatively, the visitor center can be reached in a 30 minute walk from Kawaguchiko Station.
The visitor center gets visited by the popular 1-day bus tours from Tokyo to Hakone and Mount Fuji.
How to get to and around the Fuji Five Lakes
Bus Network Map: