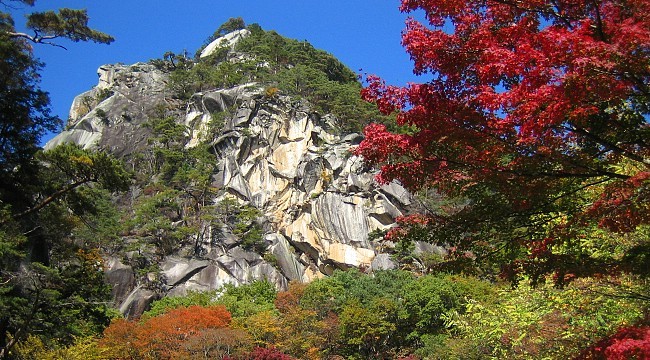 Mitake Shosenkyo (御嶽昇仙峡, Mitake Shōsenkyō), outside central Kofu City, is one of Japan's most beautiful gorges. It is part of the Chichibu Tama Kai National Park, which covers more than 1250 square kilometers of forested mountains, valleys and some rural towns in the prefectures of Yamanashi, Saitama, Nagano and Tokyo.
A hiking road leads for about four kilometers along the Arakawa River from the Nagatoro Bridge to the Sengataki Waterfall, offering beautiful scenery of the mountain river and the narrow valley. Many interestingly shaped rocks which resemble and are named after animals or items can be seen along the hike.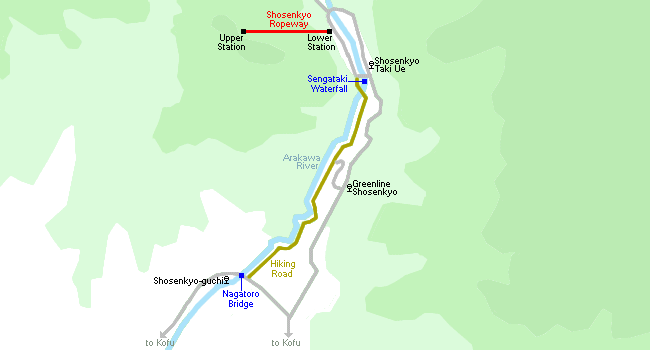 The lower section of the hiking road (about 3 kilometers) from the "Shosenkyo-guchi" bus stop (near the Nagatoro Bridge) to the "Greenline Shosenkyo" bus stop is paved and open to one-way motorized traffic, except on weekends from May to November, when it is for exclusive use by pedestrians and horse drawn carriages.
The upper section of the hiking path (about 1 kilometer) from the "Greenline Shosenkyo" bus stop to the top of Sengataki Waterfall leads through the most spectacular part of the gorge and includes the sight of the 30 meter high waterfall.
| | |
| --- | --- |
| Arakawa River | Sengataki Waterfall |
Above the waterfall, there is a small village consisting of souvenir shops, restaurants and the terminal bus stop "Shosenkyo Taki Ue". It is also the departure point of the Shosenkyo Ropeway, which provides access to an observation point with panoramic views of the Southern Japanese Alps and Mount Fuji on clear days.
Shosenkyo Gorge is particularly beautiful and well visited during the autumn leaf season, which typically reaches its peak from late October to mid November.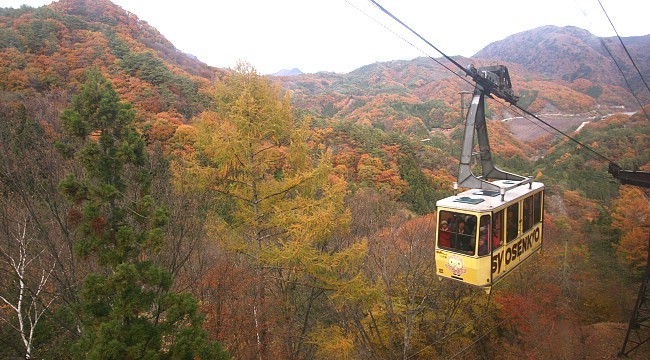 Shosenkyo Ropeway during autumn
Any Questions? Ask them in our question forum.