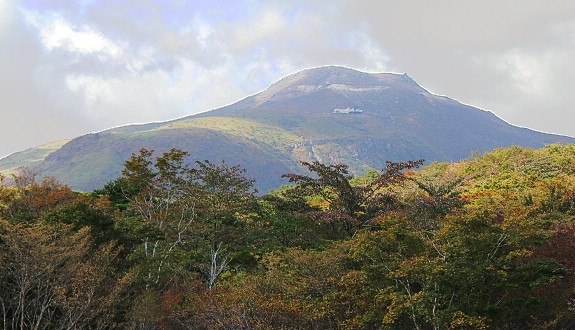 Nasu Onsen (那須温泉) is a spread out hot spring resort on the slopes of Mount Nasudake, a highland area also referred to as the Nasu Highlands (那須高原, Nasu Kōgen). The center of the resort is the hot spring town of Yumoto, halfway up the mountain. Nasu's hot spring baths were discovered during the Nara Period (710-1185) and have been highly regarded for their restorative properties ever since.
Mount Nasudake is also a popular hiking destination. A ropeway leads to within a 45 minute hike of the summit. There are also a variety of hiking trails in the forests further down the mountain and a pedestrian suspension bridge that offers nice views out over the trees. Azalea bushes flower around Nasu Onsen in late May, while the autumn colors peak along the slopes in early to mid October.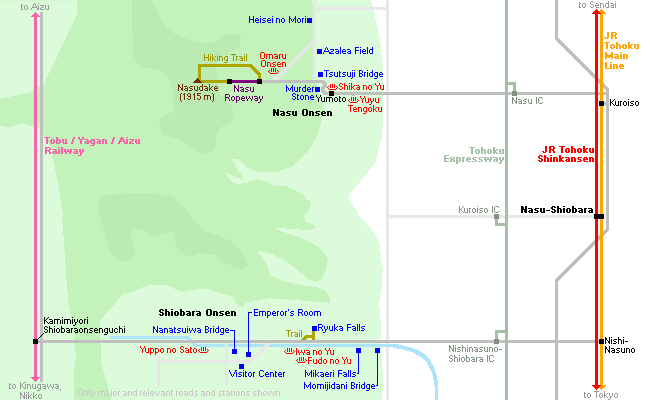 Public baths
The following is an incomplete list of hot spring baths that are open to the public. Some ryokan in the area also open up their baths to non-staying visitors during daytime for a small fee.
Shika no Yu
Hours: 8:00 to 18:00
Closed: Irregularly closed for maintenance
Admission: 400 yen (weekdays), 500 yen (weekends)
Shika no Yu is a beautiful, traditional bath house with gender segregated, wooden indoor baths. The milky, sulfurous hot spring water comes in at a scalding 57 degrees Celsius. It is cooled down by a network of channels as it is directed into several small wooden tubs that range in temperature from 41 to 48 degrees Celsius.
Omaru Onsen Ryokan
Daytime Hours: 11:30 to 14:30 (some irregular closing days)
Daytime Admission: 1000 yen
Overnight stay: From around 16,000 yen per person including two meals
Just one kilometer below the lower ropeway station, the Omaru Onsen Ryokan features multiple large outdoor pools along a naturally hot mountain river. The main pools are gender mixed, and all bathers are asked to wrap themselves in towels while in the gender mixed area. Despite its remote location, the ryokan offers high quality overnight facilities and meals, as well as great hospitality.
Yuyu Tengoku
Hours: 10:00 to 23:00 (entry until 22:00)
Closed: No closing days
Admission: 1000 yen (weekdays), 1500 yen (weekends)
Yuyu Tengoku is a modern hot spring facility that is part of the Sun Valley Resort Hotel. Each of its gender segregated areas features several indoor and outdoor baths with a variety of different hot spring waters to try. They include magnesium, sulfur and alkaline hot spring waters, each of which has different health effects. Next door is the Aqua Venus pool and water park (separate admission applies).
Other attractions
Nasu Ropeway
Hours: 8:30 to 16:30 (varies seasonally)
Closed: December 1 to March 19
Admission: 670 yen (one way), 1130 yen (round trip)
The Nasu Ropeway leads from a parking lot near the final bus stop about 800 meters up the side of Mount Nasudake. From the upper station it is a further 30-45 minute hike to the peak. The Nasu Ropeway offers beautiful views out over the Nasu-Shiobara area and is best from early to mid October when the autumn colors usually reach their peak.
Murder Stone
The murder stone is a large rock that vents poisonous gases. It is located in a small, volcanically active valley with walking trails and an onsen shrine. The stone is related to a legend of a nine-tailed fox that devastated China and India before coming to Japan. The fox transformed into a beautiful lady to try and seduce the emperor, but was discovered and killed before it could enact its plan. Thereupon the fox's body turned into the murder stone.
Heisei no Mori (Heisei Forest)
Hours: 9:00 to 17:00 (9:30 to 16:30 December to March)
Closed: Wednesdays from Dec to Mar (or Thur if Wed is a holiday)
Admission: Free
Heisei no Mori is a forest park that was originally part of nearby Nasu Imperial Villa. The villa is still used as a retreat by the imperial family, but the park was opened to the public in 2011 as a place where people can experience nature. Well maintained trails lead through the forest to huts and observation points. An observation deck at the northwest end of the park offers views out to a waterfall.
Tsutsuji Suspension Bridge
The Tsutsuji Suspension Bridge (Tsutsuji Tsuribashi) crosses a 130 meter long span 38 meters above the valley floor. It offers good views of Mount Nasudake in the distance, which are particularly beautiful during the autumn color season in early to mid October.
Azalea Fields
The Hachiman Tsutsuji Gunraku is a large field of azaleas (tsutsuji) in Nasu Onsen. More than 3 kilometers of boardwalk trails spread out through the field and can be explored on a variety of walking courses. The flowering bushes bloom in late May and are known for their pleasant scent, while providing spectacular autumn colors in October.
Ratings:

best of the best

best of Japan

outstanding