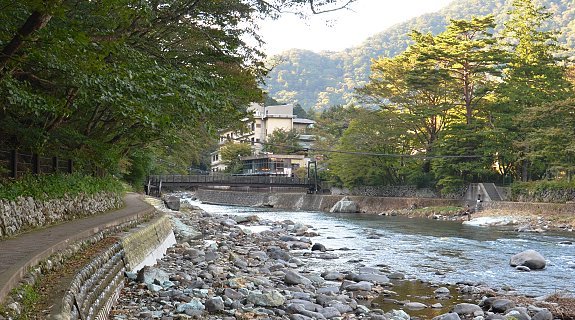 Shiobara Onsen (塩原温泉) is a hot spring town, located along a forested valley twenty kilometers south of Mount Nasudake. Although Shiobara Onsen is fairly developed with several large hotels, it is surrounded by woods and mountains which lend it a decidedly rustic feel. The town's collection of hot spring baths, waterfalls and hiking trails help to contribute to the feeling of being close to nature.
Shiobara Onsen is also known for several pedestrian suspension bridges which span the river and offer nice views out over the water and surrounding forest. The scenery is particularly beautiful from late October to early November during the autumn leaf season.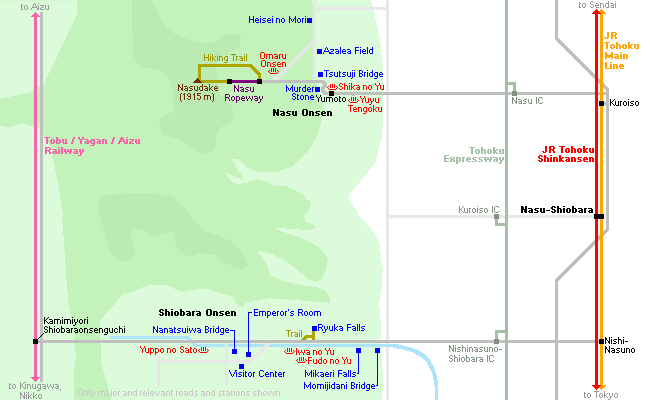 Public baths
The following is an incomplete list of hot spring baths that are open to the public. Many ryokan in the area also open up their baths to non-staying visitors during daytime for a small fee.
Fudo no Yu
Open irregularly
Fudo no Yu is a gender-mixed bath in the woods a short walk from the river. Its pool features hot, rusty brown water. There are no facilities save a changing platform with shelves to store your clothes. The bath used to be open daily, but was closed down in 2015 due to misbehaving bathers. It was reopened later on an irregular basis.
Iwa no Yu
Hours: 6:30 to 21:00
Closed: No closing days
Admission: 200 yen
Iwa no Yu is a rustic, gender mixed bath found literally along the bank of the river. Like the Fudo no Yu (see above), it is unattended and payment is by the honor system. The bath has virtually no facilities and is very much in plain view of the river and walking path.
Yuppo no Sato
Hours: 9:00 to 18:00 (until 17:00 Dec to Mar)
Closed: Thursdays (or Wednesday if Thursday is a holiday)
Admission: 200 yen
Yuppo no Sato is a large foot spa (ashiyu) near the center of Shiobara Onsen. The ashiyu features two 30 meter long footbaths that encircle a viewing pond at the center of the facility. Each of the footbaths have long benches where you can sit and enjoy the view of the central pond, and sections of the floor of the bath are studded with pebbles that have a massaging effect when walked upon.
Waterfalls and Suspension Bridges
Ryuka Falls
Ryuka Falls (Ryuka no Taki) is a breathtaking 60 meter tall, 130 meter long cascading waterfall that is said to resemble a flying dragon. It is found at the end of an attractive 15-20 minute long hiking trail from a parking lot along the main road through Shiobara Onsen.
Mikaeri Falls
Mikaeri Falls (Mikaeri no Taki) is a 20 meter tall waterfall that cascades into the river a few minutes upstream of the Momijidani Suspension Bridge. The waterfall can be seen from the 100 meter long Mikaeri no Tsuribashi suspension bridge which is a few minutes walk from a parking lot along the main road through Shiobara Onsen.
Momijidani Suspension Bridge
Hours: 8:00 to 18:00 (until 16:00 November to March)
Closed: No closing days
Admission: 300 yen (round trip)
The Momijidani Suspension Bridge (Momijidani Otsuribashi) is the largest and tallest bridge in Shiobara Onsen. It lies next to the Shiobara Dam and spans 320 meters across the artificial lake. One end of the bridge has a large parking lot, restaurant, shops and toilets.
Nanatsuiwa Suspension Bridge
The Nanatsuiwa Suspension Bridge (Nanatsuiwa no Tsuribashi) is an 87 meter long suspended pedestrian bridge spanning the river in central Shiobara Onsen. The bridge leads to the Shiobara Visitor Center, and is within walking distance of several hot spring baths and footbaths.
Other attractions
Emperor's Room Memorial Park
Hours: 9:00 to 17:00 (until 16:30 December to March)
Closed: Weds (or Thurs if Wed is a holiday, no closure Jul 20 to Aug 31)
Admission: 200 yen
The Emperor's Room Memorial Park is the surviving part of a larger summer villa of Emperor Showa. Originally built in 1926, it was opened to the public in 1981 as a preserved residence and museum, and displays an interesting collection of both western and Japanese antique furniture and household goods.
Shiobara Onsen Visitor Center
Hours: 9:00 to 16:30
Closed: Tuesdays (or Wed if Tues is a holiday), Dec 29 to Jan 3
Admission: Free
The Shiobara Onsen Visitor Center is a little ways off the main road just outside the town center. It displays exhibitions of local plants and wildlife and provides information about local hot springs and accommodations.
Ratings:

best of the best

best of Japan

outstanding