Jodogahama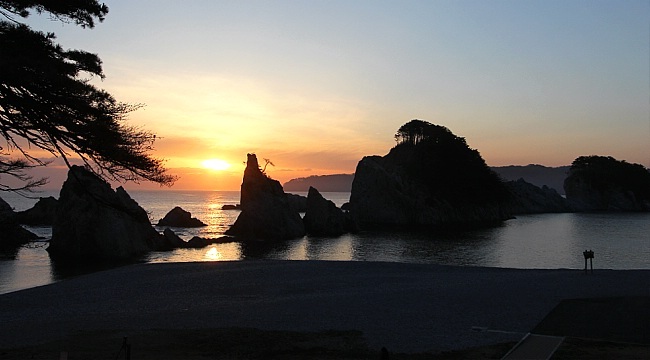 Jodogahama Beach (ò"yƒ–•l, Jōdogahama, lit. "Pure Land Beach") is a beautiful beach just outside of central Miyako City in Iwate Prefecture. It is one of the more famous tourist sites along the Sanriku Coast and part of the Sanriku Recovery National Park. Jodogahama features a beautiful white pebble shoreline and clear, calm waters punctuated by jagged, rocky islands. This memorable landscape invokes images of the "Pure Land", a Buddhist concept of paradise, which the beach derives its name from.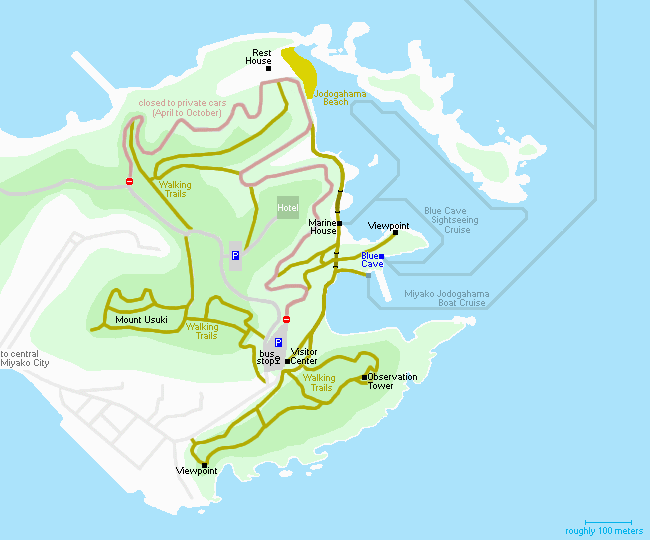 >
Ranked one of the one hundred best beaches and swimming spots in Japan, Jodogahama Beach is particularly popular in summer. It attracts visitors with its clear inlet that is sheltered from the open ocean. A rest house near the beach provides showers, toilets, changing rooms, a shop and a dining hall. The rest house and several other tourist facilities in the area were destroyed by the 2011 tsunami, but were rebuilt in the meantime.
A Visitor Center is located at the main parking lot of Jodogahama Beach. The center has a small, free museum about the coastline and its natural features. Several short walking trails lead from the visitor center to the beach, the boat piers and to a few viewpoints in the pine forests around the area.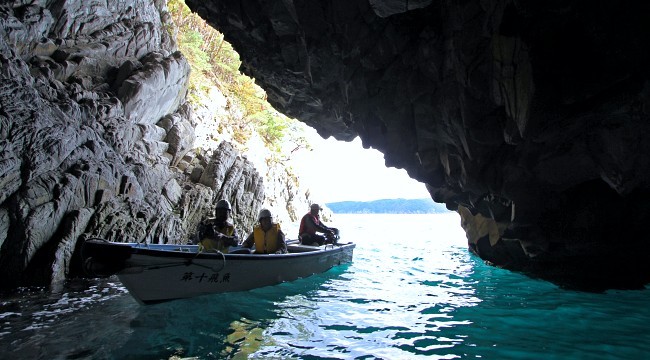 Blue Cave Cruise
Two different sightseeing cruises are offered around Jodogahama. The 20 minute long Blue Cave Cruise departs from the Marine House which is located between the main parking lot and the beach. These tours are by small motorboats and give visitors a close up view of the sharp, rocky islands opposite Jodogahama Beach. The cruise also visits the Blue Cave (Aonodokutsu), a small cave that is only accessible from the sea and is named for its cobalt blue water. Passengers are given a bag of crackers that can be fed to the seagulls that follow the boats.
The Miyako Jodogahama Boat Cruise uses larger sightseeing ship and departs from a dock just below the main parking lot. This 40 minute long cruise takes passengers up the Sanriku Coast, passing by the rugged coastline and sharp rocky islands along the way before returning to Jodogahama. The ship visits several interesting rock formations, such as the towering Candle Rock, and a large blowhole.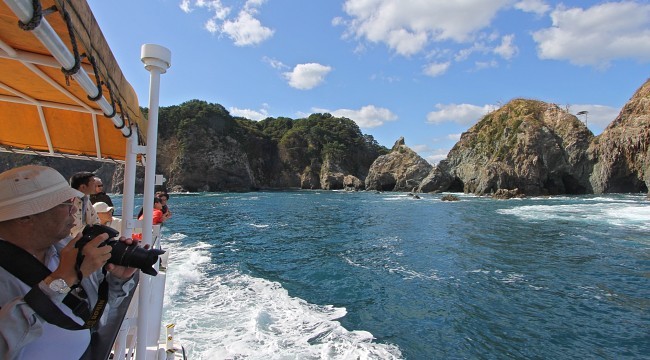 Miyako Jodogahama Boat Cruise