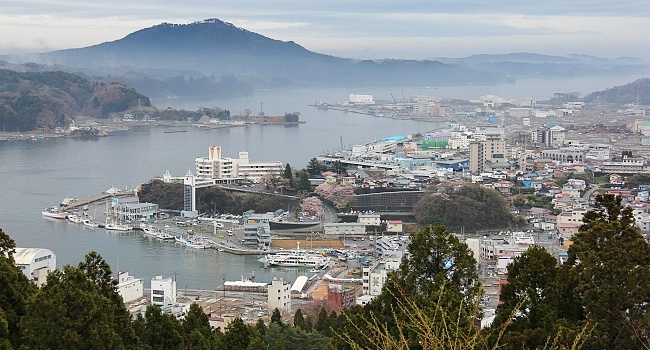 Kesennuma (気仙沼) is one of the bigger cities along the Sanriku Coast with a large fishing port. It is one of the country's largest bonito and swordfish processors. Kesennuma was hit badly by the 2011 Tsunami which damaged several of the city's districts, carried multiple large ships inland, and left the local fishing industry in ruins. The city and its port have since been recovering slowly.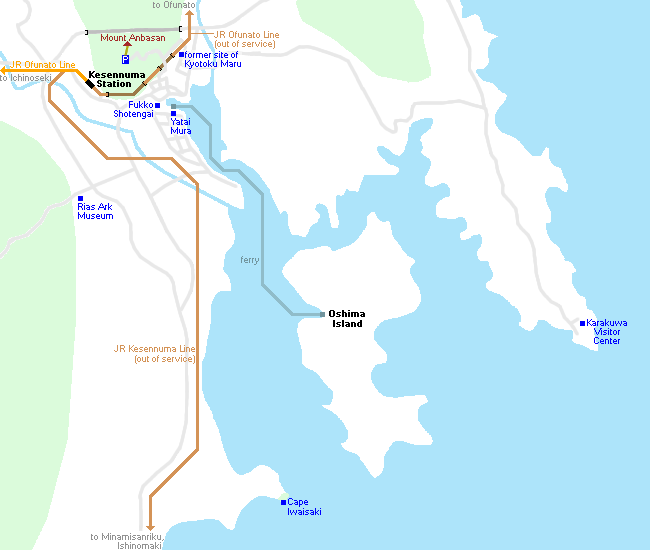 All of the stranded ships were removed quickly save one, the Kyotoku Maru 18, which remained as a monument for over two years in a residential neighborhood nearly a kilometer from the waterfront until it was eventually dismantled in late 2013. Several temporary shopping markets, known as recovery markets, have also sprung up across the city, catering to both the local community and visitors.
Rias Ark Museum (more details)
Hours: 9:30 to 17:00 (entry until 16:30)
Closed: Mondays, Tuesdays and the day after holidays (except weekends)
December 28 to late January
Admission: 500 yen
The Rias Ark Museum is a contemporary art and local history museum in the hills overlooking Kesennuma. The museum serves as a sort of repository of local history and culture with exhibits that focus on the local fishing industry and daily life from days past, as well as artwork by local artists. A new permanent exhibit shows items and photographs collected from the 2011 Tsunami.
Kyotoku Maru 18
With a length of 60 meters, the Kyotoku Maru 18 was one of the largest vessels that was stranded in Kesennuma. It was carried over 750 meters inland by the tsunami and deposited in a residential neighborhood amongst a sea of debris. Opinions were divided on what to do with the 330 tonne ship. Some wanted to preserve it as a memorial site, while others felt that it was a constant reminder of the traumas that the people have endured. Ultimately, the ship was dismantled in late 2013 after a local referendum showed overwhelming support for its removal.
Fukko Yatai Mura Recovery Market
Store Hours: Varies (typically 9:00 to 17:00)
Restaurants: Varies (typically 11:30 to 23:00)
Closed: Varies by store (typically one day per week)
Built next to the Kesennuma ferry terminal, the Kesennuma Yokocho Fukko Yatai Mura is a collection of restaurants, bars and a few shops housed in temporary buildings. The market features a stage where live events and shows are occasionally held.
Kesennuma Fukko Shotengai Recovery Market
Store Hours: Varies (typically 9:00 to 18:00)
Restaurants: Varies (typically 11:00 to 21:00)
Closed: Varies by store (typically one day per week)
One of the larger recovery markets in the city, Kesennuma Fukko Shotengai includes over 50 shops, restaurants, salons and bars spread out over two nearby areas. There is also an event space where shows and performances are held.
Mount Anbasan
Mount Anbasan is a 239 meter high mountain that overlooks Kesennuma from just north of the city's center. It is possible to walk or drive to a parking lot about halfway up the mountain from where there are nice views out over the city. Several more viewpoints are located further up the mountain and at its summit that is reached in about a 15 minute climb from the parking lot.
Karakuwa Peninsula Visitor Center
Hours: 8:30 to 16:30
Closed: Tuesdays (of the following day if Tuesday is a holiday) and the day after holidays (except weekends)
Admission: 380 yen
English: Minimal
The Karakuwa Peninsula Visitor Center lies on the eastern tip of the Karakuwa Peninsula, about 15 kilometers outside of central Kesennuma. The center contains a comprehensive, yet aging museum that describes the mechanisms and history of tsunami in Japan, including a recently renovated tsunami simulator that attempts to duplicate the experience of a tsunami.
Cape Iwaisaki
The pine tree covered Cape Iwaisaki juts out from the rocky coastline about 10 kilometers south of Kesennuma's city center. The approach to the cape starts off in the forest, but the trees soon open up to reveal beautiful views of the surrounding coastline as well as a blowhole that periodically erupts along the water. A statue of sumo wrestler Hidenoyama Raigoro, an Edo Period Yokozuna from Kesennuma, stands at the cape pointing out to sea.