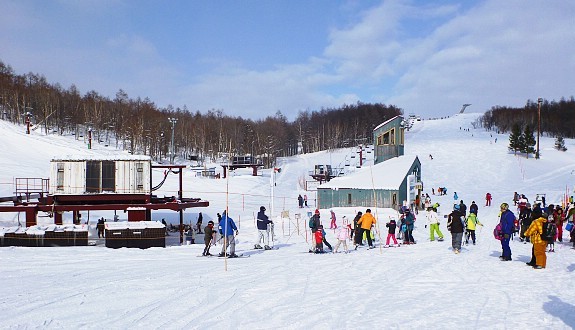 Sapporo Teine (サッポロテイネ) is the largest of several medium sized ski resorts on the outskirts of Sapporo. Just 40 minutes outside of the city center, the resort features a variety of ski trails from wide, gently sloping hills to long and fast advanced courses which include two runs used for some ski events during the 1972 Sapporo Winter Olympics. The Olympic Torch still stands above the resort as a monument overlooking Sapporo and the Sea of Japan below.
Sapporo Teine's good selection of trails are spread out over two zones and connected by a gondola and a six kilometer long trail. The upper Highland Zone reaches 1000 meters above sea level and features medium to advanced courses, off trail runs, and a snow park with jumps, boxes and rails. The lower Olympia Zone has wider, less steep trails suitable for beginners, as well as a family park offering sledding and tubing.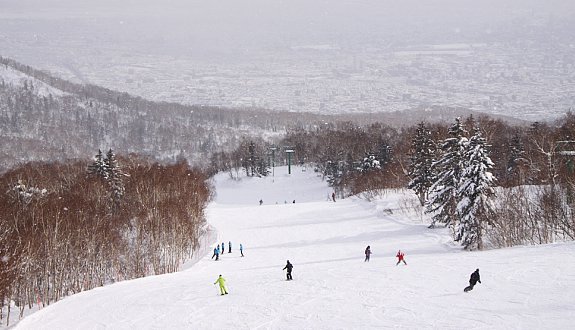 Sapporo Teine Ski Resort
Description
Sapporo Teine is a medium sized ski resort within easy access from central Sapporo City.
Season

Late November to early May
(November 19, 2016 to May 7, 2017)

Lifts

10 Lifts

Tickets
full day

9:00 to 17:00

5200 yen

Rentals
ski

5200 yen

half day

4 hour pass
6 hour pass

3800 yen
4200 yen

board

5200 yen

nighter

16:00 to 21:00

2000 yen

clothes

4000 yen

Access
bus/train
About 45 minutes by train and bus via JR Teine Station.
car
About 40 minutes from central Sapporo via Teine IC.
By train
Take one of the frequent JR trains between Sapporo and Teine Stations (10-15 minutes, 260 yen one way). At Teine Station change to an hourly JR bus (number 70) bound for Teine Highland and get off at the ski resort (30 minutes, 390 yen one way). Buses depart from bus stop number 3 at the station's south exit. Both the train and bus are covered by the Japan Rail Pass.
By bus
There are direct ski buses between selected hotels in central Sapporo and Teine Ski Resort from early December to late March. The trip takes 35-50 minutes, and a round trip ticket costs 6700 yen and includes a 7-hour lift ticket. Reservations are required and must be made at least one day in advance.
How to get to and around Sapporo