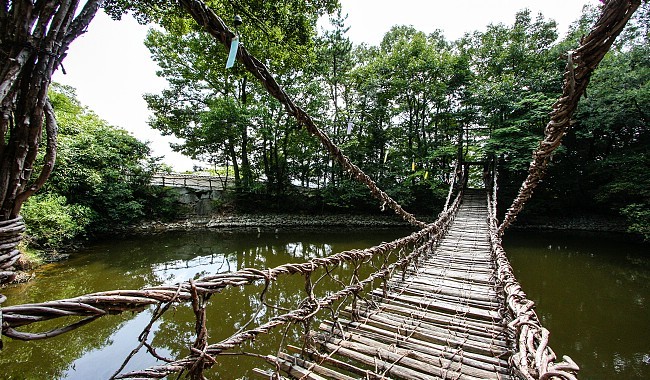 Shikoku Mura (四国村, lit. "Shikoku Village") is an open air museum situated at the base of Yashima. This pleasant hillside park preserves and exhibits traditional buildings and structures that have been relocated here from all over Shikoku Island.
Among the exhibited buildings, which mainly date from the Edo and Meiji Periods, are a number of farmhouses and storehouses, as well as various traditional workshops that produced goods such as sugar and soya sauce.
| | |
| --- | --- |
| Kabuki Theater | Sugar cane press |
Other structures exhibited include bridges, a lighthouse and a kabuki theater which occasionally hosts performances. One of the most popular attractions is a vine suspension bridge, made similarly to the ones found in the Iya Valley (Tokushima Prefecture) out of vine and wood (and reinforced by steel cables).
Shikoku Mura also has a small art gallery showing paintings and sculpture by modern artists from around the world. The gallery has a nice view over the surrounding city and occasionally holds live performances and special events.