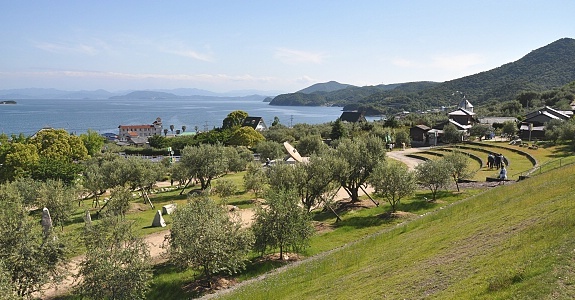 The 2013 Setouchi Triennale is held over three sessions:
| | |
| --- | --- |
| Spring Session: | March 20 to April 21 |
| Summer Session: | July 20 to September 1 |
| Autumn Session: | October 5 to November 4 |
Shodoshima (小豆島, Shōdoshima) is the second largest island in the Seto Inland Sea and one of the first islands born to the gods in the creation myth of Japan. The name literally means "small bean island", which technically refers to the azuki bean but today would more fittingly refer to the soya bean or olive as the island has traditionally been a producer of soya sauce and now is even better known for its olive plantations.
Shodoshima attracts visitors with its Mediterranean atmosphere, offering beaches, resorts, coastal sceneries and a mountainous interior with one of Japan's most celebrated gorges, the Kankakei Gorge. Among Japanese tourists, the island is also well known as the filming location of a popular movie.
Shodoshima also serves as one of the venues for the Setouchi Triennale art festival. A handful of permanent art installations from the 2010 festival can be seen around the island, while almost 30 more were created or renewed for the festival's 2013 edition. These include several outdoor installations, most of which are concentrated around the island's port towns and the Mitohanto Peninsula on the island's southern coast.