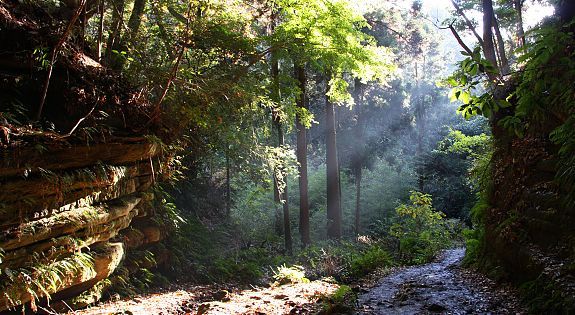 Kamakura is surrounded by the ocean in the south and by wooded hills in all other directions. Attractive hiking trails lead through the woods along these hills and connect various atmospheric temples. They are a great way to travel between some of Kamakura's sights.
Western Hills
The Daibutsu Hiking Course connects Jochiji Temple in Kita-Kamakura with the Great Buddha (Daibutsu) in the west of the city. The Zeniarai Benten and the Genjiyama public park with a statue of Minamoto Yoritomo can be found underway. It takes about 60-90 minutes to complete the entire trail.
Northern Hills
The Tenen Hiking Course connects Kenchoji Temple in Kita-Kamakura with Zuisenji Temple in the east of the city, leading mostly along the ridge of the hills. The whole trail takes about 60-90 minutes to complete, and hikers can find several tomb caves (yagura) along their way. The trail can also be accessed through the Shishimai Valley, which is a popular spot for autumn colors in early December.
Eastern Hills
The Gionyama Hiking Course connects Myohonji Temple, Yagumo Shrine and the Harakiri Yagura, a cave tomb where the remains of the last Hojo regent are buried. Some nice views of the city can be enjoyed underway. The trail is shorter than the other two, taking about 30 minutes to complete.
The trails are not paved and are narrow and steep at times. It is recommended to explore them only during dry weather and with good walking shoes.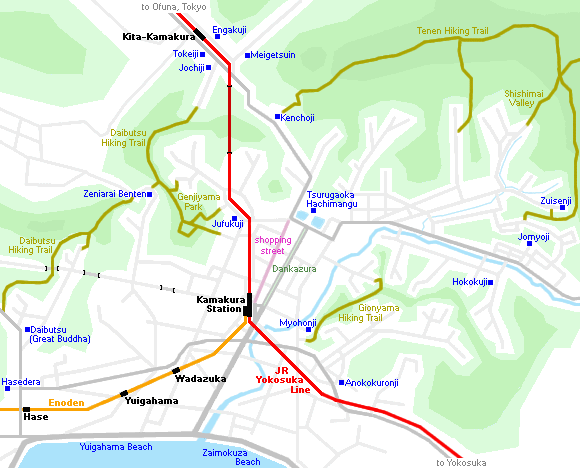 Any Questions? Ask them in our question forum.
8 Hotel
Ideal for touring Kamakura. 2 min walk from Fujisawa Sta. of JR, Enoshima Dentetsu and Odakyu. Bicycle rent, internet , restaurant, laundry, kitchen available.
Ratings for

Hiking Trails

:
japan-guide.com Rating:

outstanding
User Rating (by

239

users):

recommended
| | |
| --- | --- |
| Best rated sights nationwide (out of 806): | Most visited sights nationwide (out of 928): |
Orawa Royal Pines Hotel to Kamakura
1 reaction, last updated 12 days ago
Daibutsu Hiking Course
7 reactions, last updated 12 days ago
Kamakura on Sunday
3 reactions, last updated 38 days ago
Travel between Kamakura Station and Hase
1 reaction, last updated 44 days ago
Shonan Shinjuku to Kamakura
5 reactions, last updated 91 days ago
Travel to Kamakura from Tokyo
7 reactions, last updated 103 days ago
Enoshima Iwaya cave
1 reaction, last updated 143 days ago
Yunishigawa Kamakura Festival
0 reactions, last updated 163 days ago
Temples and views in Kamakura
4 reactions, last updated 196 days ago
Kamakura, what to do with my bag?
2 reactions, last updated 207 days ago
Enoshima-Kamakura Free Pass & RomanceCar
3 reactions, last updated 257 days ago
Asakusabashi to Kamakura & Hase
11 reactions, last updated 261 days ago
Getting to Hokokuji Bamboo Temple
2 reactions, last updated 261 days ago
What is the best way to get to enoshima?
2 reactions, last updated 273 days ago
Enoshima: Iwaya caves are closed
2 reactions, last updated 328 days ago
Enoshima kamakura free pass
3 reactions, last updated 397 days ago
Can I buy Kamakura Enoshima Pass ?
1 reaction, last updated 493 days ago
Kamakura and Nikko
1 reaction, last updated 498 days ago
Tulip in Enoshima
2 reactions, last updated 532 days ago
Culture Day 3 Nov
1 reaction, last updated 535 days ago