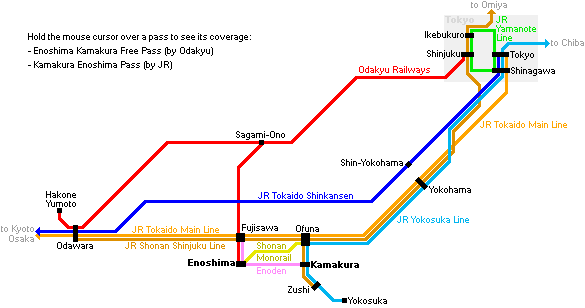 Enoshima is served by three train and monorail lines, each of which has its separate station: Enoden (Enoshima Station), Odakyu Railways (Katase Enoshima Station near the aquarium) and the Shonan Monorail (Shonan Enoshima Station near Ryukoji Temple).
From Tokyo by Odakyu Railways
Take an express or rapid express train from Shinjuku bound for Fujisawa Station and transfer to a local train to Katase Enoshima Station, the terminal station on the line. The entire one way trip takes 65-75 minutes and costs 630 yen. There are connections every 10 to 15 minutes. Alternatively, Romance Car limited express trains run directly between Shinjuku and Katase Enoshima (60 minutes, 1250 yen) every one or two hours on weekends and holidays.
Odakyu Railways offer the Enoshima Kamakura Free Pass that includes a round trip ticket between Shinjuku and Fujisawa and unlimited use of Enoden trains between Fujisawa and Kamakura and Odakyu trains between Fujisawa and Enoshima. The pass is valid for one day and costs 1470 yen. It is a good value if you also visit Kamakura, but it does not pay off if you visit Enoshima alone.
From Tokyo by Japan Railways (JR)
Take the JR Tokaido Line from Tokyo Station or the JR Shonan-Shinjuku Line from Shinjuku Station to Fujisawa Station (45-50 minutes, 970 yen) and transfer to either the Enoden (10 minutes, 220 yen) or Odakyu Railway (7 minutes, 160 yen) for Enoshima. Alternatively, get off at Ofuna (40-45 minutes, 800-920 yen) and transfer for an exciting ride to the Shonan Monorail to Enoshima (15 minutes, 310 yen, stand or sit at the front of the car for interesting views).
JR offers the Kamakura Enoshima Pass, which allows for unlimited use of the Enoden and Shonan Monorail, and JR trains between Fujisawa, Ofuna and Kamakura on one calendar day for 700 yen.
From Kamakura
The one way trip between Kamakura and Enoshima by Enoden train takes 25 minutes and costs 260 yen. There are trains about every ten minutes.