Atsuta Shrine (熱田神宮, Atsuta Jingū) is one of Shinto's most important shrines. It enshrines the Sun Goddess Amaterasu and stores the sacred sword Kusanagi, which is one of the three imperial regalia. Note, however, that the sword is never displayed to the public.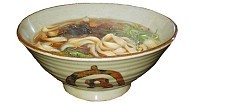 Atsuta Shrine stands in a pleasant, wooded park in southern Nagoya. During the Meiji Period, the shrine was remodeled after the Ise Shrines in the purely Japanese Shinmei-zukuri architecture style.
A pleasant thing to do after viewing the shrine buildings is to try Atsuta Shrine's version of the kishimen noodles, one of Nagoya's local specialties. A restaurant is found on the shrine grounds.