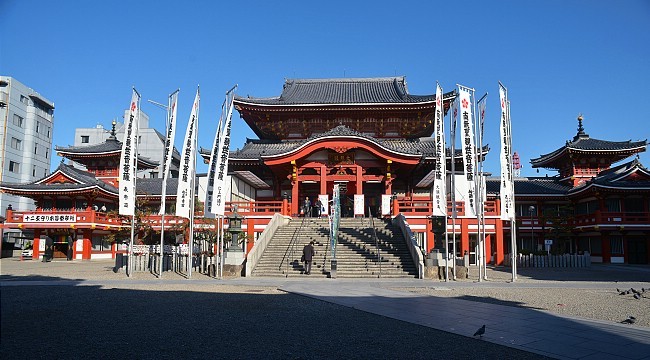 Osu Kannon (大須観音, Ōsu Kannon) is a popular Buddhist temple in central Nagoya. Originally built during the Kamakura Period (1192-1333) in neighboring Gifu Prefecture, the temple was moved to its current site by Tokugawa Ieyasu in 1612. The original temple was repeatedly damaged by severe flooding (which prompted its relocation), and was almost completely destroyed by fire. The current buildings are 20th century reconstructions.
The main object of worship at the temple is a wooden statue of Kannon, the goddess of mercy, which was carved by Kobo Daishi, an instrumental figure in Japanese Buddhism. Underneath Osu Kannon's main hall is the Shinpukuji Library which contains over 15,000 classic Japanese and Chinese texts. Among these texts are several national treasures and important cultural properties, including the oldest copy of the Kojiki, a chronicle of the early history of Japan including its mythological origins.
A flea market is held on the temple grounds on the 18th and 28th of every month. The modest sized market includes around 60 stalls selling everything from souvenirs and antiques, to clothes and second hand goods. Just beside the temple is the entrance to the Osu Shopping Arcade, a network of aging but charming covered shopping streets containing over 400 shops and restaurants. The area is compared to Tokyo's Akihabara district as there are a lot of stores that specialize in electronics, cosplay, anime, jpop or idol goods.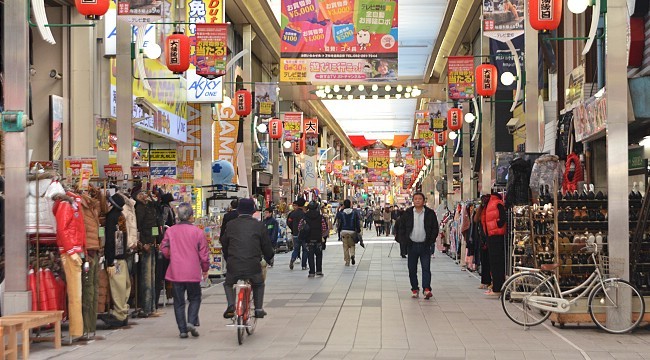 Osu Shopping Arcade next to the temple
Any Questions? Ask them in our question forum.