Beppu Hot Springs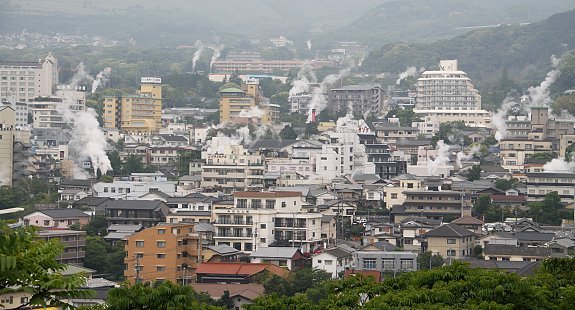 Beppu is one of the most famous hot spring resorts in Japan. The city is blessed by as many as eight different springs, named Beppu, Kannawa, Myoban, Kankaiji, Hamawaki, Kamegawa, Horita and Shibaseki, each featuring public baths and ryokan with bathing facilities. Together they produce more hot spring water than any other resort in the country.
What sets Beppu apart from other onsen resorts is not only its abundance of thermal waters, but also the wide range of bath types that can be enjoyed there. Asides from conventional hot water baths, Beppu offers sand baths, where bathers are buried in naturally heated sand, steam baths that are heated by the steam of a hot spring and mud baths which are basically muddy hot water baths.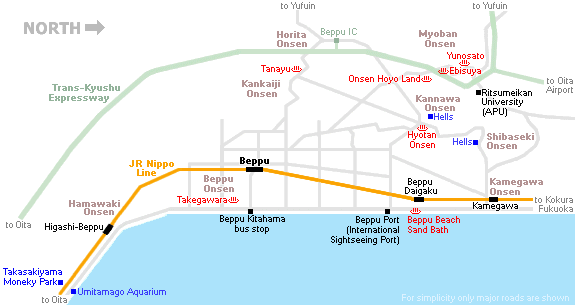 The tourist desk at Beppu Station provides foreign tourists with lists of public baths. Below is our own list of a few of the city's best baths. More baths can be found in nearby Yufuin.
Tanayu
Daytime Hours: 9:00 to 23:00 (entry until 21:30)
Daytime Admission: 1500 yen (weekdays), 2000 yen (weekends)
Overnight Stay: From 9,000 yen per person including 2 meals
Tanayu is the main hot spring facility of the Suginoi Hotel, a leading ryokan in town. It offers elegant outdoor pools on the building's roof with spectacular, unobstructed views over the city. In 2010, Aqua Garden, a rare hot spring facility to be enjoyed in swim suits, was opened next to Tanayu.
Onsen Hoyo Land
Hours: 9:00 to 20:00
Admission: 1100 yen
This run down but atmospheric public bath complex offers a wide range of baths, including rare mud baths, steam baths and conventional hot water baths. While the indoor baths are gender separated, the outdoor zone is partly mixed.
Takegawara
Hours: 6:30 to 22:30 (sand bath from 8:00, entry until 21:30)
Admission: 1030 yen (sand bath) 100 yen (regular bath only)
First constructed in 1879, Takegawara Spa is Beppu's most famous bath house, offering sand and regular baths in an atmosphere of the past. Note that the building is partially surrounded by a red light district.
Hyotan Onsen
Hours: 9:00 to 1:00am
Closed: Some irregular closing days
Admission: 750 yen
This public bath house offers regular indoor and outdoor hot water baths, an entire row of "waterfalls" for massaging one's shoulders, steam baths and sand baths. Private baths and meals are also available.
Ebisuya Onsen
Hours: 10:00 to 23:00 (entry until 22:00)
Admission: 1000 yen
Ebisuya is a recently renovated public bath house in the rural Myoban district of Beppu. It offers multiple bath tubs of different sizes and styles, including jacuzzi and aroma baths, as well as steam boxes.
Myoban Yunosato
Hours: 10:00 to 22:00 (until 21:00 from Nov to Mar)
Entry until one hour before closing time
Admission: 600 yen
Located in the Myoban district on the slopes above the city, Yunosato offers indoor and outdoor baths with nice sulfuric waters. Despite a promising location, the outdoor baths have views mainly onto a fence. The complex also features shops and huts for the production of yunohana (sulfuric powder).
Beppu Beach Sand Bath
Hours: 8:30 to 18:00 (Mar to Nov), 9:00 to 17:00 (Dec to Feb)
Closed: 4th Wed of every month (next day if national holiday)
Admission: 1030 yen
The second most famous place to enjoy sand baths in Beppu after the Takegawara Spa, the Beppu Beach Sand Bath offers sand baths along Beppu's sea coast.
Ratings:

best of the best

best of Japan

outstanding