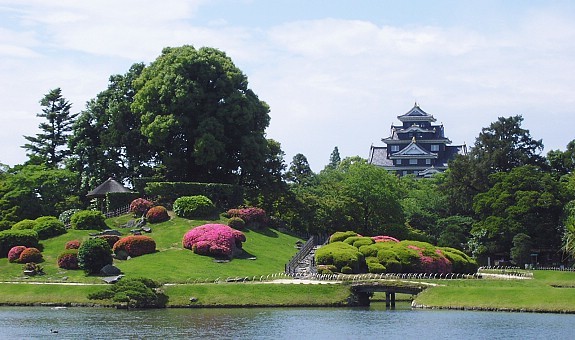 Korakuen with Okayama Castle in the background
Okayama (岡山) is the capital of Okayama Prefecture, and the largest city in the Chugoku Region after Hiroshima. The city is an important transportation hub, being the location where the Sanyo Shinkansen meets with the only rail connection to Shikoku. The city developed as a castle town during the Edo Period (1603-1867) and became a significant regional power.
Okayama's most famous attraction is Korakuen Garden, which is ranked as one of the three best landscape gardens in Japan, along with Kanazawa's Kenrokuen and Mito's Kairakuen. Okayama Castle is located just across from the garden. Okayama serves as the locale for the popular fairy tale of Momotaro (the Peach Boy), so visitors will notice many references to the legendary hero.
Outstanding Japanese style landscape garden.
User rating: 85/100 (289 votes)
Visited by: 546 users

Charming plain with attractive cycling route.
User rating: 83/100 (31 votes)
Visited by: 59 users

Reconstruction of the former castle.
User rating: 71/100 (245 votes)
Visited by: 510 users
Small island with a lot of modern art.
User rating: 88/100 (88 votes)
Visited by: 171 users

Small island turned into a modern art site.
User rating: 89/100 (9 votes)
Visited by: 26 users

Pretty town with original mountaintop castle.
User rating: 84/100 (29 votes)
Visited by: 64 users
City with a picturesque, historic canal area.
User rating: 79/100 (325 votes)
Visited by: 721 users

Port town with many slopes and temples.
User rating: 78/100 (124 votes)
Visited by: 299 users
Igusa Guesthouse
An off the beaten inn built 200 years ago. About 30min from JR Okayama Shinkansen Sta. 8min walk to JR Hayashima Sta. Easy access to Nao-shima. Free Wi-Fi.
Ratings for

Okayama

:
japan-guide.com Rating:

interesting
User Rating (by

451

users):

recommended
| | |
| --- | --- |
| Best rated destinations (out of 167): | Most visited destinations (out of 179): |
Night life/fun things to do in Okayama?
6 reactions, last updated 3 days ago
Sleeping in Okayama station
2 reactions, last updated 44 days ago
Restaurant in Okayama
2 reactions, last updated 61 days ago
Ume no sato in okayama on April 10
3 reactions, last updated 128 days ago
Okayama in 1 day
7 reactions, last updated 129 days ago
Onsen from Okayama - 2 days to spare
4 reactions, last updated 349 days ago
Okayama Airport to Fukuwatari St
2 reactions, last updated 361 days ago
Okayama station luggage counters
1 reaction, last updated 398 days ago
One night in washuzan
3 reactions, last updated 447 days ago
How to go to shinjo village
1 reaction, last updated 456 days ago
Kibi Plain
1 reaction, last updated 526 days ago
Kibi Plain rental bicycles
5 reactions, last updated 574 days ago
Kibi Plains cycling in January
3 reactions, last updated 706 days ago
Large Coin Locker at Okayama?
2 reactions, last updated 712 days ago
Kirin Beer Park & Sapporo Winery in...
1 reaction, last updated 735 days ago
Transport for Osaka to okayama
2 reactions, last updated 845 days ago
Hotels around Okayama
3 reactions, last updated 869 days ago
Wedding in Korakuen, Okayama
5 reactions, last updated 1052 days ago
Restaurants in Okayama
1 reaction, last updated 1105 days ago
Korakuen Grass Burning?
2 reactions, last updated 1171 days ago