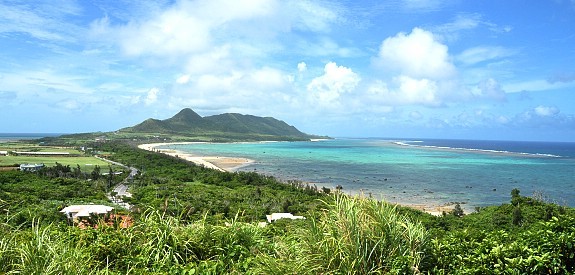 Ishigaki Island (石垣島, Ishigakijima) is the main island of the Yaeyama Islands and the region's transportation hub. Ishigaki City, Japan's southernmost city, is the Yaeyama's only urban center and is the site of the region's major airport and boat terminal, as well as lots of hotels, shops, restaurants and bars.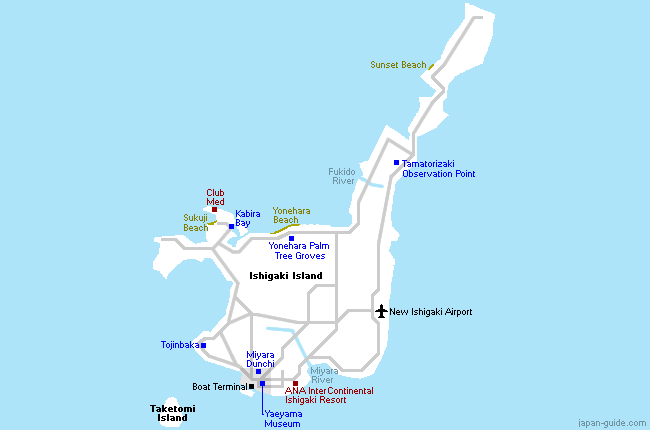 Ishigaki offers several nice beaches and good snorkeling and diving in the surrounding coral reefs. Snorkeling can be enjoyed at nearly every beach on the island, while diving is offered through the numerous dive shops with tours available for all experience levels. If diving, be sure to check out the island's famed manta rays which congregate in large numbers around Manta Scramble near Kabira Bay.
Ishigaki's rivers, while not quite as wild as those of nearby Iriomote, also offer a jungle like scenery and are nice to explore by kayak. Ishigaki also has the highest mountain in Okinawa Prefecture, as well as various hiking trails throughout the island's hilly interior.
| | |
| --- | --- |
| Yonehara Beach - a coral beach | The reef of Yonehara Beach |
Beaches
Ishigaki Island has both sandy beaches and rocky beaches which are covered in small pieces of bleached coral. At the beaches you can enjoy swimming (best during high tide), snorkeling, and diving, or just lay in the sun; and while the beaches are open year round, they are best from April to November when the air temperature consistantly tops 25 degrees. The beaches usually have public facilities such as showers, restrooms, and rental shops; however, there are no lifeguards, and the facilities may be closed outside of summer.
When using the beaches, always beware of strong currents that can pull you out to sea and poisonous creatures such as Habu Jellyfish, a type of box jellyfish, that are most prevalent from June to October. Signs in English inform about the dangers while some beaches have netted off swimming areas. Although jellyfish stings are rare, if stung you should pour vinegar over the sting, remove any tentacles, and seek medical help as it may become life threatening if left untreated.
Yonehara Beach
Admission: Free, limited free parking (or 500 yen at the adjacent campsite)
This is one of Ishigaki's nicest beaches with some of the best snorkeling on the island. The beach is mostly covered in pieces of white coral, and its reef offers great snorkeling and diving. There are shower, restroom and changing facilities, and snorkeling equipment can be rented at the camping site nearby.
Sukuji Beach
Admission: Free, no parking fees
The one kilometer long Sukuji Beach, near Kabira Bay, is one of Ishigaki Island's nicest sand beaches. The waters around Sukuji Beach are shallow with a sandy bottom, and offer swimming and snorkeling with a portion of the beach netted off to protect swimmers from habu jellyfish. Showers, restrooms, and changing rooms are located near the parking area. Club Med Resort is located at one end of the beach.
Sunset Beach
Admission: Free, 300 yen for parking, 300 yen for facilities
Sunset Beach is a sandy beach located in a cove along the western side of Ishigaki's tail shaped northeastern peninsula. The beach is a short walk down from the parking lot and offers swimming and snorkeling that is good even during low tide. Most of the beach is surrounded by a net to protect swimmers from habu jellyfish. Next to the parking lot are picnic areas and paid showers and restrooms.
Nature
While Ishigaki Island is the most populous of the Yaeyama Islands, there is still a lot of nature to experience. In addition to snorkeling and diving along the island's beaches and coral reefs, the interior of the Ishigaki has palm forests, mangrove lined rivers, and jungle covered mountains that offer hiking and camping.
Kabira Bay
Boat Departures: 9:00 to 17:00
Boat Fee: 1030 yen
Emerald blue Kabira Bay (Kabirawan) is considered Ishigaki Island's most scenic view. Swimming, snorkeling and diving in the bay are not allowed, but a touristy 30 minute long glass bottom boat ride lets you take a look at the bay's underwater world. Kabira Bay, along with Iriomote, are the only two cultivation sites of black pearls in Japan.
River Kayak Tours
Tours depart in the mornings and afternoons
Fee: around 6500 yen for a 3-hour tour
Kayak tours are offered on the mangrove lined Miyara River (not far from the city center) and Fukido River (near Yonehara Beach). Tours start around 4000 yen per person for a 90 minute guided tour. Unguided boat rentals are not available.
Tamatorizaki Observation Point
Hours: Always Open
Admission: Free
This is an observation platform offering nice views of Cape Tamatori, Ibaruma Bay, Ishigaki's hilly northern peninsula and the emerald blue ocean with its coral reefs.
Yonehara Palm Tree Groves
Hours: Always Open
Admission: Free
Walking trails lead through this palm forest, which features several dozen types of palm tree varieties, including the tall, native Yaeyama Palm, a designated national natural monument.
History
The Yaeyama Islands have a rich history and culture going back to before their incorporation into Japan, when they were part of the Ryukyu Kingdom.
Yaeyama Museum
Hours: 9:00 to 17:00 (Admission ends at 16:30)
Closed: Mondays, December 29 to January 3
Admission: 200 yen
The Yaeyama Museum displays historical and cultural items of the Yaeyama Islands. On display are wooden canoes, pottery, traditional clothing and household items as well as items from the various festivals and cultural events held among the islands.
Tojinbaka
Hours: Always Open
Admission: Free
A lavishly decorated grave for 300 Chinese laborers, who were supposed to be shipped to the Americas as mine workers by American and British traders in the mid 1800s, but many of whom were massacred after a mutiny raised by the inhumanly treated Chinese. The incident happened to partially take place on Ishigaki.
Miyara Dunchi
Hours: 9:00 to 17:00
Closed: Tuesdays, January 1-3
Admission: 200 yen
Miyara Dunchi is a preserved samurai style residence, built by a local nobleman in 1819. Similar residences on Okinawa Honto were mostly destroyed in the war, making Miyara Dunchi a rare surviving example. It is not possible to enter the house, but you can walk around the outside of the house and visit its small garden.